Katie Confidential
A year after their movie, The Romantics, Katie Holmes catches up with her director on new projects, Adam Sandler, and her next chapter.For more, check out the exclusive photos from Katie's cover shoot and see her red carpet transformation.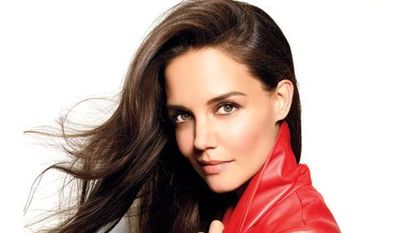 (Image credit: Tesh)
Katie Holmes and I are sitting in a Brooklyn diner, indulging in a favorite pastime: devising stories about people we do not know.
"They're on their third date," Katie says. "He's madly in love with her. He's hoping tonight's the night."
"Fourth date," I say. "She's not interested. She's getting ready to break it off."
"No! Why do you say that?" She is unconvinced by my theory.
"Look at her leg," I say. One leg, gloved in tight red jeans, nestles perilously close to his thighs as she twirls right then left on her spinning diner stool.
"OK, fourth date," Katie concedes. "But you're wrong about the rest. Tonight's the night. You can tell by the way he's devouring her with his eyes."
It is true that Katie has a more innocent outlook than I do, more innocent than most in this excessively hip local spot. She seems truly unaware, for example, that even while we have been sitting here, she has single-handedly stolen the heart of everyone in the restaurant.
Story continued below.
She stands and crosses the room to get a bottle of ketchup, and even the hungriest customer stops to stare. In jeans, high-heeled black leather ankle boots, and a khaki button-down, a tiny ripple of diamonds around her neck, she looks the quintessential movie star. Her dancer's figure and Empire State Building legs literally stop traffic — just ask the hordes of photographers who follow her every move.
She returns with the ketchup and settles into the booth. Part Bambi, part Ali MacGraw, Katie and her massive doe eyes, rosebud cheeks, and darling smile have everyone in the restaurant down for the count.
I met Katie in the summer of 2008, when we were working on The Romantics, a movie based on my novel of the same name. I wrote, produced, and directed; Katie starred and produced. She has the uncanny ability to be every kind of woman, to feel at once like a girl I have known since slumber-party days, to be, in the next breath, a formidable collaborator, the next, a funny, honest mom and a caring friend. From our first meeting, in which she modestly gave notes on how to improve her character — and several others' — it was clear to me I was in the presence of a perfectionist.
It began with a hardy Midwestern childhood, in which piano lessons, field hockey games, and Catholic-school kilts were mandatory. Five siblings competed for the attention of her father, a lawyer, and mother, a homemaker. Mrs. Holmes sewed all the costumes for Katie's junior high dance troupe, while Mr. Holmes supported their family of seven. An unflinching work ethic was born.
"I feel ready," she says cryptically, as we put the game on hold.
"Ready for ..." I say.
"For the next chapter of my life. I'm excited to begin a new phase: roles I might have been afraid to play before, places I want to travel to with my daughter. I'd like to build the design business. But not too fast."
Katie is a woman who strives for excellence in all she does, challenging herself constantly as an actress, mother, friend, and businesswoman. She achieves her goals often — and in the public eye, an arena that can be even crueler than most women are to themselves. Somehow, she gives an inordinate amount to her family and friends, while demanding the highest standard from herself.
Read the rest of Marie Claire's exclusive interview with the star in our November 2011 issue, on newsstands Oct. 25.
Marie Claire email subscribers get intel on fashion and beauty trends, hot-off-the-press celebrity news, and more. Sign up here.