Kim Kardashian: The 35 Million Dollar Baby
Just weeks before Kim filed for divorce, the most business-minded reality star sat down with Marie Claire to take us inside her crazy life and whirlwind marriage. Don't forget to check out our exclusive shoot with the cover star and our compilation of her most notable red carpet moments. For even more Kim exclusives, "like" us on Facebook!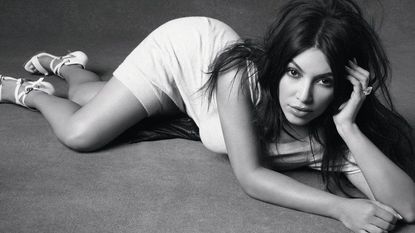 (Image credit: Tesh)
Marie Claire Newsletter
Celebrity news, beauty, fashion advice, and fascinating features, delivered straight to your inbox!
Thank you for signing up to Marie Claire. You will receive a verification email shortly.
There was a problem. Please refresh the page and try again.
Just back from working out at the gym, her shiny face scrubbed clean of cosmetics, she could be any attractive young woman arriving at Manhattan's Gansevoort Hotel for breakfast.
Until she picks up her orange juice, that is. Her hand is so weighted down, it's a wonder she can lift it. Soft-spoken and gracious, she wasn't at all diva-esque as she ordered a frittata and sausage along with syrup and strawberry jam. But a mere flash of her ring finger turns Kim Kardashian — even without the layers of makeup she's known for wearing — into a junior Elizabeth Taylor, complete with epic bling.
If you've ever wondered what a 20.5-carat diamond engagement ring looks like, it's very, very big. The $2 million worth of rocks that basketball player Kris Humphries bestowed upon her last May — in an on-camera proposal with rose petals spelling out "Will you marry me?" on a white rug in her Los Angeles bedroom — is indisputably a whole lotta ice.
Story continued below.
Only a few weeks have passed since the beaming couple got married in Montecito, California, in a wedding with 500 guests that was rumored to have cost $20 million (a figure Kim denies). But since the event involved the Kardashians — the reality-show clan has transformed ordinary life into a branded empire that brought in $65 million last year — even an extravagant wedding became a lucrative business opportunity that was said to have added an additional $18 million to the Kardashian coffers.
When asked about the numbers, Kim smiles demurely, "I don't talk about money." And yet she, like the rest of her family, talks about virtually everything else, in front of millions of people.
To the Kardashians, making Kim's wedding into a media circus was a no-brainer. "I felt like if I didn't show the wedding, it would be upsetting for people who have taken this journey with me," Kim says earnestly.
The whirlwind courtship of Kim and Kris raised some eyebrows, including carefully plucked ones within her own family, but Kim is blasé about her rush to the altar. "We felt like, 'Why wait?'" she explains. "It's fun to have a partner who understands your life and lets you be you."
The gossip magazines are full of snarky stories about ominous postnuptial plot developments — Kim's sisters don't like Kris! The family thinks he married her for fame and money! Kris is already sick of faking a scripted life for the reality-show cameras! — but Kim insists that all is well. "I feel like where we're at right now is the best time in my life," she says. And yet, in the ensuing days, the doomsayers churn out ever more dire headlines, from "Headed for a Split!" to "Kim & Kris: The End."
From the very start, when others suspected Kris of nefarious motives, Kim defended him. "I'm not worried about him at all," she says. "We have a lot of trust, and I don't think either of us would do anything to break that. It makes life so easy. He's such a good guy; he is so down-to-earth, and it's such a reality check. He is a normal guy, and I just want to chill out and be normal and not get glammed up all the time. He gets it. Sometimes my life can be really intimidating for people, but he allows me to work and do what I've gotta do."
In late October, it was announced that Kim would file for divorce, just 72 days after she and Kris tied the knot. Like the rest of her life, millions of people will doubtless watch the fallout on television, as they do everything from the Kardashians' Brazilian bikini waxes to their mother-daughter spats to romantic glitches. And now, in retrospect, a foreshadowing: the awkward moment when Kris learned that Kim had already been married and divorced once before.
Kim, who turned 31 in October, dismisses her starter marriage to music producer Damon Thomas with a shrug. "I was 19, and I didn't know myself," she says. "As unhappy as I was, and as happy as I am now not to be in that relationship, I learned so much from it: who I wanted to be, who I never wanted to be — you take all those issues and move on." She smiles brightly. "I learned how to cook and do a lot of marital things. It definitely taught me what being a wife is all about. I think it means taking care of each other's needs and being there for someone unconditionally."
When the Kardashians first set out to do a reality show four years ago, no one anticipated that a family best known for some unsavory associations would achieve a level of fortune and celebrity extraordinary even by Hollywood standards. A sometime stylist, Kim was catapulted to notoriety by a sex tape that was released at what initially seemed to be a disastrous time: when the Kardashians were peddling the idea of a family show.
But this particular family is brilliant at self-promotion, especially the matriarch and business manager (or momager, as her kids call her), Kris Jenner, a former stewardess who had three daughters — Kourtney, Kim, and Khloé — and a son, Rob, with the late attorney Robert Kardashian.
Kris and Robert divorced in 1990, and Kris remarried the following year, giving her children a stepfather, Olympic medalist Bruce Jenner, and four stepsiblings. Then Kris and Bruce had two daughters together, Kendall and Kylie, bringing the combined family total to 10.
And since Khloé married basketball star Lamar Odom, Kourtney had a baby with boyfriend Scott Disick, and Kim married Kris Humphries, the cast of characters has expanded to include some dizzying permutations.
After becoming an instant hit on E! in 2007, the family's original reality show, Keeping Up With the Kardashians, spawned an ever-growing array of spin-offs, from Kourtney & Khloé Take Miami to Kourtney & Kim Take New York to Khloé & Lamar.
"We made a pact as a family and said we would be truly authentic because people don't buy bullshit," Kim says. "We'll just be who we are, and — love it or hate it — we have each other. Everything that goes on is stuff we do. I think that's what makes it so relatable, because we are not afraid to show crazy things."
Read the rest of Marie Claire's exclusive interview with Kim in our December 2011 issue, on newsstands November 22.
Celebrity news, beauty, fashion advice, and fascinating features, delivered straight to your inbox!