Ashley Olsen: The Coolest Girl in the World
She's been a star — and an utter mystery — since babyhood. As Ashley Olsen puts the finishing touches on her new clothing line, she gives Marie Claire unprecedented access and reveals a surprising new side.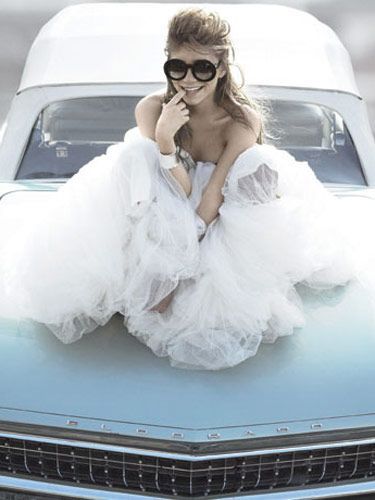 (Image credit: Ruven Afanador)
As I prepare for my meeting with Ashley Olsen at the Culver City offices of Dualstar Entertainment, the billion-dollar company she runs with her sister Mary-Kate, I get a call from one of her people confirming the plan. "Oh," the person says, "and Ashley wonders if you want a Starbucks?"
I cannot tell if this is high wit on Olsen's part; surely she must know that the image of her carrying around a massive Venti has achieved iconic significance in the culture. She is, after all, a very famous person, someone we've known virtually all her life, who nonetheless has maintained a bubble of mystique around her — what, beyond the caffeine fixation, do we really know about Ashley Olsen?
For one, I thought I knew her to be an eccentric dresser, a child of fame so intent on hiding in plain sight, she'd wear eight crazy layers where a simple cardigan would suffice. So when we finally meet at her serene corporate headquarters (candles burning in one office, a Buddha statue in the hall), I'm surprised to find Olsen looking the epitome of chic, swaddled in a sheer white tee (black bra visible) under a chocolate-brown leather jacket, a stretchy black mini outlining her curvy butt, and a black patent-leather Alaia belt shaped like bat wings, cinching her like a wasp. Her perfectly turned, tan legs resolve in a pair of sky-high Louboutin pumps. And on her arm, a vintage Fendi bag she could probably fit inside. "The next one I want to get is the crocodile Birkin, but that won't be for a while. Crocodile is my fa-vorite!" she says, quietly singsonging that last word.
Ashley climbs into a swivel chair behind a big desk and gets on a conference call with her publicity team in New York, which is chiefly concerned with rolling out the second season of the Olsens' upscale clothing line, The Row, and the debut of their contemporary collection, Elizabeth and James, so named for their siblings. Samples from The Row had been sent to Lauren Hutton; apparently, someone says, she loved them so much she slept in them. "Yeah, she told me," Ashley says, pulling at her streaky blonde bangs, examining the ends. "She was at the top of my list from the very beginning of who I'd want to be seen in it."
The gaze from Ashley's melancholy gray eyes cuts to the phone as one of her publicists runs through the list of press requests. "If we're talking about another photo shoot, I'm out," she says, playing with her rings-a diamond-studded silver skull and the Fred Leighton wedding ring from the movie Marie Antoinette that she wears on her index finger, a birthday gift from Mary-Kate. "I can't do it. We don't want to be out there too much at once. And I know you guys will all beg to differ, but that's how I feel."
Ashley's voice is small-almost squeaky-yet it slices through the chatter like steel. At 21, she is a remarkably clear and focused executive, not at all the type to be talked into things, particularly when they involve public appearances. Before the conference call, Ashley was playing with her brand-new BlackBerry when she suddenly stiffened, realizing it had a built-in camera. "I hate camera phones," she said. "They make me anxious." If one were to think a lifetime of lenses in her face had inured her to them, one would be wrong.
After several back-and-forths, the team in New York signs off, at which point Ashley stands, laces her childlike fingers, and gives them a stretch, palms out, until they crack. "Not a good way to start the day," she says with an exhausted smile and a shimmy of her haunches as she tugs her skirt into place. "Fifteen women on the phone at once. Jesus!"
She settles into another office where her colleague Tiffany Bensley wants to show her some fabric samples. "This one is dope," Ashley says dreamily, running her finger over a smoky-hued square of rabbit fur. Then she lays a lambskin across her lap and tests its stretchiness. "I want to see the belly because I think it would look great across the back of the jacket."
Bensley presents her with a design for the label that will be sewn into the clothes for The Row. Examining it, Ashley says the dimensions should be reduced by 30 percent. Then Bensley offers a swatch of suede with an ingeniously fringed surface. Ashley lunges for it, buries her face in it. Rapture. "This would make the sickest jacket," she says, wrapping the piece around her arm. "Mary-Kate is gonna shit herself when she sees this."
When the idea of putting Ashley Olsen on our cover first came up, I didn't get it. I'd watched the sitcom Full House plenty of times, in which she and her sister collectively played a child with a curiously husky voice and a troll doll's waxy, wide-eyed look of wonderment, uttering punchlines they couldn't possibly have understood. Years later I grew vaguely aware that they'd become the joint face of a tentacular empire generating Gates-size dollars in the sale of tween merch, from dolls to toothpaste. Then came the countdown on various horny websites to the day the girls would turn 18, with its rancid intimations of a kind of gleeful, pop-culturally sanctioned pedophilia. Ashley and Mary-Kate were, after all, that fetishized thing, twins-tiny, hot fraternal ones who happened to look identical.
This was the dawn of their NYU years, and the endless tabloid shots of them skulking around the urban campus wearing floppy hats, goggle-like sunglasses, and willy-nilly layers of granny fabric. Were they daft? Incognito? As desperate and damaged as Paris and Co., with whom they were frequently linked in the gossip columns? They looked vulnerable. Spooked. Spooky. Just these odd, fragile little creatures.
So-an Olsen twin on our cover? Please. I figured Ashley for a Michael Jackson-style cautionary tale. I couldn't have been more wrong.
For starters, her aesthetic is genuine and formidable; she's the type who could fashion a dinner napkin into something worthy of couture in, like, nine seconds. That black mini she's wearing? It's actually a Wolford bodysuit pulled down — she shows me the strappy part tucked in around her waist, under her shirt. Many items in both The Row and Elizabeth and James are inspired by quirky pieces she or Mary-Kate found in places like the thrift stores of Paris. Funny how girls who became avatars of plasticky newness and youth are really quite old-school: Ashley's not computer-savvy, almost proudly so; she's a fan of rock veterans like Bob Dylan and Van Morrison; and she carries business cards around in a vintage cigarette case. To say the least, she and Mary-Kate have an eye. And a passion.
But in the world of fashion, they also have a bit of an image problem. The girls became forces under the tutelage of lawyer Robert Thorne, who started Dualstar with them when they were only 6 and masterminded wildly lucrative ventures like their clothing partnership with Wal-Mart, their cutesy adventure videos, and their detective-book series. Ashley and Mary-Kate were reportedly millionaires by age 9, a commercial juggernaut — the very essence of mass. And a far cry from what they're going for now.
Cue the skeptics: In a New York Times article last June, designer Phillip Lim implied there was something unfair about celebrities like Ashley and Mary-Kate getting into the contemporary market, making it that much harder for "real" designers who lack their fame and resources. "He wrote a letter the next day," Ashley is quick to note. "He was like, 'You know, I was completely misquoted. I respect you guys more than anything; just keep kicking ass.'"
Three years ago, after turning 18, Ashley and Mary-Kate bought out Thorne (as well as their low-key, un-Svengali-ish parents) and took sole control of Dualstar. Although Ashley credits Thorne with playing an enormous role in their success, she also says, "Mary-Kate and I never really wanted our names on a bunch of different things. It wasn't us — it never felt like us." For the first time in their lives, they were in charge of their own image, tapping a sensibility, a side of themselves, the world never knew existed.
Around 1 P.M., Ashley leaves her offices for the factory in downtown L.A. where The Row samples are made. A fierce pair of Tom Ford aviators in place, she walks to her black Mercedes G55 AMG-"a tank," she calls it. (She used to drive a Cadillac de Ville but prefers the Mercedes because "I feel safer in it.") And suddenly she starts to scurry, having spotted a central-casting paparazzo across the way in a beat-up white sedan with the front bumper hanging off. Ashley hops up into the driver's seat, lights up a cigarette, and makes for the freeway — the sedan tailing her at a furtive distance the entire way. The paparazzi have been her lifelong bane. Earlier, Ashley told me it's the reason she wears bras: Much as she'd prefer to go without under her favorite spare, filmy sheaths, the photogs would have a field day.
"I love driving," she says, behind the wheel now, "but sometimes I'm not too good with it because I spend too much time looking in the rearview mirror if I know I'm being followed. You don't respond like, 'Oh, there's paparazzi.' It's more like, 'There's a man, and he's gonna attack me.' That's how your body responds." She flicks her cigarette butt out the window. As she pulls into the factory parking lot, the paparazzo rolls to a stop outside; when she's done, he'll follow her home.
Inside the factory, crammed with bolts of cloth, sewing machines, and wardrobe dummies, Ashley strokes, tucks, tweaks, and takes the measure of a fit model in a sleek stretch-leather mini, a miraculously simple little black dress — pulling her hair back into a chaotic knot while whispering instructions to the seamstress like, "Increase the shoulder seam three-quarters" and "It has to be tight enough so that her crack doesn't show when she bends over." It's hard to picture her enjoying anything more. Nothing flaky or diva-like about it-she just really loves doing this work.
"I live a very normal life — I have friends; I've always gone to school. The part that's not normal is that I've been working since I was 9 months old, but at the same time, it's completely normal to me," Ashley tells me over a plate of raw vegetables and hummus and a bowl of popcorn drizzled with truffle oil. We're sitting by the rooftop pool at Soho House in New York City, nine days after meeting in L.A. "I used to struggle with it more because I used to take things more personally. When I was kind of 16 to 18, I couldn't get out of the weeklies. When I came to [NYU], it was really tough for the first couple of months because I couldn't show up to some classes, because there'd be paparazzi outside." Once, a student protesting Wal-Mart put up flyers everywhere that said, "Mary-Kate and Ashley support child labor." "So we couldn't go to school for a week." She has yet to graduate.
Everything about them was scrutinized, spun, served up for comic fodder — even the eating disorder Mary-Kate was treated for two years ago. "That situation was more about how destructive the media can be to a person emotionally, to their identity, their public persona," Ashley says. "It's really sick." Their love lives have long been a public parlor game; Ashley admits to having a newish boyfriend and delights in no one knowing who he is.
Of course, the twin factor is at the heart of the fascination — Ashley confirms that there is something almost otherworldly about it. "Our bond is really beyond words," she says, inscrutable behind the Tom Fords. "I know when she's hurting, I know when she's going through something. I know when she's happy — whether I'm with her or not, I know. We both carry the weight of each other. When she's doing really well, maybe I'm not doing so well. It's weird that we're never at the same place — we just kind of balance each other out."
And yet, a subtle uncoupling might be underway. For the most part, they don't appear together on magazine covers anymore, and they're actively pursuing their own film projects. (Currently, Mary-Kate has a role on Showtime's Weeds.) They're also sharing what they've learned: The sisters currently have a licensing deal with the very Olsen-like twins, Dylan and Cole Sprouse, stars of The Suite Life of Zack & Cody, to whom they've passed along some advice — develop individual identities sooner rather than later. "The more the public can view you separately," Ashley notes, "the easier it will be for your future."
Despite the bisque-perfect features, at times like this she can seem oddly world-weary. "Listen," Ashley muses, "I know what my life will be when I'm dead. I want to make sure my family's taken care of. I have my will; I know where everything's going."
Yes, it's uniquely warping, being a child star, carrying that almost existential burden of knowing the public doesn't particularly want you to grow up. It's no wonder, then, that when Ashley and Mary-Kate made it to the watershed age of 21 last June, they really celebrated — with their near-and-dears at L.A.'s Chateau Marmont. Ashley, who hates public speaking, even gave an emotional speech. "I mean, I used to cry every year on my birthday," she says, "like, Oh my God, I'm getting older! But this was the first year I had the best time. I was excited."
She's reached a very cool place, I suggest — doing work she's rather brilliant at, ready to give the world a glimpse of the real her, poised to shrug off the ill-fitting tween-queen mantle for good. It's going to be great, I say — I can picture it.
"Don't tell me," Ashley says and laughs, equal parts imp and old soul. "Let me be surprised."
Marie Claire email subscribers get intel on fashion and beauty trends, hot-off-the-press celebrity news, and more. Sign up here.