Meet Sosie Bacon, This Year's Ms. Golden Globe
The 21-year-old actress and daughter of Kyra Sedgwick and Kevin Bacon will serve as an ambassador to the awards show.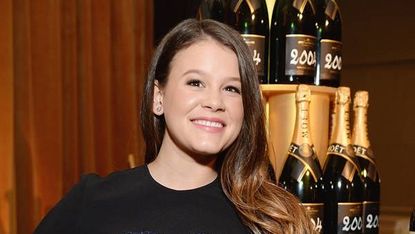 (Image credit: Getty)
Sosie Bacon has a big night ahead of her on Sunday. As Ms. Golden Globe, she will stand poised on stage holding the coveted statue as each category is presented. She'll also help frantic winners find their way off stage. Marie Claire caught up with the young actress between her filming the upcoming independent thriller Off Season to learn about the gig, her beauty routine for the occasion, and (of course) who she's wearing.
Marie Claire: Who was the first person you told when you found out that you were selected to be Ms. Golden Globe 2014?

Sosie Bacon: I first called my Dad, then my mom called me a few minutes later. Then I told all my friends—that was the most fun part.
MC: What does Ms. Golden Globe do, actually?

SB: I stand on stage during the entire show and show people where to go once they have gotten their awards.
MC: What are you doing to prepare? Any pre-show work out regiment, beauty plans?

SB: I recently went to Matties Skin Care in Hollywood for a facial and got some masks and products and stuff! And I've been doing a lot of Pilates Plus, hiking, and running. I really enjoy working out so I haven't really changed anything that much. I'm eating less peanut butter and cheese, I guess.
MC: Do you have a specific fashion inspiration for your Golden Globes look?

SB: Before I tried on dresses, I looked at a ton of red carpet images online. I always love the way Nicole Richie is dressed, and Allison Williams. I'm a big lace fan.
MC: What are your hair and makeup plans for the big day?

SB: This week L'Oréal is going to be trying out a few different looks with me, so that will be fun.
MC: Do you know what/who you are wearing yet? Do tell!

SB: I do know! I can't tell! It's a secret...but it's beautiful.
MC: Have your parents given you any award show pointers?

SB: They want to make sure I can walk in my heels and I am comfortable on stage. My mom is always telling me to stand up straight.
MC: What is the best advice you've ever been given from them?

SB: The best advice has been about my life and my acting. They always teach me to be honest and true to myself in my career and in real life, and to always work hard.
MC: What apps do you have on your iPhone?

SB: My friends are coming to visit me and I am picking them up from the airport, so I just got a FlightTrack app. It's awesome. Instagram, Twitter, Facebook, oh and Fatbooth and Zombiebooth!
MC: Which celebs do you follow?

SB: I follow Lena Dunham because she's hilarious, Harry Styles because he's just so cute, and John Mayer. I think that's it at the moment. My favorite Instagram is @pitbullsofinstagram. They put up the cutest pictures and support the rescue community.
The Golden Globes air Sunday, January 12 on NBC. Be sure to follow @MarieClaire for live updates from the red carpet, the awards show, and more!