So This Happened Last Night: Saint Johnny Depp May Be Engaged
He looked best in Edward Scissorhands.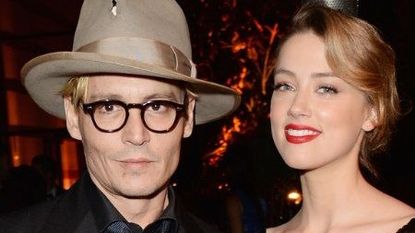 (Image credit: Marie Claire)
Fine wine actor (he gets better with age) Johnny Depp may be hitched to 27-year-old actress Amber Heard. According to The Guardian UK (opens in new tab), after Amber and a friend dined at an L.A. restaurant, she did everything to shield her left hand. It is rumored to be a "huge diamond ring."
A little background: Before Amber, Johnny, 50, was with waify French singer Vanessa Paradis for 13 years and had two children. He met Amber on the set of The Rum Diary, ended things with Paradis,and he's been adamant about being with the young actress ever since. At one point, Heard broke it off once because she wanted to be single (What? It's Johnny Depp, but you do you), but Johnny "personally-penned poem[s] and a [gave her] a bouquet of roses every day" (opens in new tab).
Additionally, he named a part of a beach on his private island "Amber's Cove" after the actress.
If that's not commitment, I don't know what is. Honestly though, I'd take the private beach over a ring any day.
*A previous version of this article incorrectly stated that Depp and Paradis were married and then divorced. It has since been edited.
Related Links:
Sh*t MC Girls Say: Live Coverage from the 2014 Golden Globes Red Carpet (opens in new tab)
The Best Dressed of the 2014 Golden Globes (opens in new tab)
The Six Toughest Single Women in Film (opens in new tab)