The Newest Voice in Girls: MC Talks With Jenny Lewis
Marie Claire's Entertainment Director Tracy Shaffer talks with Jenny Lewis, indie darling and front woman of Jenny and Johnny, on her new song, unexpected fans, and her famous past.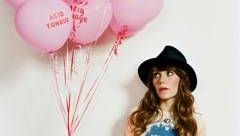 (Image credit: Archives)
As Entertainment Director for Marie Claire, I'm lucky enough to meet a lot of amazing celebrities. It's a cool job, what can I say! One celeb I've had the pleasure of getting to know—ironically not through my day gig, but by virtue of living in celebrity friendly Los Angeles—is singer/songwriter Jenny Lewis, of the acclaimed band Rilo Kiley, and now uber hip solo artist. This girl is truly talented, just ask the flock of Hollywood heavyweights whom she counts amongst her fans. When I heard that Lewis has a new song featured on the soundtrack for HBO's hit series Girls—one of our obsessions here at Marie Claire—I had to track her down! Read on for the scoop behind Jenny's Girls collaboration…and grab a listen here (opens in new tab).
Marie Claire: What's the story behind you being asked to record a song for Girls? Are you a fan?

Jenny Lewis: I was asked to come in, watch a scene and write something inspired by the episode. I was somewhat reluctant to watch [the episode] out of order, as I am a fan of the show. I was fully prepared to shield my eyes from any potential spoiler moments.
MC: What's "Completely Not Me" about?

JL: My friend Rostam from Vampire Weekend sent me a beautiful track to write over. My band Jenny and Johnny [with boyfriend and frequent collaborator Johnathan Rice] did some serious touring with those guys some years back and I was taken with their minimalist approach to pop music. Rostam and I worked at his friend's studio in the San Fernando Valley. The lyrics are inspired by Teen Wolf and the feeling that you can't control a sudden transformation.
MC: What's a typical day in your rock star world? We admit we're a little jealous!

JL: Coffee/hike/write/feed the fish/water the plants/red wine/play the drums/talk shit/Netflix
MC: You have some majorly famous friends and fans—who would we be most surprised to know is a Jenny Lewis groupie?

JL: I would never tell! Ok. The Mayor of Los Angeles.
MC: What brings you your greatest joy?

JL: The feeling when you finish a new song and you play it through in its entirety for the first time.
MC: Who are your music idols?

JL: Laura Nyro, Keith Richards, and Jerry Garcia
MC: One person you'd kill to collaborate with?

JL: Jack White
MC: I happen to know that you started out as a child actor. Anything people still recognize you from?

JL: Troop Beverly Hills and The Wizard!
MC: How did you earn your first dollar?

JL: In a Jell-O commercial when I was 3
MC: What's the best advice you've ever received?

JL: Forgiveness will save your life.
MC: Give us a glimpse at the songs at the top of your playlist right now?

JL: Real Estate, "Talking Backwards"; Skip Spence, "Weighted Down"; Parquet Courts, "Stoned and Starving"; Califone, "On the Steeple with the Shakers (X-Mas Tigers)"; and Cass McCombs, "Robin Egg"
MC: Twitter or Instagram?

JL: My true social media passion is making creepy short movies on Instagram. [Check href='http://www.twitter.com/jennylewis' target='_blank">@jennylewis