Modern Family's Sarah Hyland on Her New Film Vampire Academy
"It's a badass-kickass-motorcycle explosions-Zoey in her underwear-kind of film."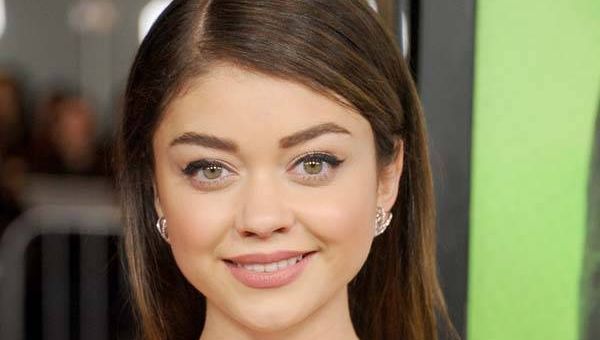 (Image credit: Getty)
The smart, gorgeous, and talented Sarah Hyland—who plays Modern Family's lovable, gullible, and selfie-addicted Haley Dunphy, transformed for her latest role in Vampire Academy, which hits theaters today. Directed by none of other than Mark Waters (Mean Girls, Just Like Heaven) with a screenplay penned by his brother Daniel Waters (Heathers, Batman Returns), Vampire Academy is an adaptation of the cult book series of the same name by Richelle Mead. Ms. Hyland dropped by Marie Claire to chat fashion, how she learned comedic timing, and the show she loves to hate.
Marie Claire: Kudos on the SAG Award for comedy series ensemble! And your dress for it – the Pamella Roland – was one of our top picks of the night (opens in new tab). Did you have to try on a million different dresses?
Sarah Hyland: My stylist [Anita Patrickson] showed it to me and I loved it. But I was second-guessing it for a while because it felt so much like an after-party dress because of its length.
MC: So what did you do?
SH: I kept looking at the dress and finally I was at my final fitting and I thought: "It needs to be longer! And that would change everything." That was on a Thursday and the SAG Awards were on a Saturday. And the amazing people at Pamella Roland, and herself, remade the dress in 24-hours and it arrived at my stylist's place at 8 a.m. the day of the SAG Awards.
MC: That's amazing. So for these awards shows do you talk with everyone beforehand about what each of you is wearing?
SH: Yes we do that, the women on the show. I'm always that annoying person drilling everyone on what they're wearing and especially what color. Because I don't want to be in the same color as Sofia Vergara! I'm sorry, I don't even want to compete with that!
MC: [Laughing]. I don't think any woman on earth does! So let's talk Vampire Academy. Completely different than Modern Family. How was the experience?
SH: I loved it. I went into it thinking, "Okay this is going to be so challenging and different and new." And it ended up being SO much fun. And even though it's a badass-kickass-motorcycle explosions-Zoey in her underwear-kind of film, there are different types of comedy in it as well.
MC: And your character, Natalie, kind of the loser nerd of the bunch…
SH: On a regular shoot, something like Modern Family or even when I did Bonnie & Clyde, you think, "Do I have dark circles? Is my lipstick ok? How's my hair?" With this it was more like, "Eh, I don't care. Do I look nerdy? Is my hair frizzy?" All I cared about it was the continuity of where my fake pimples were.
MC: Ah that's great! And how about working with Mark Waters?
SH: It was amazing. It's so hard to put into words because Mean Girls came out in 2004, I was 13 about to turn 14, and it was such a life defining moment. I'd only ever done dramatic stuff. Modern Family is my first comedy. And I didn't even realize while watching Friends and Will & Grace that I was gaining comedic timing from those shows. It was kind of a defining moment when I watched Mean Girls because I started to really understand it.
MC: That's so cool. Do you still watch a lot of TV?
SH: I am a TV junkie: Walking Dead, Game of Thrones, True Blood, American Horror Story, Community, Stupid Realty Singing Competition Shows, The Bachelor, Breaking Bad, House of Cards. There's a lot of good TV out there.
MC: So much. And there's also a lot of bad TV that's really good.
SH: Yes! I just saw two episodes of Rich Kids of Beverly Hills. It was like a train wreck, you can't pull your eyes away from it because it's so fascinating but so awful at the same time.