The Craziest Kardashian Conspiracy Theories of All Time
Here are twelve of the craziest Kardashian-Jenner conspiracy theories out there.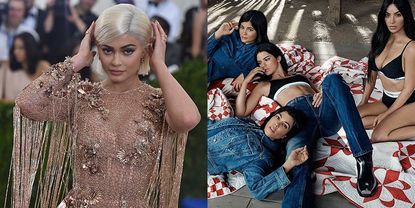 (Image credit: Getty Images/ Calvin Klein)
The Kardashian-Jenner family have lived their lives in the public sphere for a decade. They've invited fans into their lives, first through their E! reality series, then through their prolifically-updated social media accounts. But, even with all that transparency (or at least appearance of transparency), there are still unanswered questions that fans have obsessed over, resulting in some truly bonkers conspiracy theories about the family. Here are 12 of the craziest Kardashian conspiracy theories of all time.
1. Kim Kardashian was replaced by a lookalike in the Calvin Klein campaign
When Calvin Klein's My Family campaign starring the Kardashian-Jenners debuted in January 2018, fans first focused on Kylie Jenner, hunting for any sign of a baby bump. When that quickly proved futile, they switched their attention to Kim—who some fans are convinced was replaced by a double in the shoot. Seriously.
2. Kylie Jenner was the surrogate for Kimye's third child
Given the timing of Kylie's pregnancy rumors and her staunch refusal to either confirm or deny that she's expecting, many fans became convinced that Kylie was actually Kim's surrogate. The fact that Kim has asked her sisters to be surrogates in the past only fueled this one.
3. Khloé Kardashian is actually O.J. Simpson's daughter
This theory has been circulating for years and gained traction when side-by-side pictures highlighting the similarities between Khloé and Simpson's daughter, Sydney, started making the rounds on Twitter.
In January 2018, Simpson finally addressed the rumors.
When asked by a TMZ photographer if he would like to congratulate Khloé on her pregnancy, he made it clear that any congratulations he has for the reality star would be on behalf of her late father, his friend, Robert Kardashian.
"Well, for Bob [Robert Kardashian], God bless his soul, yeah. I don't know for me. I don't think for me I have nothing to do with it," he said. "I would be proud, but trust me, I had nothing to do with it."
4. Blac Chyna and Tyga only dated Rob and Kylie to use the Kardashians
If you're at all familiar with the convoluted dating history of the Kardashian family, then you already know about the weirdness that is the Kylie Jenner-Tyga-Blac Chyna-Rob Kardashian relationship web.
The short version: Tyga and Blac Chyna dated from 2011-2014 and have a son, King Cairo, together. In 2014, Kylie and Tyga started hanging out and rumors that the two were dating began shortly after. The two officially stepped out as a couple on Kylie's 18th birthday in 2015. They split for good in 2017.
Meanwhile, Rob and Chyna began dating in January 2016 and welcomed their daughter, Dream Kardashian, in November of that year and split a month later. After a brief reconciliation in early 2017, the couple split for good.
Yeah, that's the short version. Theorists believe that Tyga and Chyna orchestrated their infiltration of the Kardashian family when they split in 2014 and used the famous family for fame and financial gains.
5. Ted Cruz is actually Robert Kardashian Sr.
This theory posits that Robert Kardashian Sr. did not die of esophageal cancer in 2003. Instead, at least one theorist says, he faked his death, left his family, and started a new life as Ted Cruz, so he could pursue a career in politics. Um, okay?
6. Kim Kardashian's wedding to Kris Humphries was a hoax
Kim's infamous 72-day marriage to basketball player Kris Humphries has been widely ridiculed. Some fans think it's more than just a rushed love story with an unhappy ending though. There are some who are convinced the whole union was a publicity stunt intended to drum up higher ratings for Keeping Up With the Kardashians.
"It was pretty much an arranged marriage right from the start," a source told RadarOnline. "Kim was looking for a husband and Kris was selected for her, amongst others. She wasn't really into him but she hoped she would be able to develop some feelings, but it never happened. She was never particularly attracted to him, and by all accounts absolutely hated sleeping with him or even having to make out with him."
The source added, "The whole wedding was a total hoax and a publicity stunt. It was great for ratings and it was an amazing money maker. That's it though, period. Kris turned out to not be as malleable as everyone hoped he would be, he was pictured out partying with other girls, Kim really couldn't care less for him, she decided to end it."
7. Kris Jenner arranged the sale of Kim's sex tape
Kim Kardashian went from "girl sometimes photographed with Paris Hilton" to a household name in 2007 when her 2003 sex tape with Ray J leaked. Since then, Kris Jenner has become famous in her own right as a hardcore momager, managing her daughters' careers.
According to some sources, Kris orchestrated the sale of Kim's sex tape to catapult her daughter (and the rest of her family) to fame.
8. Kris Jenner also arranged the triple pregnancy
Back in 2014, Blind Gossip ran an item claiming that Kris Jenner (okay, a "reality maven") was trying to get three of her reality star daughters to conceive at the same time—for ratings, publicity, promotional deals, etc. This could all be a coincidence, of course, but good luck convincing conspiracy theorists.
9. Kim, Kanye, and Taylor Swift are all Illuminati
According to this very convoluted conspiracy theory, Kim Kardashian, Kanye West, and Taylor Swift are all members of the Illuminati and their public feuds have been elaborate hoaxes. The theory suggests that Kanye's interruption of Taylor's speech at the 2009 VMAs was her initiation into the secret organization and that everything the trio have done since is just to manipulate us and keep our attention away from more important matters.
10. The Illuminati were also responsible for Lamar Odom's coma
If you buy that Kim and Kanye are high-ranking members of the Illuminati, then it's not a huge leap to believe this next theory—that they were behind Lamar's coma as a way to keep him from speaking out about the organization. This theory says that Lamar was sick of the secrets and ready to talk and that the Illuminati staged his coma to teach him a lesson, after which they "let him live by giving him a secret serum that cures all ailments." Suuuurrre.
11. Kylie Jenner died in 2013
This "theory" can be traced back to a single (probably joking) tweet. It stems from how different Kylie looks now compared to her 2013 self and weirdly managed to gain some traction.
12. Kim Kardashian is a secret agent
This bizarre theory made the rounds in 2016 when the Iranian Revolutionary Guards Corp reportedly accused Kim and Instagram of working together to corrupt the lifestyle of young people and women.
When People asked her about the claims that she was a secret agent, she said, "What? For who?"
Celebrity news, beauty, fashion advice, and fascinating features, delivered straight to your inbox!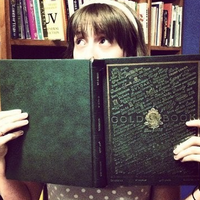 Kayleigh Roberts is a freelance writer and editor with more than 10 years of professional experience. Her byline has appeared in Marie Claire, Cosmopolitan, ELLE, Harper's Bazaar, The Atlantic, Allure, Entertainment Weekly, MTV, Bustle, Refinery29, Girls' Life Magazine, Just Jared, and Tiger Beat, among other publications. She's a graduate of the Medill School of Journalism at Northwestern University.