10 Male Actors Whose Assets Were, Ahem, Enhanced on Screen
Power to the prosthetic.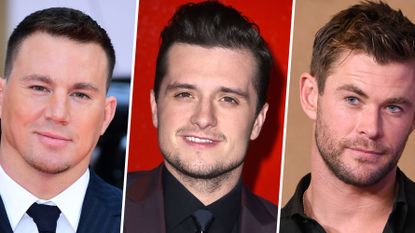 (Image credit: Getty Images)
Marie Claire Newsletter
Celebrity news, beauty, fashion advice, and fascinating features, delivered straight to your inbox!
Thank you for signing up to Marie Claire. You will receive a verification email shortly.
There was a problem. Please refresh the page and try again.
Actors go full-frontal on screen fairly frequently—have you seen Gone Girl?—but sometimes, their body parts are...um...not their own. The needs for prosthetic penises can vary: Sometimes, actors understandably don't want millions of viewers to see what they look like fully naked. Sometimes, their characters are supposed to be packing a lot of heat. And sometimes, as in Daniel Radcliffe's case, they have need for an on-screen erection that doubles as a compass. On that note, here are 11 famous dudes whose bits and pieces were the handiwork of Hollywood prop departments.
Josh Hutcherson in 'Future Man'
There's a reason Hulu's new-ish comedy Future Man is rated TV-MA: At one point, Hutcherson's character fights a nude clone of himself, and the two doppelgangers are endowed quite differently. "There are barely limits," Josh said on the podcast Happy Sad Confused. "Some prosthetics really push the limits."
Chris Hemsworth in 'Vacation'
Chris Hemsworth went full-frontal in this 2015 comedy, but his assets were not his own. "We had a choice between an 8-inch and a 10-inch [prosthetic], and we tried them both on him in a room above the bedroom we were shooting," co-director John Francis Daley told ET. "Just the three of us alone in a room sampling penises was a very strange experience for us."
Channing Tatum in 'The Vow'
While filming the nude scene for their 2012 romance The Vow, Channing Tatum decided to prank co-star Rachel McAdams. "Channing got the props department to make a prosthetic, um, member," Rachel told Stella Magazine. "Literally a fake penis. I didn't know what to do—I thought, 'Is that the real deal?' It was very realistic. It was ridiculous, the scale of it!"
Daniel Radcliffe in 'Swiss Army Man'
This Harry Potter alum played a corpse in the 2016 comedy Swiss Army Man—but not just any corpse. A corpse with a penis that could point to specific compass bearings.
"The way the penis moves in the film, it was based on an animal called the tapir who have penises which are prehensile and can move around," Daniel told Metro.co.uk. "Normally all of the animatronic stuff we had on Harry Potter, most were controlled by a guy with a little remote control. This, for some reason, was controlled by two gigantic levers that were on the side of the set that a guy was wrenching around to operate. Much hilarity was had with the animatronic penis."
Mark Wahlberg in 'Boogie Nights'
Mark Wahlberg played a well-endowed porn star in the 1997 drama Boogie Nights—perhaps too well-endowed. His prosthetic actually had to be made shorter, as he told Seth Meyers.
"I have to stand there, take off my clothes, and they basically start sculpting this thing around you," he said. "It's very uncomfortable, very awkward. And the first time that they did it, they did the exact specs, measurements, to what they thought [1970s porn star] John Holmes was like…and this thing was down past my knee."
(Still, he said the prosthetic is the only prop he's ever kept from a movie.)
John Cena in 'Trainwreck'
Turns out WWE star John Cena wore a prosthetic for the 2015 comedy Trainwreck. "[I have a] 'big part' because of the costume department," he told Jimmy Kimmel. "I had to stuff myself in a small nylon sock, and they gave me a stunt penis to insinuate an erection." Good times.
Matthew Rhys in 'Girls'
In an episode of Girls, Matthew played a writer who propositioned Hannah…by taking out his penis without asking. But the actor didn't actually expose himself, as his Americans co-star and partner Keri Russell told Seth Meyers.
"He got to choose his own [prosthetic]," she said. "And he's like, 'This puts me in such an awkward position. Like, if I choose a giant one, people are gonna be like, What a dick.…So he's like, I just let someone else do it.'"
Kristian Nairn in 'Game of Thrones'
Hodor, may he rest in peace, made quite a first impression in Game of Thrones Season 1, when he walked out of the woods in the nude.
"It was made out of, like, latex, and it was very realistic-feeling," Kristian told GQ. "But Hodor looks part giant, so it was definitely beyond human—about sixteen inches…. The pubes had to be planted into my own hair with glue, so the removal hurt. I felt sorry for the makeup girl, too."
Jason Schwartzman in 'The Overnight'
"There was something just kind of liberating [about it]," Schwartzman told Buzzfeed of wearing a prosthetic in 2015's The Overnight. "I felt quite happy to just be in it…. I guess there are all different kinds of prosthetics, but this is sort of like a Tempur-Pedic memory foam. If you wanted to, you could squeeze it, and it would kind of like slowly rise back up to its original [size]. So I call it a 'tempur-penis.'"
Will Poulter in 'We're the Millers'
This young Brit had to show a spider-bitten testicle in the 2013 comedy We're the Millers, opposite Jennifer Aniston and Jason Sudeikis.
"I was wearing a prosthetic, so none of that is mine," he assured Metro.co.uk. "I'm not the proud owner of that pineapple-sized testicle. The prosthetic took about three hours to put on. It was a bit of a trial and I got intimate with a very talented man called Tony who saw a lot more of me than what I care to show anyone else."
Celebrity news, beauty, fashion advice, and fascinating features, delivered straight to your inbox!