The Best TV and Movie Wedding Dresses of All Time
I'm definitely Meghan Markle in 'Suits,' just sayin'.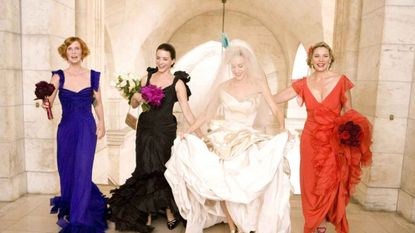 (Image credit: HBO)
Marie Claire Newsletter
Celebrity news, beauty, fashion advice, and fascinating features, delivered straight to your inbox!
Thank you for signing up to Marie Claire. You will receive a verification email shortly.
There was a problem. Please refresh the page and try again.
Weddings are all about fairy-tale endings and love and compromising on your future in-laws' ridiculously long list of requests (no oysters during cocktail hour?! But I love oysters during cocktail hour?!). Let's take a beat from all that noise and turn to pop culture, a place where extravagant nuptials come with no price tag and designer dresses are always accessible. It's nice here. Behold: The most iconic wedding gowns from your favorite TV shows and movies.
1/58
'Sex and the City'
Has anyone recovered from the Vivienne Westwood wedding dress Carrie Bradshaw wore in the 2008 Sex and the City movie? Obviously, the dress caused, er, complications for her and Big, but TBH, I'd choose this dress over Big any day.
2/58
'Suits'
When you think of Meghan Markle in a wedding gown, it's probably the off-the-shoulder bespoke Givenchy gown that she wore to wed Prince Harry in 2018. However, her character on Suits, Rachel Zane, wore a sleeveless V-neck in her (season 7) wedding to onscreen love Mike Ross.
3/58
'How I Met Your Mother'
Whether or not Robin choosing Barney over Ted (at least mid-series) was the right move is debatable, but one thing she certainly did right was this Monique Lhuillier dress. So pretty!
4/58
'Mamma Mia!'
Ugh, doesn't this dress (and this ensemble cast) just make you want to run away to a Greek island for the summer?
5/58
'Friends'
Has there ever been a more iconic television moment than Monica Geller, Rachel Green, and Phoebe Buffay lounging around in wedding dresses they bought just for the sake of it? No, I think not.
6/58
'Friends'
Let's also not forgot the dress Rachel wore in the Friends pilot, when we meet her after she runs away from her wedding to orthodontist Barry Farber. Please note the fab crown/veil situation here.
7/58
'Friends'
Okay, I promise I'll stop after this, but I feel like we also need to take a moment to appreciate the simple white dress and long veil Monica wore to marry Chandler Bing in season 7.
8/58
'Runaway Bride'
Maggie's dress in Runaway Bride was just big and pretty enough to distract wedding goers from noticing that she's probably wearing sneakers underneath that skirt. Hey, when a girl's gotta dash, a girl's gotta dash.
9/58
'My Big Fat Greek Wedding'
You were probably too distracted by the Portokalos family's antics to notice Toula's (Nia Vardalos) wedding dress. The V-neck and the detailing were pure gold.
10/58
'Funny Face'
Audrey Hepburn had many iconic movie looks, including this short satin-and-tulle Givenchy wedding dress. So. Freakin'. Chic.
11/58
'My Best Friend's Wedding'
I get that we're all supposed to root for Julia Roberts in this movie, but TBH, Cameron Diaz's fun, structural gown kinda had me hoping she'd end up with the dream guy....
12/58
'The Office'
After watching them flirt from their desks basically every single episode, Pam Beesley and Jim Halpert—the whole world's fave TV couple—finally got hitched in season 6.
13/58
'Father of the Bride' (1950)
Elizabeth Taylor's wedding dress did not disappoint in the 1950 movie Father of the Bride. That combo of silk, buttons, collar, and lace is everything you could want in a fictional wedding dress.
14/58
'27 Dresses'
When Katherine Heigl's character, Jane, finally gets her turn to walk down the aisle (and let's not dwell on the gender politics of this movie, because, well, they suck), she opts for this understated and elegant gown. Magnifique!
15/58
'27 Dresses'
Remember this horrific scene where Jane realized her selfish younger sister cut up their late mother's wedding dress?! Awful. But is it bad that I was super distracted by her new dress the whole time? Don't @ me...
16/58
'The Notebook'
You might not have noticed Allie's (played by Rachel McAdams) wedding dress 'cause you were too busy crying throughout the movie, but here it is, and yeah, it's some good vintage!
17/58
'Downton Abbey'
And speaking of fab wedding gowns from an earlier era, Rose's beaded and silk tulle dress in Downton Abbey is all kinds of gorgeous.
18/58
'Romeo + Juliet'
A dress that needs no introduction: The one worn by Claire Danes in Baz Luhrmann's Romeo + Juliet. Such a shame about how that marriage ended though.
19/58
'Will & Grace'
In season 5, Grace pulls a Priyanka Chopra and Nick Jonas by getting married to Leo, her boyfriend of two months. Will obviously walks Grace down the aisle, and even though she and Leo get divorced, they remarry by the end of the series.
20/58
'The Hunger Games: Catching Fire'
Did Katniss Everdeen ever end up marrying Peeta Mellark in the Hunger Games movies? Debatable. But did Jennifer Lawrence get to wear a stunning, futuristic wedding dress either way? She sure did.
21/58
'The Little Mermaid'
Say what you want about Disney princesses being bad role models for young viewers, but I one hundred percent endorse Ariel's wedding dress as role model for wedding dresses. Those animated puff sleeves are E-V-E-R-Y-T-H-I-N-G.
22/58
'The Sound of Music'
This 1965 musical classic is great for many reasons, not the least of which is Maria's (Julie Andrew) classically modest and sophisticated wedding dress.
23/58
'Girls'
Jessa from Girls (played by Jemima Kirke) was obviously never going to wear a traditional wedding dress, so instead, she went with this boho minidress for her surprise wedding in season 1.
24/58
'The Princess Bride'
We love a medieval royal wedding dress. I mean, that texture! That crown! Sure, Buttercup wasn't too happy about this marriage, but at least she got to wear a great dress for a hot sec? Maybe? It's fiction, you guys!
25/58
'Grey's Anatomy'
Grey's Anatomy's Cristina Yang wore a crimson dress and carried a color-coordinated bouquet for her season 7 wedding.
26/58
'Grey's Anatomy'
Two other Seattle Grace Hospital doctors who looked great at their wedding? Dr. Arizona Robbins and Dr. Callie Torres, who both nailed the bridal look.
27/58
'The Twilight Saga: Breaking Dawn'
If you ever wondered what vampires wear to their weddings (anyone? just me?), it seems like they stick with the traditional suit and a white Carolina Herrera gown, as Bella and Edward demonstrated in Twilight.
28/58
'Bride of Frankenstein'
Now that we know how vampires dress to get married, let's look at lab-made monsters, shall we? According to Bride of Frankenstein, lady monsters wear flowing dresses like this one. Noted.
29/58
'Gossip Girl'
If anyone could pull off a nontraditional blue wedding dress, it's Blair Waldorf, who ended up getting married to (and then arrested with) Chuck Bass in the sixth season of the Gossip Girl series.
30/58
'Gossip Girl'
And it's not just Blair who gets married on the show! Serena, played by Blake Lively (duh), marries Dan Humphrey in the series finale, wearing a strapless metallic gold and white gown—S knows a ~fashion moment~ when she sees one.
31/58
'Love Actually'
While most of us remember Keira Knightley's role in Love Actually as standing at her front door while her husband's BFF professes his love to her, the wedding scene is seriously underrated, IMO. The feather detailing on her character's wedding dress was also just *chef's kiss*.
32/58
'Bride Wars'
Two best friends becoming enemies over wedding drama is a ridiculous premise for a movie, but I'll concede that these two Vera Wang wedding gowns are pretty chic.
33/58
'Game of Thrones'
While I have some *major* issues with the guy Margaery Tyrell is marrying here (yikes, girl, don't do it!), I have no complaints about her pretty wedding dress, complete with a train of roses, which is a sweet tribute to her Highgarden upbringing.
34/58
'Game of Thrones'
And speaking of GoT couples that are better off apart, Sansa Stark and Tyrion Lannister were forced to wed in the series. While this marriage was also short-lived, Sansa's gown was v pretty.
35/58
'The Vow'
A short pink wedding dress with a matching veil? I mean, how could you not love the dress Paige (Rachel McAdams) chose to wed Leo (Channing Tatum) in The Vow?
36/58
'The Theory of Everything'
The love story of physicist Stephen Hawking (Eddie Redmayne) and Jane Wilde (Felicity Jones) has many great moments, including Jane's understated wedding dress.
37/58
'30 Rock'
Yeah, Liz Lemon's Princess Leia costume might not be what you think of when you think "best TV wedding dresses of all time," but it's, like, kinda bridal. Plus it looks hella comfortable, so....
38/58
'The Wolf of Wall Street'
While Leonardo DiCaprio and Margot Robbie's marriage in The Wolf of Wall Street wasn't, um, great, at least Margot got to wear this gorge dress at the wedding.
39/58
'The Age of Adaline'
Blake Lively slays in yet another breathtaking wedding dress in The Age of Adaline, this time with a vintage-y twist.
40/58
'Melancholia'
Bad news? In this 2011 flick, the world is ending. Good news? Kirsten Dunst's character, Justine, wears this fab wedding dress.
41/58
'About Time'
Mary (played by Rachel McAdams) wears a red (red!) wedding dress to marry Tim (played by Domhnall Gleeson) and honestly, I'm a sucker for an edgy fashion move.
42/58
'Great Expectations'
Okay, I get that it's tragic/not super sanitary that Miss Havisham chose to wear her wedding dress for the rest of her life after she was jilted at the altar, but Helena Bonham Carter is kinda working it regardless, no?
43/58
'Monster-in-Law'
While the idea of a wife-to-be and her future husband's mother duking it out for his affection is very 🙄, one thing that is great about this movie is J. Lo's wedding dress, complete with elbow-length gloves because why not?
44/58
'Coming to America'
The pink wedding dress and gold crown worn by Lisa McDowell (played by Shari Headley) is just so good.
45/58
'New Girl'
When Cece and Schmidt finally tie the knot on New Girl, Cece wore a pretty gold sari and a red-and-white flower garland, while Schmidt wore a tan suit to match.
46/58
'Four Weddings and a Funeral'
I honestly gasp at this pic of Andie MacDowell (who plays Carrie) every single time—that veil, those gloves, the neckline! It's all so good.
47/58
'Emma'
Gwyneth Paltrow nails the straight-out-of-a-Jane-Austen-novel look with this sweet and simple wedding dress.
48/58
'Parks and Recreation'
When Ben and Leslie were in a rush to get married on Parks and Rec, Leslie asked her BFF Ann to finish her half-made wedding dress, asking for "the sensuality of Eleanor Roosevelt combined with the animal magnetism of Leslie Stahl." What Ann came up with was a skirt made of meaningful bills and images from her career. Very Leslie, no?
49/58
'Full House'
I think I speak for everyone when I say have mercyyy. When Aunt Becky (Lori Loughlin) tied the knot to Uncle Jesse (John Stamos) in season 4, she served up some major wedding inspiration. Please note the headpiece.
50/58
'The Godfather'
Although the marriage ended tragically, Don Corleone's youngest son's Italian wedding to Apollonia Vitelli was perfecto, especially her high neck lace gown.
51/58
'Saved by the Bell: The College Years'
First of all, if you didn't know Saved by the Bell: The College Years existed until now, you're welcome. Second of all, Kelly Kapowski's dress is un. real. But why am I surprised?
52/58
'Father of the Bride' (1991)
In typical '90s wedding style, Annie Banks (Kimberly Williams) wore a silk and lace ball gown when she became Annie Banks-Mackenzie in Nancy Meyer's Father of the Bride remake.
53/58
'Parenthood'
We're totally here for the casual vibes of Crosby and Jasmine's backyard wedding ceremony—not to mention Jasmine's simple wrap dress and white cardigan combo.
54/58
'Gone With the Wind'
All hail Scarlett O'Hara as the most understatedly thrifty fashionista of her time. First of all , she says "I do" in her mother's wedding gown. Second of all, this getup was made out of curtains. Iconic.
55/58
'Boy Meets World'
When Cory and Topanga said "I do" in season 7, it was a long time coming. So what does one wear when marrying their childhood crush? If you're Topanga, an off-the-shoulder lace stunner.
56/58
'The Great Gatsby'
There may not have been a lot of love between Daisy and Tom Buchanan on their wedding day, but I surely fell in love with the '20s opulence of Daisy Buchanan's bridal look.
57/58
'The Princess Diaries 2: Royal Engagement'
Even though Mia Thermopolis decided to ascend to the throne *without* taking a husband (YGG), we're glad she eventually said "I do" so that we were able to see her lace off-the-shoulder gown that was fit for a princess.
58/58
'The Young Victoria'
I couldn't in good conscience end this list without including the rendition of Queen Victoria's 17th century wedding dress that Emily Blunt wore in The Young Victoria. I mean, the monarch did start the trend of white wedding dresses after all.
Celebrity news, beauty, fashion advice, and fascinating features, delivered straight to your inbox!
Alanna Greco is the weekend editor at Cosmopolitan.com and a freelance writer based in New York. Her writing focuses on anything/everything pertaining to women, from sex and relationships to pop culture and health. She has two cats that she's still trying to get to like her.