Heidi Klum's Incredible Halloween Costumes Through the Years
Our Halloween hero since 2000.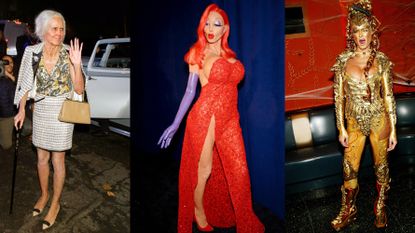 (Image credit: Getty Images)
Marie Claire Newsletter
Celebrity news, beauty, fashion advice, and fascinating features, delivered straight to your inbox!
Thank you for signing up to Marie Claire. You will receive a verification email shortly.
There was a problem. Please refresh the page and try again.
Halloween means many things for different people: carving pumpkins, stuffing your faces with loads of candy (that we can't wait to buy by the bucketload once it goes on sale), and stepping out in the most ridiculous-looking costume you can put together. Supermodel and actress Heidi Klum especially loves spooky szn, and is famous for hosting one of the best Halloween parties in Hollywood, taking her costume to the extreme year after year. Click through, ahead, for some of Klum's incredible Halloween costumes since her inaugural bash from the tame to the totally insane.
1/43
2000: Leather Heidi
For Heidi's first bash, she wore a costume with a vaguely S&M vibe—spikes, patent leather—and two Pippi Longstockings braids.
2/43
2000: Leather Heidi
It's clear that Heidi is in a Halloween costume, but looking at this, you'd have no idea how committed she would become to the art of dress-up.
3/43
2001: Lady Godiva
Heidi leveled up quite a bit for her second Halloween bash, making her entrance on a horse as Lady Godiva—an injured or dead one, given the blood dripping from her mouth.
4/43
2001: Lady Godiva
While she wore a floor-length blonde wig and a sparkly white bodysuit, it was conservative by Lady Godiva standards. Legend has it that the English noblewoman rode her horse buck naked through town.
5/43
2002: Betty Boop
Year three of the model's Halloween party gave us scary Betty Boop—scary because she wore fangs under her red pout.
6/43
2002: Betty Boop
The costume was simple yet striking. Most of the work of getting into character as the iconic cartoon was in the hair and makeup.
7/43
2003: Predator
It's unclear what exactly Heidi dressed as in 2003. What's obvious is that she went full-out from her braids all the way down to her ~wild~ boots.
8/43
2003: Predator
She had a gold shimmer all over her body and she even wore gold teeth.
9/43
2004: Red Witch
In 2004, Heidi arrived at her party dressed as a scantily clad witch with scarlet hair. Her makeup was amazing, per usual. She also kindly gave a skeleton a piggyback ride on her way in.
10/43
2004: Red Witch
The model had a whole "fly into the party like an actual witch" thing planned, but she ended up getting stuck in her harness, which undid the witch illusion.
11/43
2005: Vampire
Heidi loves a good stiletto boot to go with her Halloween costume, and, in 2005, they were a black patent leather version that went to mid-thigh.
12/43
2005: Vampire
For her vampire look, she had on fangs, an enormous curly wig, and a bleeding heart pinned to her corset dress.
13/43
2006: Forbidden Fruit
Heidi was concealing a pregnancy when she showed up to her party as a giant apple with a snake wrapped around it.
14/43
2006: Forbidden Fruit
"The problem with that was that I was so big, I couldn't fit into a car, so I had to get a convertible at the last moment just so I could get to the party," she told the New York Post. "I couldn't drink water because my arms didn't reach my face, I couldn't even sit. That wasn't so much fun—I didn't fully think that one through!"
15/43
2007: Cat
After such an ordeal with her apple suit, Heidi showed up the next year in a more relaxed look: a cat bodysuit.
16/43
2007: Cat
She had her kitty claws out, but to the average New Yorker, she looked a bit like a giant subway rat.
17/43
2008: Goddess Kali
Heidi said that her assistant had come up with the idea for this elaborate costume. "My husband and I were in India last year, so she said, 'Why don't you do an Indian goddess? Like a scary Indian goddess?' And I said 'OK!'"
18/43
19/43
2009: Crow
Heidi and then-husband Seal twinned as two crows. While the costumes made the couple look like monster-size birds, the getups weren't at all practical.
20/43
2009: Crow
"It was bad. My husband was driving and he could hardly see anything," Heidi said. "When you have a beak on, you can't talk to anyone, you can't really drink. It's not a good costume." Noted!
21/43
2010: Superhero
Heidi's superhero bot suit combined Iron Man's metallic armor with Mystique's boldly colored skin and hair.
22/43
2010: Superhero
Heidi described the costume as being "larger than life" and she was being literal when she said that. In her stilt-like boots, she towered over everyone at the party.
23/43
2011: "Bodies" Cadavar
Remember the exhibition that went around the world and everyone went to see even though it featured the preserved remains of actual people? Heidi looked like a part of that traveling exhibit when she showed up to her first of two Halloween parties, this one in Las Vegas.
24/43
2011: "Bodies" Cadavar
"It's kind of like a dead body with the first layer of skin ripped off," Heidi explained. "It's basically like me naked." She said that she called this costume the "visible woman."
25/43
2011: Ape
For her second Halloween party of 2011 in New York City, Heidi and Seal arrived as apes.
26/43
2011: Ape
The makeup took nearly six hours to apply, she said, and included fake breasts. She and Seal looked like they were so in love, but just a few months later, they announced their split.
27/43
2012: Cleopatra
Heidi teased her Halloween costume for 2012—she was planning to go as Cleopatra—but ended up postponing the party out of respect for the victims of Hurricane Sandy, which hit just before Halloween.
28/43
2012: Cleopatra
When she finally had her party in December, she showed up in an improved version of the costume she had previewed. After a few years of being "ugly," she wanted "something really pretty and sparkly for a change," she told Us Weekly. There were hundreds of crystals on her face that were applied individually.
29/43
2013: 95-Year-Old Heidi
"When I was a 95-year-old version of myself, I spent a lot of time getting the details right, down to the varicose veins and the eye lenses to make it look like I had cataracts," Heidi told the New York Post. "No one recognized me, and I almost had to tell everyone to let me into my own party!"
30/43
2013: 95-Year-Old Heidi
Once she made it into her party, she had a rocking chair and a cane for when she got tired of all the standing.
31/43
2014: Butterfly
After five hours in the makeup chair, Heidi metamorphosed into a butterfly for her 2014 Halloween party.
32/43
2014: Butterfly
She chose the butterfly costume because "someone very special to my heart called me a schmetterling [German word for butterfly], so I wanted to be a butterfly this year," she told E! News. "They're just so pretty and colorful and I used to love painting butterflies."
33/43
2015: Jessica Rabbit
In 2015, Heidi raised her own makeup record to 10 hours when she became Jessica Rabbit. A team of artists applied prosthetics not just to her face, but her chest and rear (which made her too big to fit into her car, according to the New York Post's spies).
34/43
2015: Jessica Rabbit
She looked utterly unrecognizable, but entirely like Jessica Rabbit. Only Heidi could pull this off.
35/43
2016: Heidi and Her Clones
Can you spot the real Heidi among the fakes? In 2016, Heidi opted for a super far out costume that didn't involve her dressing up as someone else. Instead. she showed up with a squad of women who looked just like her (courtesy of face prosthetics, of course).
36/43
2016: Heidi and Her Clones
Despite criticism of the costume (many people thought it was boring compared to her past Halloween looks), Heidi maintained that the idea was ingenious and a personal fave. "I like to be creative," she told Us Magazine. "I don't like to do things that have been done before, and I've never seen anyone do this before, and so I just like to be unique."
37/43
2017: Werewolf from Michael Jackson's "Thriller" Video
Heidi paid homage to the spookiest music video ever by dressing up donning the same outfit that MJ wore in the 1983 "Thriller" video. She even performed the music video's iconic dance routine in the streets before the party.
38/43
2017: Werewolf from Michael Jackson's "Thriller" Video
Taking inspo from MJ was an obvious choice since, like Heidi, the late superstar had a flair for the dramatic. "[Michael] made it into this whole kind of film," she shared with Us Magazine. "It was super scary and super elaborate. He went through all that stuff, too, doing this. I thought it would be a fun idea to copy that."
39/43
2018: Fiona from 'Shrek'
"I always wanted to be Shrek and Fiona," the supermodel told Extra at her 2018 costume bash. "I just didn't have a Shrek to do it with."
40/43
2018: Fiona from 'Shrek'
Thankfully, then-boyfriend (and current husband) Tom Kaulitz was down for the cause, and together, the couple showed up as everyone's favorite ogre couple...green skin and all.
41/43
2019: Alien
Heidi was an alien last year, and got ready in front of a live audience in New York City. The process started at 10 a.m. and wasn't finished until 4 p.m. They don't call her the Queen of Halloween for nothing!
42/43
2019: Alien
Heidi was in character all night long, starting with her arrival in a giant glass vehicle with a bio-hazard warning and blood splatters on the glass.
43/43
2019: Alien
Heidi's husband, Tom Kaulitz, explained the backstory of his space explorer costume to People: "I was in space looking for a new planet for humans to live on, right? Cause we already discarded ours," Tom said. "I was out there, touring the universe and so, I found her, I found this creature, and I was like, 'Wow, she looks good.' I brought her home. So, hopefully, she has some useful information planned."
Celebrity news, beauty, fashion advice, and fascinating features, delivered straight to your inbox!