The Shortest Hollywood Marriages of All Time
Some of these couples should have thought twice before saying "I do."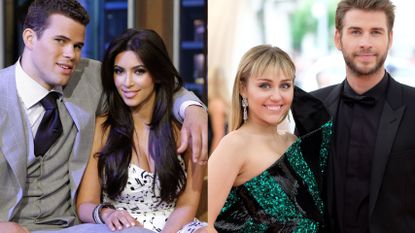 (Image credit: Getty Images)
Romeo and Juliet weren't the only couple to think themselves fated to be together always. Marriage vows often make mention of "'til death do us part," and most people take that pledge seriously. That said, most people aren't celebrities, and celebrities aren't granted the luxury of privacy, space, and a good long think when it comes to their relationship. We're always rooting for them to work it out, but sometimes it was doomed from the start. Ahead, the shortest Hollywood marriages of all time.
1/39
Rudolph Valentino & Jean Acker
Married: 6 hours
What Went Wrong: This classic doomed romance perhaps started the trend of fast-paced divorce. Valentino, a famous Italian actor—nicknamed "the Latin Lover"—impulsively married American actress Jean Acker in 1919. She quickly regretted the decision and locked him out of their honeymoon suite. After knocking at the door for 20 minutes, he headed home. In divorce proceedings, she claimed they never consummated their union.
2/39
Zsa Zsa Gabor & Felipe de Alba
Married: 1 day
What Went Wrong: Actress Zsa Zsa Gabor married Count Felipe de Alba of Mexico on April 14, 1983 in her eighth and penultimate marriage, and divorced him on April 15, 1983. Gabor came to discover that very same day that she was still married to her seventh husband, Beverly Hills lawyer Michael O'Hara.
3/39
Britney Spears & Jason Alexander
Married: 2 days
What Went Wrong: The pop star wed her childhood sweetheart in a quick Las Vegas ceremony in January 2004. Approximately 55 hours later, the marriage was annulled. She has since referred to their union—for which she allegedly proposed—as a "joke that went too far." Funny!
4/39
Carmen Electra & Dennis Rodman
Married: 9 days
What Went Wrong: In wedding (and quickly divorcing) the Baywatch bombshell, the Dennis Rodman managed to break the record he'd set with his previous marriage, which lasted a whopping 82 days. After a little more than a week as husband and wife in 1998, the NBA player filed for an annulment, citing fraud and an unsound mind. (His own agent even said he was "deeply intoxicated" during the nuptials.) Wonder what Carmen's excuse was?
5/39
Cher & Gregg Allman
Married: 9 days
What Went Wrong: In 1975, less than a week after her divorce from Sonny Bono was finalized, Cher married Gregg Allman in a Las Vegas hotel room. However, after rumors of Allman abandoning her for a drinking-and-drug binge circulated, Cher filed to dissolve the marriage nine days after their wedding. This one isn't all bad, though. The couple did reconcile a month later and decided not to divorce, had a son, Elijah Blue Allman, and put out the universally panned album Two the Hard Way two years later. The marital bliss finally came to an official close in 1979.
6/39
Mario Lopez & Ali Landry
Married: 2 weeks
What Went Wrong: Perhaps marriage does change things. The couple, who had dated for six years, finally wed in April 2004 in Puerto Vallarta, Mexico, only to split less than two weeks later. The reason? Landry said she discovered "really strong evidence" of the Saved by the Bell star's infidelity.
7/39
Ethel Merman & Ernest Borgnine
Married: 4 weeks
What Went Wrong: The fact that each had at least two failed marriages behind them didn't stop them from tying the knot in 1964. The Broadway songstress and the Oscar winner's union, however, began unraveling during the honeymoon. Apparently, Borginine garnered more fan attention, which left Merman jealous. "By the time we got home," he once said, "it was hell on earth." How romantic.
8/39
Chris Kattan & Sunshine Tutt
Married: 8 weeks
What Went Wrong: The Saturday Night Live alum wed his model girlfriend in June 2008 in Yosemite Valley, California. "It feels real and honest, and I have more of a continuous smile than I have ever had before," he said at the time.
9/39
Kim Kardashian & Kris Humphries
Married: 10 weeks
What Went Wrong: You'd think if you spent $10 million on a lavish wedding in which you had three costume changes and enough footage to warrant a four-hour E! television special, you'd try to make it last a little longer than a mere 72 days. That turned out to not be so. "After careful consideration, I have decided to end my marriage," Kardashian said in a statement. "I hope everyone understands this was not an easy decision. I had hoped this marriage was forever, but sometimes things don't work out as planned. We remain friends and wish each other the best." This, of course, led to speculation that the whole thing was one big publicity stunt, which both Kardashian and Humphries have denied. It all turned out okay in the end, though—Kim is now one-half of the duo known as Kimye.
10/39
Halle Berry & Olivier Martinez
Married: Two years
What Went Wrong: Berry's legal battles with her ex, Gabriel Aubry, made it difficult for the couple to carry out plans to move abroad. Martinez reportedly found Los Angeles a hard place to live (he preferred Europe) while Berry spent much of their marriage working long hours in Hollywood.
11/39
Nicky Hilton & Todd Andrew Meister
Married: 2 months, 25 days
What Went Wrong: In August 2004, 20-year-old Nicky Hilton made headlines when she wed New York businessman Todd Andrew Meister in a late-night Vegas wedding. Grandniece of Conrad "Nicky" Hilton Jr. (another person on this list), Nicky wore a short aqua halter-neck dress and a crystal wedding veil. The groom wore jeans. Sister Paris, then 23, served as a bridesmaid in a pink dress. Nicole Richie and Bijou Phillips also attended the spontaneous nuptials. Meister and Hilton dissolved the marriage after three months, mostly because they were bi-coastal and because (we're guessing) they'd woken up and just said, "Hey, let's get married today!"
12/39
Lisa Marie Presley & Nicolas Cage
Married: 3 months
What Went Wrong: Maybe Elvis' daughter finally learned her lesson? Following their split in 2002, Presley—who was also wed to Michael Jackson for only 20 months—called it "a big mistake," adding, "I'm sad about this, but we should not have been married in the first place."
13/39
Kid Rock & Pamela Anderson
Married: 3 months, 29 days
What Went Wrong: The pair married on a yacht in July of 2006 and Anderson filed for divorce in November of 2006. A quick turnaround, right? The reason for the split has never been confirmed—rumors of Kid Rock being upset about Anderson's appearance in Borat swirled—though they have confirmed that they haven't spoken since their split.
14/39
Renée Zellweger & Kenny Chesney
Married: 4 months
What Went Wrong: The actress and the country singer seemed like an unlikely pair, but after only four months of dating, they got hitched in a small ceremony on the Caribbean island of St. John in May 2005. Their split was less unlikely, but more confusing. In a joint statement, the couple said, "The miscommunication of the objective of their marriage at the start is the only reason for this annulment." Zellweger later even forgot it happened. When asked, the Oscar-winner told The Advocate, "I forgot about that. It's a pretty big thing to forget, isn't it?"
15/39
Jennifer Lopez & Cris Judd
Married: 4 months
What Went Wrong: J.Lo married the celebrity choreographer in September 2001, but by January they were through. She told Us Weekly that "his love is what I need most of all" just weeks before their marriage ended. Judd reportedly pocketed $15 million in the split, and Lopez accepted a 6.1-carat pink diamond engagement ring from Ben Affleck five months before the divorce was finalized. (And we all know how that turned out...)
16/39
Colin Farrell & Amelia Warner
Married: 4 months
What Went Wrong: The Irish playboy never seemed like one to settle down, and he proved that shortly after marrying the 19-year-old actress (he was 25 at the time) in Bora Bora. Although he has a lasting reminder of his bride—in the form of a tattoo that says "Millie" on his ring finger—the marriage was easily dissolved, as it wasn't legally binding.
17/39
Bradley Cooper & Jennifer Esposito
Married: 5 months
What Went Wrong: Before the Hangover stud really hit it big, he proposed to Jennifer Esposito in October 2006 and married her in late December. According to his publicist, the breakup was mutual and they'd actually "been separated for quite a while" before the five-month mark.
18/39
Sophia Bush & Chad Michael Murray
Married: 5 months
What Went Wrong: The two met on the set of their CW show One Tree Hill and, shortly after exchanging handwritten vows in April 2005, had to deal with the pains of working with an ex. "I can't say there are no hard feelings," Bush told Us Weekly. "I feel hurt, humiliated, and brokenhearted." The pair's relationship both personally and professionally never recovered—they even refueled their beef last summer when Bush told Andy Cohen she felt "pressured" to marry Murray and Murray...let's just say Murray didn't like that assessment.
19/39
Drew Barrymore & Tom Green
Married: 5 months
What Went Wrong: After two years of dating, the pair married in July 2001, but separated in November 2001. The marriage seemed doomed to fail from the jump—we don't know what caused the breakdown of their relationship, but surely the comedian's testicular cancer diagnosis and the fire that destroyed Barrymore's home didn't help matters much. This isn't Barrymore's shortest marriage, either: The actress wed bartender Jeremy Thomas when she was just 19 years old, and their relationship lasted just 12 weeks in total.
20/39
Shannen Doherty & Ashley Hamilton
Married: 5 months
What Went Wrong: In 1993, the Beverly Hills, 90210 star married the son of actor George Hamilton in a DIY ceremony—the 22-year-old barefoot bride wore a silk bathrobe down the aisle—after a two-week courtship. The marriage came to a screeching halt when Hamilton accused the actress of threatening him with a pistol.
21/39
Colton Haynes & Jeff Leatham
Married: 6 months, 4 days
What Went Wrong: The Teen Wolf actor and the artistic director were set up by Serena Williams and had a storybook romance: a meet-cute in an airport, passed notes on an airplane, an engagement featuring Cher, and a rose-filled wedding officiated by Kris Jenner. Then it was over as quickly as it started. In April 2018, six months after their nuptials, Haynes deleted several photos of the pair from his Instagram, and stopped using his married name, "Haynes-Leatham."
22/39
Wiz Khalifa & Amber Rose
Married: 14 months
What Went Wrong: Rose has gone on the record saying that rushing to the altar may have been the reason for her and Wiz's short-lived marriage. The two share time together with their son, Sebastian.
23/39
Elizabeth Taylor & Conrad "Nicky" Hilton Jr.
Married: 6 months, 21 days
What Went Wrong: It was basically destiny for these two, but their quick marriage resulted in a scandal. According to Taylor, the marriage was basically over by the time they'd returned from their two-week honeymoon, and their entire marriage from wedding to divorce, lasted 205 days. But it didn't deter Taylor whatsoever—Hilton was just the first of Taylor's eventual nine marriages.
24/39
Luann de Lesseps & Tom D'Agostino Jr.
Married: 7 months, 3 days
What Went Wrong: Can you believe it, girls, it was about Tom all along! In August of 2017, Luann DeLesseps of The Real Housewives of New York City announced she and her husband of seven months, Tom D'Agostino, were divorcing. Their whirlwind relationship was captured by the Housewives cameras before they got married on New Year's Eve 2016 in Palm Beach, Florida, but the pair just couldn't make it past the trouble in their marriage. After being confronted with multiple rumors of Tom's infidelity (even before the wedding) and a report that Luann had slapped Tom at a restaurant in New York City, Luann's "passionate love affair" came to a quick end.
25/39
Pamela Anderson & Rick Solomon
Married: 2 months, 7 days (first marriage); 5 months, 22 days (second marriage); 7 months, 29 days (total)
What Went Wrong: This one's a double-whammy because these two made it down the aisle twice, and it didn't work out…twice. The first go-around, the pair wed on October 6, 2007, between Anderson's 7 p.m. and 10 p.m. performances in Hans Klok's The Beauty of Magic at the Planet Hollywood Resort in Las Vegas. No, really. They basically got married during intermission. In December 2007, Anderson annulled the marriage after 68 days. However, the pair reconciled multiple times in the following years, and married for a second time in January 2014, only for it all to fall apart 173 days later. Their second separation was much worse than the first—the pair accused the other of fraud—and they wound up apologizing to their families for the public nature of their divorce.
26/39
Elisabeth Moss & Fred Armisen
Married: 8 months, 1 day
What Went Wrong: Fred Armisen and Elisabeth Moss met when Moss stepped in as a last-minute replacement for Amy Poehler on Saturday Night Live on October 25, 2008, and married a year to the day later…only to break up after just eight months. Moss filed for divorce in September 2010. Moss has gone on record saying the relationship was "extremely traumatic and awful and horrible," and "one of the greatest things I heard someone say about him is, 'He's so great at doing impersonations, but the greatest impersonation he does is that of a normal person.'"
27/39
Jeremy Renner & Sonni Pacheco
Married: 11 months
What Went Wrong: We don't know a ton about this one, but we do know it went downhill rather rapidly, and it wasn't pretty. After a January 2014 wedding that was kept secret for months, Pacheco filed for divorce in December, citing irreconcilable differences. Pacheco asked Renner to return the passport, birth certificate, and social security card he allegedly kept from her, as well as physical custody of their daughter, Ava Berlin, who had been born in March 2013. They settled the terms of the divorce, and Ava frequently makes appearances on Renner's Instagram.
28/39
Marilyn Monroe & Joe Dimaggio
Married: 274 days
What Went Wrong: Joe DiMaggio and Marilyn Monroe share a kiss following their marriage ceremony in a judge's chambers in San Francisco, California. The tumultuous relationship between the New York Yankee and starlet ended in a flash, with Monroe citing "mental cruelty" as the basis for their divorce.
29/39
Scarlett Johansson & Ryan Reynolds
Married: 3 years
What Went Wrong: Johansson and Reynolds wed in 2008 and divorced three short years later in 2011. Married at the the young age of 23, Johansson explains that her marriage to Reynolds may have been more lust than love. The two had an amiable breakup, announcing in a statement that they still had "love and kindness" for one another.
30/39
Katy Perry & Russell Brandt
Married: 14 months
What Went Wrong: Brandt blamed busy Hollywood schedules for the demise of his marriage to singer, Katy Perry. Friends of the then-couple have reportedly said that the warning signs were imminent before the couple ever got hitched, with Brandt a notorious party boy and Perry 10 years his junior.
31/39
Eminem & Kim Mathers
Married: Once for two years, another for less than one
What Went Wrong: Where do we start? Eminem filed for divorce after Kim Mathers reportedly went a bit mad after he sang the less-than-flattering song "Kim" live at a concert where she was in attendance. They got back together a year later and had a a daughter (Hailee), but their marriage lasted less than a year before they re-divorced.
32/39
Liam Hemsworth & Miley Cyrus
Married: 8 months
What Went Wrong: Speculations about the couple's breakup started after Miley posted an instagram picture wedding ring-less in Italy. They were right. The couple settled the terms of their divorce in December 2018, eight months after their marriage, assuring their fans that the two would "still remain dedicated parents to all of the animals they share."
33/39
Janet Jackson & James DeBarge
Married: 1 year
What Went Wrong: The couple's 1984 marriage came to a close one year later when DeBarge was reportedly suffering from substance abuse. Janet's father, Joe Jackson, reportedly never approved of his (then 18-year old) daughter tying the knot.
34/39
Danielle Staub & Marty Caffrey
Married: 9 months
What Went Wrong: The notorious Real Housewives of New Jersey star met Caffrey at a seafood restaurant in New Jersey in 2016. They reportedly became a couple a week later and wed in The Bahamas on May 5, 2018. The drama ensued when Staub said Caffrey put their home up for sale without consulting her first. Staub then filed a protective order against Marty after a domestic disturbance call was placed with the police. Both are bogus allegations according to Staub's short-lived husband, Caffrey.
35/39
Audrina Patridge & Corey Bohan
Married: 10 months
What Went Wrong: The former Hills star kept true to her reality TV roots by splitting with Australian BMX riding beau, Corey Bohan, on her VH1 realty show, Audrina, in 2011. Patridge stated in divorce documents that her ex had "become increasingly possessive, angry, agitated and jealous" over her career, also noting that her number one priority was the couple's young daughter, Kirra.
36/39
Johnny Depp & Amber Heard
Married: 1 year
What Went Wrong: Johnny Depp & Amber Heard met as co-stars on the set of The Rum Diaries back in 2009. They officially began dating in 2012, but the relationship remained a secret until they made a red carpet appearance together in 2014. The couple wed in 2015 at Depp's private Bahamas estate. Their seesaw relationship reportedly endured drunken rants, accusations of infidelity, and restraining orders. In August of 2016, the couple finalized a divorce settlement totaling $7 million.
37/39
Brody Jenner & Kaitlynn Carter
Married: 1 year and 2 months
What Went Wrong: The two split last August after Kaitlynn told Us Weekly that the couple grew up and grew apart simultaneously. While they had a wedding ceremony in Indonesia in 2018, the couple never obtained an official marriage license in the United States. Remember Miley's wedding ring-less photo shoot in Italy? Well, Carter was there too. She and the singer were involved in a short-lived romantic relationship that ended in September 2019.
38/39
Eddie Murphy & Tracey Edmonds
Married: 14 days
What Went Wrong: The couple was married in a symbolic ceremony on the island of Bora Bora and planned to have an official legal ceremony take place after returning to the United States. However, the couple was seen leaving the island separately a mere three days after the Bora Bora ceremony and released a statement saying that they had made the decision to remain friends.
39/39
Justin Hartley & Chrishell Hartley
Married: 2 years
What Went Wrong: Seemingly blind-sighted by her husband's divorce filings, the real-estate agent from Selling Sunset was still filming with her then-husband Justin Hartley of This Is Us. The news also came as a surprise to close friends of the couple.
•••
For more celebrity news, beauty and fashion advice, savvy political commentary, and fascinating features, sign up for the Marie Claire newsletter.
Amanda Mitchell is a writer and podcaster with bylines at Marie Claire, OprahMag, Allure, Byrdie, Stylecaster, Bon Appetit, and more. Her work exists at the apex of beauty, pop culture, and absurdity. A human Funfetti cake, she watches too much television, and her favorite season is awards season. You can read more of her work at amandaelizabethmitchell.com or follow her on Instagram and Twitter @lochnessmanda.