Martha Stewart Is Still Deciding Whether to Post a New 'Thirst Trap' This Summer
They're tradition!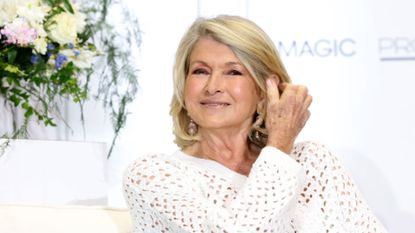 (Image credit: Getty Images)
Marie Claire Newsletter
Celebrity news, beauty, fashion advice, and fascinating features, delivered straight to your inbox!
Thank you for signing up to Marie Claire. You will receive a verification email shortly.
There was a problem. Please refresh the page and try again.
Martha Stewart is still mulling over whether she'll post a thirst trap in honor of summer 2023, despite making something of a tradition out of it in the past few years.
Speaking with People about her Dunkin' Donuts partnership, the publication asked Stewart straightforwardly when her fans can expect another photo akin to the legendary pool photo of 2020 (below), or the famed mirror selfie of 2022. "Who knows?" Stewart replied. "I'm leaving in a couple hours to go to Greenland, so I doubt I'm going to be doing any thirst traps there. But you never can tell. Maybe there'll be a polar bear in the background."
Stewart has become something of an Instagram legend. The 82-year-old domestic goddess has always known how to stay on top of trends, but it's her thirst traps that have earned her a legion of fans who were perhaps too young to have grown up with one of her iconic lifestyle TV shows. (Martha Stewart taught us all how to fold a fitted sheet, after all.)
In 2020, while showing off her lovely East Hampton pool, Stewart posted the selfie seen 'round the world, noted for how freakin' good she looks in a light pink lip and dewy makeup:
Though she admitted later that she didn't even intentionally take the pic (I took a pool selfie by mistake," she told People at the time), she was clearly surprised and delighted by the feverish response and nearly 250,000 likes. As such, Stewart started blessing the timeline with more self--portraits, some of which wink at the "thirst trap" nature of that first photo.
For example, the casual way she is wearing an apron and nothing else in the sponsorship:
Frankly, it's awesome to see a woman in her 80s celebrating her beauty and having fun with social media. It's a sign to other women that they don't have to hide themselves or stick to some misogynistic version of what's "age appropriate" — it's an acknowledgment that if it feels good to you, then that's age appropriate.
Let's hope Martha keeps the tradition alive this summer, too.
Celebrity news, beauty, fashion advice, and fascinating features, delivered straight to your inbox!