Georgia May Jagger Was Just As Obsessed With the Spice Girls As You Were
She dragged her dad to see Spice World too...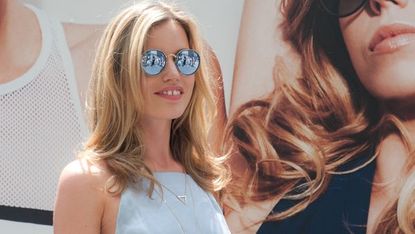 (Image credit: Archives)
Word to the wise: When Georgia May Jagger (opens in new tab) offers to help you pick out sunnies, the answer is always yes! Yesterday, the model stopped by the Marie Claire offices with Sunglass Hut (opens in new tab), for whom she is a global ambassador, to show our editors some of her favorite shades of summer. We not only got to play dress up with the rock 'n' roll scion, but also chatted with her about some of our favorite vices including the Rolling Stones, sunglasses, organic juices, and the Spice Girls. Don't worry, she dragged her dad to the Spice World (1997) movie too!
Marie Claire: What have been your go-to frames this summer?
Georgia May Jagger: I'm obsessed with these folding ones *points to the blue Ray Ban Round Flash sunglasses (opens in new tab) she's wearing*. I'm also into the sort of flowery ones — I love the Dolce & Gabbana (opens in new tab) styles with the gold on the side.
MC: Will you be attending any of your father's gigs on the latest leg of the Rolling Stones tour?
GMJ: I was there for Vienna and Madrid as well. I'm trying to go see as much as I can!
MC: What's the most fun you've had backstage or in the crowd at one of their shows?
GMJ: We've had a lot of fun in the crowd pit shaped as a tongue. We actually took Taylor Swift in there and that was the first time she'd been in the crowd at a concert for ages. It's quite fun.
MC: What do you love to do in New York City during the summer?
GMJ: Well, I used to live here in the East Village, so I stay over there. I just love to walk around and go to the shops. I go vintage shopping around that whole area. I also love to get juices from the Juice Press.
MC: What's your favorite juice?
GMJ: Oh, I love the Ginger Fireball Juice (opens in new tab) from Juice Press.
MC: Do you have a favorite summer cocktail?
GMJ: I had the Ginger Spritz at Gemma last night – it's really good!
MC: Are you an early bird or a night owl?
GMJ: Night owl [Laughs] That one's easy.
MC: Do you wear your sunglasses at night?
GMJ: * Sings* I wear my sunglasses at night [Laughs] I just love them for dressing up, like heart shaped ones when I go out.
MC: It's festival season — what music have you been listening to lately?
GMJ: I just went to Glastonbury so it's been Pixies, Dolly Parton, and my mum actually performed with her new band. It was only their second performance ever. It was really, really funny because she was so nervous, but she was so good. They got really into it and were just dancing.
MC: It's the 18th anniversary of Spice Girls' "Wannabe," were you a monster fan like us?
GMJ: I was OBSESSED with the Spice Girls. I actually have quite a funny story because I made my dad take me to the Spice World movie premiere but when I got there, a lot of girls older than me. I brought my stuffed dog Spot that I used to carry with me everywhere and I made my dad hold it because I was like 8 and I still had it. I was like, "No, no, no there's all these 12-year-old girls here wearing short shorts — I have to be cool"
MC: Now, the tough question: Who was your favorite Spice Girl?
GMJ: Oh no, it's not tough for me. My favorite Spice was always Gerry — I was always stucking being Baby, though.
MC: Favorite song?
GMJ: Wannabe! But all of them, really.
MC: Last question, what's one thing that you think every woman should experience?
GMJ: Well, I suppose having an amazing group of strong, supportive women around you. I always think that older women have all the advice and it's best to absorb as much as you can. You can learn from their mistakes, so you don't have to always make them yourself!
Lauren is the former beauty editor at Marie Claire. She love to while away the hours at coffee shops, hunt for vintage clothes, and bask in the rough-and-tumble beauty of NYC. She firmly believes that solitude can be a luxury if you've got the right soundtrack—that being the Rolling Stones, of course.