Cher Talks Love, Life, and New Fragrance Launch
This month, the pop icon, currently on her Here We Go Again tour, launches a new perfume, Eau de Couture by Cher, four years in the making.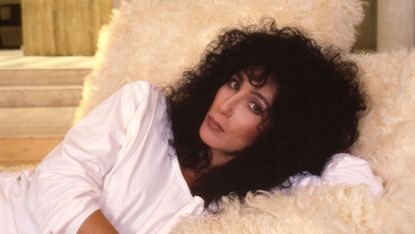 (Image credit: Anthony Barboza)
This month, the pop icon, currently on her Here We Go Again tour, launches a new perfume, Eau de Couture by Cher in partnership with Edge Beauty, four years in the making. So what has she learned during her lifetime of hardships and successes? Read her answers to our questionnaire, below.
1. If I weren't an entertainer, I'd: Own an elephant sanctuary in a beautiful place because so many of them are being tortured in zoos. It would give them a chance to have a normal, natural life.
2. Best career advice I've gotten: From myself: Keep going.
3. Most gracious response to rejection/career setback: I went for an interview with Mike Nichols, who said, "There are two types of women, and you're not one of them," but I knew I would never give up. He came to my show on Broadway, and he said, "You're right. You're really, really talented. Do you want to make a movie with Meryl Streep?"
4. The three qualities that got me where I am today: Luck, talent, and the ability to change.
5. Moment I felt I made it: The night I won the Academy Award [for Moonstruck, 1988]. There is no feeling like that.
6. Most agonizing career decision I've ever made: I was asked to do Thelma and Louise, but I was sick so I couldn't do it.
7. Easiest career decision I've ever made: When I was four years old, I decided I would be a movie star.
8. Favorite perk of the job: It's easy to get into places, and I get a chance to meet fabulous people.
9. Worst pitfall of the job: Let me count the ways.…Truly, it's a battlefield.
10. Change you'd like to see in your industry? The more women that get involved, the better it's going to be. I think women's points of view are completely different than men's. I'm not saying that just because I'm a woman.
11. How did you make your first dollar? When I lost my tooth.
12. Who do you admire and why? The people I admire most are regular people who have to do regular jobs without applause or awards.
13. Last thing I binge-watched: Generally I do not binge-watch, but Breaking Bad, which my son Elijah said I'd be crazy not to watch, so we sat and watched it together. And The Handmaid's Tale. I saw one episode and said OMG.
14. Books that left a lasting impression on me: Imperial Woman, about the last empress of China, by Pearl S. Buck, and First Lady: The Life and Wars of Clementine Churchill, about Winston Churchill's wife, by Sonia Purnell. Brilliant book. She was an amazing woman who had a very hard life growing up.
15. Song that always makes me cry: "Whiter Shade of Pale."
16. Movie with the greatest ending: African Queen, the unlikely pairing of two very different people who find each other.
17. First album I bought: I couldn't afford to buy an album. I bought 45s: Ritchie Valens's "La Bamba" and "Oh Donna."
18. On my bucket list: Hawaii or Bali.
19. Food I'm not ashamed to admit I love: Ice cream, and I love birthday cake.
20. Cocktail of choice: Dr. Pepper or Virgin Mary.
21. If I could live in a foreign city, it would be: I used to want to live in London or Paris, but I'm not sure right now.
22. What every woman should try once in her lifetime: Thinking like a guy and not giving a shit. Guys don't worry like we do. Women act like a nest and carry everybody at one time.
23. How my perfect day would begin: In a tropical climate going into the water—really warm, and not one person would be there for miles and miles and no one to watch me. But of course with all my friends. We'd laugh and howl.
24. How my perfect day would end: Watching the sun set with all my friends with a tropical fruit drink with fresh pineapple and watermelon (no alcohol).
25. Superhero power I'd want to have: Mind reading.
26. Something better in theory than in practice: Fame.
27. Store I can't leave without buying something: Any store that sells makeup or face products. I love reading all the copy on the packaging. I went to Blue Mercury recently and spent hours. I also am trying a brand called M6l.
28. Something nice I did for myself recently because, hey, why not: Went on a yacht with a bunch of pals.
29. How do you clear your mind after a crappy day: Watch an old movie.
30. If I could compete in an Olympic sport, I'd like it to be: Swimming or equestrian.
31. The last time I felt beautiful was: 1987
32. The beauty essential you'd have to pry out of my cold, dead hands: Eyelash curler.
33. The three qualities I thought I wanted in a partner: Kind, funny, and, well, good sex never hurt.
34. The three qualities I know now matter: Same as above.
35. Advice to a woman with a broken heart: Superglue it. Someone else is on the way.
36. Relationship advice to my younger self: Don't sweat the small stuff.
37. Moment I knew I was in love: You get that kind of melty feeling…not dizzy; even if you think you hate the person, it's the same feeling.
38. My first kiss: Was with a guy I didn't really like. I was on a hayride. First thing I thought was, Oh I'm glad that's over with. Maybe I was 11 or 12… I liked the second person I kissed better.
39. The craziest thing I did for love: Go across the world.
40. What my high school boyfriend/girlfriend would say about me: "I wish I hadn't thrown up on your front yard"….I was very young… he was drinking… long walk way in front of my house and he started throwing up over a bush. His name was Fred Smith.
41. One thing I'm exceptionally good at: Being strong and creating a beautiful new fragrance that took me four years to perfect.
This story appears in the November 2019 issue of Marie Claire.
ADVICE FROM ICONS
Marie Claire email subscribers get intel on fashion and beauty trends, hot-off-the-press celebrity news, and more. Sign up here.