Anjelica Huston Shares Her Summer Bucket List and the Craziest Thing She's Done For Love
Plus, what she'd be up to if she wasn't making blockbusters like John Wick: Chapter 3.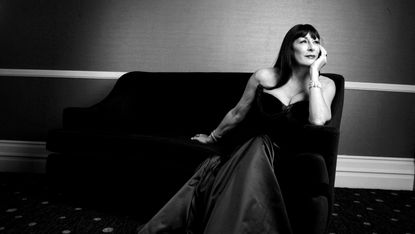 (Image credit: Mark Mainz)
For the Oscar-winning actress, who stars in this month's action thriller John Wick: Chapter 3, working the land beats extended time in the sky

1 . If I weren't an Actress I'd be: A writer, an artist, a gardener, a horsewoman, a musician, a gypsy.
2. Best career advice I've gotten: "Just do it" (from my father [filmmaker John Huston]).
3. Most gracious response to rejection/career setback: A roomful of Broadway producers who clapped enthusiastically after my musical rendition of "My Love is a Married Man."
4. Least gracious response to rejection/career setback: "Have you ever considered a nose job?"
5. The three qualities that got me where I am today: Strong body, ambition, empathy.
6. Moment I felt I made it: Winning the Academy Award [for 1985's Prizzi's Honor].
7. Most agonizing career decision I've ever made: Signing up for a six-year television contract away from home after my husband died.
8. Easiest career decision I've ever made: Both "Addams Family" movies.
9. Kind of work I'd do for free: Farm work.
10. Favorite perk of the job: Working with brilliant people who improve your game.
11. Worst pitfall of the job: The opposite.
12. Change you'd like to see in your industry? More interesting roles about people, not things.
13. How did you make your first dollar? Polishing silver and digging for dandelion salad.
14. Who do you admire and why? Artists and musicians who make our world more beautiful, and the ones who put their lives in danger to save our lives: firefighters, first responders, nurses, Doctors Without Borders, mothers, compassionate human beings.
15. Last thing you binge-watched? Schitt's Creek, The Jinx: The Life and Deaths of Robert Durst, The Staircase.
16. Book that left a lasting impression on you? "Anna Karenina" by Leo Tolstoy.
17. Song that always makes you cry? "Nessun dorma" by Puccini and "Danny Boy."
18. Movie with the greatest ending? Currently Roma, and historically It's a Wonderful Life or something by Preston Sturge
19. Song you would want played at your funeral? "Madame George" by Van Morrison
20. On your bucket list? See the Galapagos.
21: Food I'm not ashamed to admit I love: Caviar.
22: Cocktail of choice: Vodka Martini.
23. If you could live in a foreign country, where would it be? Probably Italy or Spain, or some lovely Greek village.
24. What should every woman try once in her lifetime? Falling in love.
25. How would your perfect day begin? Happily in bed.
26. How would your perfect day end? Same.
27. One thing I'm exceptionally good at: Relaxing at the spa.
28. One thing I'm epically bad at: Long distance air travel.
29. Superhero power I'd want to have: To be able to fly.
30. Something better in theory than in practice: Award shows.
31. How do you clear your mind after a crappy day? A cocktail.
32. Something nice I did for myself recently: I bought a whole load of bird and butterfly friendly plants for my ranch.
33. If I could compete in an Olympic sport, I'd like it to be: Equestrian or skiing.
34. The last time I felt beautiful was: When I was having a good time with loved ones.
35. The beauty essential you have to pry out of my cold, dead hands: Mascara.
36. My first kiss: Was too beautiful to discuss at large.
37. The three qualities I thought I wanted in a partner: Beauty, Strength, Humor.
38. The three qualities I know now matter: The same, but most important is that they care for you.

39. Advice to a woman with a broken heart: A broken heart is better than no heart at all.
40. Relationship advice to my younger self: Look before you leap.

41. Moment I knew I was in love: At first sight.
42. The craziest thing I did for love: Risked everything.
43. What my high school boyfriend would say about me: They'd probably call me selfish...and I am.
Follow her at @anjelicahuston.
A version of this article originally appeared in the June 2019 issue of Marie Claire.
RELATED STORY
Marie Claire email subscribers get intel on fashion and beauty trends, hot-off-the-press celebrity news, and more. Sign up here.