We're in the Band-Meet HAIM
HAIM isn't just your new favorite girl group: The Los Angeles sisters in this ubercool indie-rock trio are also taking the fashion world by storm. Photographs by Silja Magg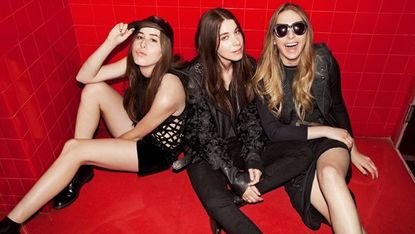 (Image credit: Silja Magg)
Marie Claire Newsletter
Celebrity news, beauty, fashion advice, and fascinating features, delivered straight to your inbox!
Thank you for signing up to Marie Claire. You will receive a verification email shortly.
There was a problem. Please refresh the page and try again.
CREDITS Far left, on Alana Haim: Dress, $3,700, Louis Vuitton; hat, $60, American Apparel; boots, $970, Saint Laurent by Hedi Slimane. Center, on Danielle Haim: Belted jacket, price upon request, Louis Vuitton; top, $90, Acne Studios; jeans, $169, J Brand. Left, on Este Haim: Vest, $695, Veda; dress, price upon request, Louis Vuitton; sunglasses, $250, Karen Walker; necklace, Este's own.
"If I read 'Check out this band; they sound like both Fleetwood Mac and Beyoncé,' I'd be like, What?!" says Danielle Haim, the 25-year-old lead vocalist and guitarist of indie-rock trio Haim. She's referring to how her band, which includes sisters Este, 27 (bass and vocals), and Alana, 22 (guitar, keyboard, and vocals), has been consistently described in the fawning press since it was formed in 2007. "I get squeamish when people say that. Fleetwood Mac is one of the greatest bands out there! Let's start a little smaller, you know?"
CREDITS on Alana: Dress, $1,895, Ralph Lauren Collection; jacket (worn around waist), $425, Theory; sunglasses, $495, Fendi; ring, Alana's own.
"Starting small" isn't quite how we'd describe signing with Jay Z's Roc Nation label, dropping the harmony-laced debut "Days Are Gone" last fall to rave reviews, and touring with the likes of Rihanna, Florence + the Machine, Vampire Weekend, and Mumford & Sons. With infectious, up-tempo hooks and we're-your-besties stage charm, Haim (pronounced "high-im," same as the Hebrew word for "life") is well on its way to great-band status-especially if the fashion world has anything to do with it.
CREDITS Above left: Jacket, price upon request, Salvatore Ferragamo; top, $125, jeans, $176, belt, $150, Rag & Bone; sunglasses, $480, Thierry Lasry. Above center: Jacket, $2,150, bra top, $430, skirt, $970, Salvatore Ferragamo; sunglasses, $59, Le Specs; ring, $300, Jessica Biales; wide bracelet, $405, Aurélie Bidermann; thin bracelet, $390, Vita Fede. Above right: Jacket, $2,100, top, $1,850, Salvatore Ferragamo; skirt, $150, Keepsake the Label; sunglasses, $565, Cutler and Gross.
The sisters have performed and DJ'ed at events for Chloé, Acne, and Topshop. "Every girl grows up reading the [fashion] magazines and wanting to wear these clothes," says Alana, on the phone from Auckland, New Zealand, where the group is playing St. Jerome's Laneway Festival. "Never in our wildest dreams would we think that we could own Givenchy. It's very surreal to have designers saying, 'We really love what you're doing and want to support you.'"
CREDITS Coat, price upon request, Prada; shirt, $89.50, Massimo Dutti; boots, $970, Saint Laurent by Hedi Slimane.
The Haims grew up with a fashion-forward mother, Donna, who wore blue velvet Donna Karan jumpsuits and taught them guitar using Joni Mitchell's oeuvre, a favorite being "All I Want." ("I feel like every good mom should play her daughter Joni Mitchell at a young age," says Danielle.) L.A. radio was also a big musical influence on the group's album with its eclectic strains of '80s soft rock, R&B, hip-hop, and New Wave.
CREDITS Vest, $4,640, Isabel Marant; shirt, $238, Equipment; shorts, $185, Genetic; ring, Danielle's own.
"Being an Angeleno, you spend 75 percent of your life in your car. We had a van, but my parents had the bare minimum: no tape player," says Este. "We grew up listening to a weird melange of '90s girl groups, but our parents listened to oldies. Prince; Tower of Power; Earth, Wind & Fire; and Funkadelic—the only type of music that was omitted was new country and '90s soft rock."
CREDITS Necklace, $3,675, Anita Ko.
Along with their parents (dad Moti played drums), the girls performed covers at local festivals as the band Rockinhaim until they struck out on their own. "Playing with my sisters has never felt like a job," says Este. "We love to travel and wanted to be able to do it together, and we were like, What's the most frugal way we could do that—oh, yeah, we'll just have a band! We'll basically sing for our supper."
CREDITS Blazer, $1,225, Emporio Armani; pants, $3,975, Isabel Marant; brass cuffs, from $190 each, Jennifer Fisher; ring, $299, Loren Stewart; shoes, $4,995, Reed Krakoff; diamond bangle, Danielle's own.
In 2008, Danielle went on tour with Jenny Lewis and Julian Casablancas, and on her breaks back home, the trio played shows once a month. "I was in college. Alana was still in high school, doing gigs till 2 a.m.," says Este. "She would have to wait outside until we played. We'd plead: 'Come on, man, our parents are here. Let her in!'" Once Este and Alana graduated, all three sisters shacked up at Danielle's house in Venice and wrote most of the songs on "Days Are Gone." This month, they kick off a six-week U.S. headline tour, including a stop at Coachella. They'll spend their downtime on the road trying to outdo one another in scoring the best vintage finds and the best local food. "We're very competitive, but it's friendly competition," Este says. "Think how boring it would be if we were all just complacent about everything."
CREDITS Top, $1,650, Calvin Klein Collection; skirt, $3,200, Marc Jacobs; socks, $4, We Love Colors; boots, $120, Dr. Martens; bra, Este's own.
Celebrity news, beauty, fashion advice, and fascinating features, delivered straight to your inbox!