Icona Pop Has A Lot To Say About Miley Cyrus
But there's no shade in sight.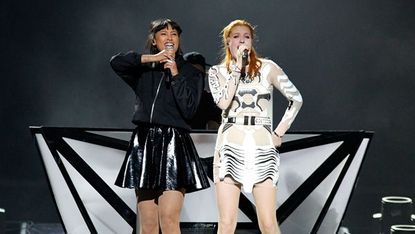 (Image credit: Archives)
Swedish duo Icona Pop (opens in new tab) spent plenty of time with Miley Cyrus (opens in new tab) while opening her Bangerz tour, and they've got a few things to say about her—but there's no shade here.
"She's such an amazing girl. Super down-to-earth and caring," Caroline Hjelt and Aino Jawo told E! News (opens in new tab) while promoting their new unscripted video series, I Am Icon, which debuted on Refinery29.com (opens in new tab) last week. "It was such a good vibe [on tour] and she's so hardworking. She really inspired us. She's really really cool."
They continued, "I think the best thing with her is that she grew up in a family that was kind of famous so the best part about her is that she knows how to combine fun with work as well. She would never risk a show by going out the night before but if she was free the night after, she would definitely go out and have a good time."
While Cyrus has a party girl reputation, Icona Pop vouched for her professional side, and it turns out she totally runs the show. "She's really a smart woman and everything on stage...was her idea," they said. "She's the boss of everything and it's just very inspiring to be around someone who's having a lot of fun because she's doing stuff her way and with her friends and her crew, but in a very professional way."
Icona Pop previously toured with Katy Perry, who they also found lots of reasons to love, calling her "so inspiring." When asked about the differences between their experiences on both tours, Icona Pop said, "She [Katy] has a great [sense of] humor, so in that way it's not different, it's just that they are different artists, they express in different ways, but they're still both very strong in what they do."
Lots of Cyrus' celeb friends are coming to her defense lately — Shailene Woodley (opens in new tab), longtime friend Demi Lovato (opens in new tab), and godmother Dolly Parton (opens in new tab) have all praised Cyrus for doing her thing. Nothing like having loyal pals to stick up for you!
Related:
What We Know About Miley Cyrus and Her Rumored New Boyfriend Mike Will (opens in new tab)
Alt-J Samples Miley Cyrus, We Can't Stop Listening (opens in new tab)
Miley Cyrus: Natural Born Thriller (opens in new tab)
Photo Credits: Getty Images