Miley Cyrus: Natural Born Thriller
Engaged to actor Liam Hemsworth and putting the final touches on a daring new album, Miley Cyrus is all grown up and ready for her next act. Hannah who? Don't forget to check out all the photos from our exclusive cover shoot with Miley!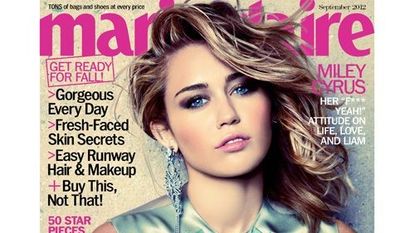 (Image credit: Tesh)
Marie Claire Newsletter
Celebrity news, beauty, fashion advice, and fascinating features, delivered straight to your inbox!
Thank you for signing up to Marie Claire. You will receive a verification email shortly.
There was a problem. Please refresh the page and try again.
Miley Cyrus bounds into her spacious backyard in California's palm-tree-studded San Fernando Valley wearing a figure-flaunting half-shirt, Daisy Duke cutoffs, and studded platform sneakers, a look so redneck-skimpy that by nightfall, the bloggers will have crucified her for it. Not that she cares. Cyrus has never been in better shape, both physically and emotionally, a 19-year-old firecracker with washboard abs, a smoky laugh, and a filthy mouth who these days bears about as much resemblance to her former Disney-star self as a Mojito resembles a lemonade. Nipping at Cyrus' heels is a tumbling pack of four rescue dogs, while a fifth, a bulldog named Ziggy, rests inside. Earlier, Ziggy ate two Jacquie Aiche bracelets right off her wrist. "She's a stubborn little bitch, that one," Cyrus says, her voice tangy and redolent of her native Nashville. "She doesn't listen to me. She's in love with Liam. She loves me when he's gone, but she totally ate my diamonds on purpose. She was pooping them out all morning!"
The Liam she refers to is Cyrus' newly minted fiancé, Australian import Liam Hemsworth, the strapping 22-year-old star of The Hunger Games and her boyfriend for the past three years. The pair live together in the 8,000-square-foot Mediterranean-style villa Cyrus' family once lived in. She moved back in last year when her parents relocated two doors down. Cyrus' mother, Tish, did most of the decorating, which tends toward oversize Eastern-influenced pieces; sturdy tables made of reclaimed wood; a giant, modern sofa that Cyrus and Hemsworth "sleep on all the time"; and spiritual touches like a stone Buddha and painted-wooden crosses that Cyrus has collected in her travels. Here, sur-rounded by towering trees and safely ensconced inside her palatial residence, Cyrus enjoys utter privacy. "It's kind of like a black hole. And no one is going to fuck with me when P. Diddy lives right across the street," she laughs.
Cyrus remains incredibly close with her parents — her father is country crooner Billy Ray Cyrus — and cuts across Bob Hope's widow's lawn to access their gate. "She gave me permission," she says, sweetly. "If Liam is traveling and I'm feeling creeped out, I can go to my parents'. Or I'll walk over there in the morning for coffee. It's really weird [sleeping] in my parents' room. Now it's my room, and Liam is at my dad's sink and I'm at my mom's. It's really strange, but also really cool. The first time I ever met or hung out with Liam was here. When he first moved to America, he didn't have any family here, so our family became his. This is where all our memories are being made."
Though she won't divulge exactly how her fiancé popped the question, she admits it happened at home and was a "complete surprise." No one, including her parents, knew it was coming. "I had no input," Cyrus says of her engagement ring, a 3.5-carat Neil Lane diamond set in a yellow-gold band with delicate filigree detailing. "We'd been kind of talking about [getting engaged], and I saw something like it online at one point and thought it was really pretty, but I usually wear rose gold. I just love that it's old and has a story. And I'm happy because it doesn't look like anything else I wear."
Read Miley's full interview when the September issue of Marie Claire hits newsstands on September 17.
Celebrity news, beauty, fashion advice, and fascinating features, delivered straight to your inbox!