Katy Perry Will Perform at the Grammys with a Domestic Violence Survivor
Left Shark will not be joining them.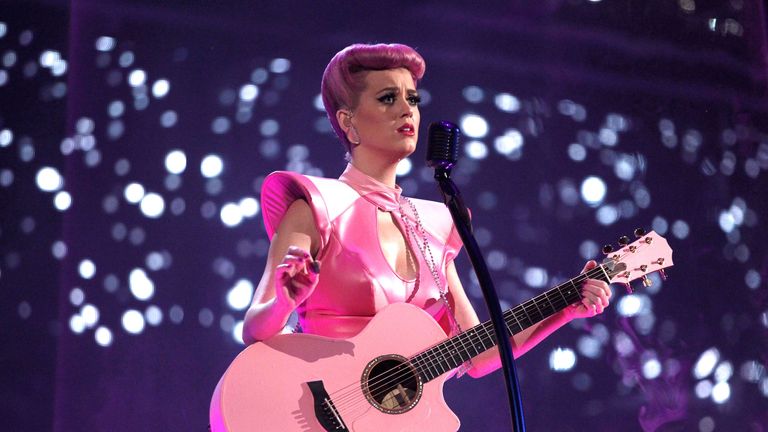 (Image credit: Getty)
At Sunday's Grammy Awards, Katy Perry and Brooke Axtell, a domestic violence survivor and activist, will perform "By the Grace of God," People reports. Axtell will read a "written-word piece" as Perry sings the ballad from Prism, and there likely won't be any firework-shooting bras or animatronic Aladdin sand-lions to be found.
'There is an opportunity here to do something really important," says Grammys producer Ken Erlich, who was inspired to do the piece during a counsel meeting with White House officials last year. "It is one thing to have Katy sing, but why would we not want to accompany it with someone's personal experience who could humanize [domestic violence] and make it relatable to millions of men and women who are survivors."
Axtell, who is the director of communications and engagement for the nonprofit Allies Against Slavery, says "it's an honor to collaborate with Katy in this way."
"There is still such a stigma about being transparent about this kind of struggle and survivors have nothing to be ashamed of...I don't see myself as a victim. I see myself as a warrior for peace and healing. I've taken back my power and now I want to honor and elevate the voices of those who have been silenced by abuse."
The 2015 Grammy Awards will air 8 p.m. EST on CBS.
You should also check out:
Watch Katy Perry, Ariana Grande, and Other Music Celebrities Read Mean Tweets About Themselves
The 15 Best Katy Perry Vines Ever
Katy Perry Donates $5K to TLC's Kickstarter, Gets a Slumber Party with T-Boz in Return