Take a Look at What the 'Ghostbusters' Crew Will Be Cruising In
*flailing*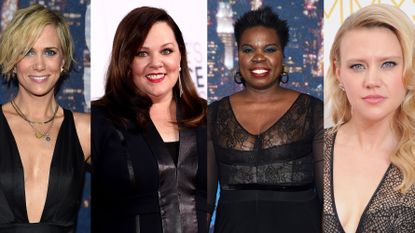 (Image credit: Getty Images)
Update, 7/8: The pictures just keep on coming! Up next? The Ecto-1 AKA the Ghostbusters-mobile that the crew will use to hit the streets, searching for ghosts and ghouls and paranormal activity.
Director Paul Feig tweeted out the first look—and all we can say is hot damn.
#whattheygonnadrive pic.twitter.com/bBLEhrfTEQJuly 8, 2015
See more
Update, 7/7: Now that we got the first look at the suits, it was time for the big reveal. Here, Melissa McCarthy, in all the Ghostbusters glory:
👻👻👻👻👻
Update, 6/30: Apparently, Ghostbusters director Paul Feig heard our request for MORE photos. Feig recently tweeted a photo of the Ghostbuster uniforms with the hashtag, #whatyougonnawear, making the far-off debut (okay, July...) that much more of a reality.
#whatyougonnawear pic.twitter.com/o5oyHeIaSxJune 29, 2015
See more
To which we can only say: MORE MORE MORE. (One's not enough, Feig.)
Update, 6/19: All we can say is: YASSSS. The first images of the Ghostbusters movie have surfaced, and they are magical.
In the remake, Kristen Wiig and Melissa McCarthy play academic authors who write a scholarly paper on the existence of ghosts. (Apparently, that's not a given.) When Wiig gets a job at Columbia, the paper surfaces and they're laughed at and made fun of by scholars, until—duh—ghosts show up. Leslie Jones and Kate McKinnon team up with the duo to save, well, the world.
First up, we have Wiig looking like a surprised scholar on set:
And next, we have McCarthy and McKinnon ready for action:
To which we say, MORE MORE MORE MORE! (Please?)
Update, 6/11: Remember when we asked "Will the Ghostbuster gals have an assistant of the opposite sex, à la Annie Potts in the two original films?" And coy, coy Paul Feig was like, "You never know?"
HA.
Our receptionist. #whoyougonnacall pic.twitter.com/wGTzs8KdUsJune 10, 2015
See more
Called it.
Original post, 2/17: Now that Saturday Night Live's 40th anniversary special has aired, we can set our sites on the next milestone on every comedy nerd's calendar: the release of the all-female Ghostbusters redux starring Melissa McCarthy, Kristen Wiig, Kate McKinnon, and Leslie Jones. "It's all surreal," Jones told us on the celebrity-packed SNL red carpet at Rockefeller Center this weekend. "It hasn't sunk in yet. It's insane." Weekend Update anchor Colin Jost then sidled up to Jones, and when asked how he thought she'd do, he said: "Uh, spooktacular? I've had that in my back pocket for years!"
Also on the carpet, director Paul Feig revealed that the film will take place in modern-day New York City and not, as some have guessed, in the 1980s of the original flick. "There's a lot of misinformation out there," he said about rumors surrounding the production. "I almost enjoy all the things that people are getting wrong about what's coming up." Will the Ghostbuster gals have an assistant of the opposite sex, a la Annie Potts in the two original films? "You never know," said Feig, who previously directed McCarthy in both Bridesmaids (co-written by Wiig) and The Heat.
On what we can expect from his film's paranormal ne'er-do-wells, Feig explained, "I love special effects and I love special effects that aren't all CGI, so our hope is to kind of have an old-school feel that then still feels very modern and big in scope." But no humor will be sacrificed to render phantom spirits as intricate as anything from Avatar. "It's comedy, that's the biggest rule. We don't want bombast and all these effects if you're not laughing the whole time."
Celebrity news, beauty, fashion advice, and fascinating features, delivered straight to your inbox!