Exclusive: An Oral History of 'Broad City's Epic/Amazing/Hilarious Guest Stars, Straight from Abbi and Ilana Themselves
Seth Rogen's sweaty sex scene? Yeah, Abbi's got some thoughts.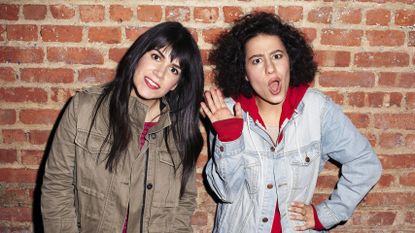 (Image credit: Lane Savage)
Marie Claire Newsletter
Celebrity news, beauty, fashion advice, and fascinating features, delivered straight to your inbox!
Thank you for signing up to Marie Claire. You will receive a verification email shortly.
There was a problem. Please refresh the page and try again.
Broad City has given us the ride of our lives for the past two seasons, turning us from fans into literally-can't-stop-talking-about-it/find-excuses-to-bring-it-up-constantly diehards.
While Abbi, Ilana, and the gang (whattup, Lincoln!) are seriously the best people and our fantasy friend group (are we gushing too much?), the show's impressive roster of guest stars only serves to punch up an already epic show.
Here, just in time for tonight's season finale, Abbi and Ilana write an oral history of how their co-stars came on board—and all the amazing hilarity behind the scenes. (Consider this required reading.)
Fred Armisen
Episode 101: "What a Wonderful World"
Ilana: Fred gave us a chance, AKA his time, before anybody knew who we were. He just trusted Amy [Poehler, executive producer], which is the smart thing to do, always.
Abbi: He was and is always such an absolute delight. I love that half the time I can't tell if he's doing a bit or being serious. He's extremely mysterious.
Ilana: Hannibal got Fred's character, "John Waters Guy," on Buzzfeed's "Which Broad City Character Are You?" quiz.
Janeane Garofalo
Episode 103: "Working Girls"
Abbi: To get Janeane on the show was unreal. I remember meeting her that first day in the vet's office and being so overwhelmed. It made me so keenly aware of how crazy it was that we were getting to make a TV show.
Michelle Hurst
Episode 108: "Destination: Wedding"
Abbi: In the season 1 writer's room, a bunch of us were obsessed with Orange Is the New Black—we all savored episodes rather than binge the whole thing, trying to make it last longer. We had serious will power. But we'd talk about the show and when it came time to cast this episode we thought Michelle would be amazing, and she was. She's such a powerful and subtle actor.
Amy Sedaris
Episode 109: "Apartment Hunters"
Ilana: Amy Sedaris has been one of my universal comedy heroes starting at Strangers with Candy. Lord almighty, that is still one of the few shows you can't "second screen" (AKA write your emails) while watching. There's so much absurdity to absorb, and Amy's performance is impossibly unique. I still make Jerri Blank faces to myself and friends. Often.
Abbi: Amy is a gift, a joy and a delight. She brought so much to Pam, including many of her accessories! I've never seen someone become so invested in a character—she is inspiring to watch and sometimes I smile at the fact that I got to act opposite her.
Chris Kelly
Episode 109: "Apartment Hunters"
Ilana: Chris Kelly is one of our writers (as well as SNL's) and the most Aryan person we know, so he was perfect as the SelectDate guy. We purposely overdid it with the blush and sweat, which was one of my giggliest parts of shooting the first season…and maybe second season, too. Chris was so embarrassed, it was hilarious.
Amy Poehler
Episode 110: "The Last Supper"
Abbi: I like to think that this couple in the kitchen could be a complete spin-off—Amy's chemistry with Seth Morris goes way back and they were just such a different tone for the show. It was so fun to have Amy play such a bitch, because she's such a joyful, vibrant person. I think that edge is what makes that cameo so funny. It was so special to us that Amy was in this finale too—our season 1 finale that she directed.
Seth Rogen
Episode 201: "In Heat"
Abbi: We have been such huge Rogen-heads foever, so getting him on the show was so insane and amazing. He fits right in with our tone, and I remember feeling so comfortable having him around—even in those sweaty sex scenes. I feel like I went to camp with Seth! He's so incredibly funny—like a deep funny that resonates all the time. I felt like he was paying us the biggest compliment in the world by being on the show.
Susie Essman, Bob Balaban, and Eliot Glazer
Episode 204: "Knockoffs"
Ilana: Having Susie Essman play my mom, Bob Balaban play my dad, and Eliot Glazer, my ho-larious brother, play my brother, is truly one of the highlights of my life. We wanted Susie for years and wooed her over dinner—it was very sexy. She is one of our favorite stand-ups of all time. We saw her at Gotham and were howling. Balaban is true Hollywood royalty and yet is a true artist. I don't know if he ever gets nervous, acting. He's constantly playing. And Eliot! Eliot and I made tons of comedy videos as kids to keep ourselves entertained, and I so often play child-Eliot from those videos. He was so comfortable on set, I was like, "You a freak." Isn't everybody nervous?! No, he played both his episodes like a TV vet, a legit champ. How amazing that ol' Wexler family turned out—the Jewish Bunkers, we were going for.
Amy Ryan
Episode 208: "Kirk Steele"
Abbi: Man, Amy Ryan. I have geeked out so hard for her, to her face! There aren't a lot of people that can cross those lines of drama and comedy so seamlessly as Amy Ryan. We were so excited to have her play someone so outside her comfort zone, and she was just so game to play with us.
Alia Shawkat
Episode 209: "Coat Check"
Abbi: So, I've talked about this before, but the night I met Ilana, I thought she was Alia. I didn't know Alia's name at the time, but I thought the girl in my improv practice group was Maeby from Arrested Development. At the bar later that night, I figured out she wasn't, but it's always been a joke between Ilana and I, so to actually get Alia on the show was nuts. It was a bit of a full circle thing! Alia is so talented and funny and I really admire the way she's curated her career. Such a smart and diverse body of work.
David Wain
Episode 209: "Coat Check"
Abbi: Well, David was a legit dream. I still can't believe he did the show! Our production company, JAX Media, produced his fabulous movie, They Came Together, and I guess someone showed him the show and we heard he liked it and after we picked ourselves up off the floor we asked him to be in it. He said yes and we fell down again. We've been down here ever since!
Kelly Ripa
Episode 209: "Coat Check"
Abbi: Kelly is not only so f*cking funny, but she happens to be one of the kindest and most down-to-earth people in the biz. We threw a lot of shit at her with this script—a lot of stuff that might seem off-putting and scary for someone who hosts a daytime talk show, but Kelly was so down to do it. She just killed it. Our whole crew fell in love with Kelly when she shot with us…'cause she truly is America's sweetheart.
And on tonight's season finale...
Aidy Bryant
Abbi: Aidy is a friend of ours and we've been talking about how to put her in the show for a while. It excited us to have her and Conner O'Malley (her actual boyfriend) in an episode together as they're both such unique voices. They need their own show!
Patricia Clarkson
Abbi: My favorite show of all time is Six Feet Under (go figure!) so I'm a huge Patty Clarkson fan. Before BC was at Comedy Central, we developed the show at FX. The day we heard they passed on it, Ilana and I met up and got a drink. We had no idea what was going to happen with the show and it was a very low day…until Patricia Clarkson walked by. I think we were so vulnerable that we just yelled at her to come and get a drink with us. I would NEVER do that! But our show had just been passed on after a year in development and what else were we supposed to do! She politely said no, but two and a half years later, she's in our season 2 finale. I've never been a bigger fan.
Leo Fitzpatrick
Abbi: Our finale is all about St. Marks. There's a whole part about the teen runaways and we were having a really hard time casting this main role. Then our casting director, Cody Beke, sent us Leo. Leo could not be more perfect for this role.
Be sure to watch the Broad City season finale tonight at 10:30pm EST on Comedy Central. You know we will be.
You should also check out:
The Secret History of All Those Bizarre Words and Catch Phrases
'Trainwreck' Is a Hilarious, Dynamic, Stereotype-Smashing Masterpiece
10 Reasons You Should Already Be Watching 'Unbreakable Kimmy Schmidt'
Celebrity news, beauty, fashion advice, and fascinating features, delivered straight to your inbox!