10 Reasons You Should Already Be Watching 'Unbreakable Kimmy Schmidt'
Heads up: If you don't have the theme song stuck in your head yet, you will.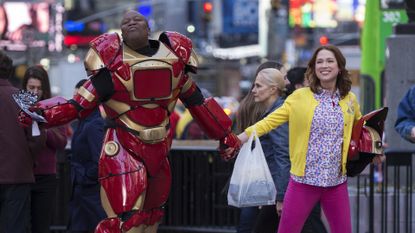 (Image credit: Netflix)
A plucky young woman—fresh out of the underground bunker where she was brainwashed and held against her will by a crazy apocalyptic preacher for 15 years—takes New York City by storm. Still on board? Yes, the premise may be absolutely absurd, but this show is pure gold. Why? Let us count the ways…
1. Tina Fey wrote it. So...there's that.
We repeat— Tina-freaking-Fey. That's right. She is the co-creator, one of the writers, and one of the executive producers, and, thank goodness—she is one of the minor characters (so we get to see her antics on screen!). Not only that, but Fey's hilariously ridiculous touch is all over this show. From the background music that is terrifically reminiscent of 30 Rock to the NYC setting, you just might be tricked into thinking Kenneth might be coming around the corner at any moment. Or Jenna Maroney. Speaking of...
2. Jane Krakowski plays the MOST amazing ditzy rich person.
It's like they all knew we were sad forever about 30 Rock and tried to do something nice for us all. (Bless you, Fey. Bless you.) Krakowski plays a shallow rich woman, (much like the superficial Jenna Maroney) who also loves to climb the ladder to that ivory tower in the sky—this ivory tower being the Upper Eastside and the ladder climber one Jacqueline Voorhees, a housewife who married up.
3.) Ellie Kemper is just magical.
Ellie is like a unicorn of an actress—she makes you believe the ridiculous premise but also pushes past it, giving a hilarious performance without it seeming too sketchy or contrived. Plus, she delivers some of the best lines of the show (obviously), like: "You're looking at me like I'm Jesus's crazy brother Terry" and "Sorry I don't know Hanson's current hits, Titus. I haven't been to a Sam Goody since 1998."
4. ) Roommates can be fun.
Kimmy's roommate, Titus Andromedon (played by Tituss Burgess of 30 Rock fame), is full of sage wisdom. He might have tried to trick her out of her mole money at first, but after some serious bonding, he's on her side and always has her back. He's also hilarious and has a lovely singing voice and when Kimmy's super down, he sings her Katy Perry songs. (There's nothing better.) Further proof that although people might have a hard outer shell, they just might turn out to be a super soft teddy bear inside, waiting to call you a cool new nickname like Kimillionaire. Also, did I mention he goes by the name Titus Andromedon?
5.) If you too have been living in a bunker and have no clue what a selfie is, you can learn along with Kimmy.
In the episode 4, "Kimmy Goes to the Doctor," Kimmy learns all about the power of the selfie. Think about ducks so your eyes look kind, push out your lips so they look full, hold the camera up high so you look skinny, and hold in your arm so it pushes up your cleavage. Easy!
6.) Feet are the new butts.
Or so says Martin Short, the doc here to make all the Upper Eastsiders look young again–or like a completely different person. Short's plastic surgeon character is reminiscent of a scary troll, but with way more Botox and collagen. Oh, and we should mention, he goes by Dr. Franff, but his real name is Dr. Grant. (Sorry, he can't pronounce it with all that stuff in his face.)
7.) Duck pics are WAY better than…you know. The other kind.
Fellas, listen up. If you really want to impress a lady, send her a duck pic. Cute and funny. This will show her you have a sense of humor and watch good TV. Also, mallards mate for life. So yeah—pretty sweet.
8.) Kimmy makes you feel better about struggling to find your way in life.
We're all just trying to make it in life. Trying to figure out a way to pay rent? Kimmy's been there. Been gipped out of your money because you are gullible? Kimmy's done that. Living in a less than ideal apartment with a room the size of a closet? Yep. Been trapped in a bunker for 15 years? Well, maybe just Kimmy did that.
9.) In Kimmyland, a bouquet of dogs is a real thing.
This is a tradition practiced when a ridiculously wealthy man gets caught cheating on his wife. Also, Amy Sedaris comes by and tries to prevent you from getting a divorce. Totally normal.
10.) Reality is the root of all comedy.
Fey and the other writers cleverly weave social commentary into Unbreakable Kimmy Schmidt. There's race, sexuality, and social status issues spliced with werewolves, fake unicorns, and pop culture references. It's smart, it's funny, it's dark, it's weird, it's happy, and it's hilarious. In sum: it's awesome.
You should also check out:
Everything to Watch on Netflix in March
Here's Your First Look at Tina Fey's New Netflix Comedy
Here's the First Look at Tina Fey and Amy Poehler's New Movie
Celebrity news, beauty, fashion advice, and fascinating features, delivered straight to your inbox!