'Orange Is the New Black' Star Uzo Aduba Reveals What's in Store for Season 3
Your Netflix addiction won't be going away anytime soon.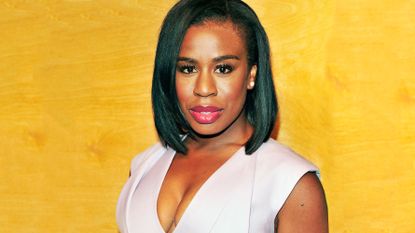 (Image credit: archive)
There's something about Suzanne—AKA Crazy Eyes—the (literally) wide-eyed inmate in Netflix's Orange Is The New Black: She's impossible to completely understand, yet impossible not to completely fall for. We talked to Uzo Aduba, the woman behind one of our favorite Litchfield Penitentiary inmates, to figure out what makes her so damn lovable.
So what's in store for the inmates this season? Spoilers—please!

"This season, [showrunner Jenji Kohan] is interested in faith: What faith is, what we put our faith in, whether in the spiritual realm or in another human being."
Legend goes that before landing the OITNB role, you'd actually quit acting.

"Forty-five minutes before I got this job, I quit. I know how lucky I am—I only signed on to do two episodes. When they said, "We're going to keep you around a little longer," I just thought they meant a third episode."
Any advice for someone on the verge of giving up?

"Believe in yourself—in the core of your being, in what you're doing, in what you're trying to say, in who you are, and never veer from that. No matter what the odds are, always bet on you."
Did you ever consider using another name professionally?

"Professionally, and as an adult, I've always been committed to using my name, at least the shortened version. But when I was really little, teachers in my small, traditional New England town would really struggle with it. One day I came home from school and said, 'Mommy, can you call me Zoe? No one can say Uzoamaka.' Without skipping a beat, my mom was like, 'If they can learn to say Tchaikovsky and Dostoyevsky and Michelangelo, they can learn to say Uzoamaka.' That was the end of it, and she went right back to cooking."
What is it about Suzanne that fans connect with so intensely?

"She can't lie—all she can be is herself, for better or worse, and it's completely unfiltered and pure. There's a freedom in that. I'm drawn to her ferocious loyalty, and her love: her willingness to love, and her aching desire to be loved."
That, and her nickname! It builds a bond of sympathy. It must hurt to be called "Crazy Eyes," no?

"Yeah, because she doesn't know what she's doing that's so crazy. Is she crazy for living her life fully, or are we crazy for judging her?"
A portion of this article appears in the June issue of Marie Claire, on newsstands May 19.