Everything You Need to Know About Mindy Kaling's New Book
Which, from the sounds of it, you'll love as much as her first.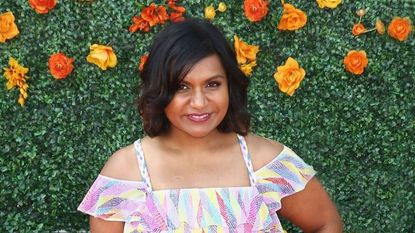 (Image credit: Getty Images)
Yesterday at BookCon, best friends and former Office co-stars Mindy Kaling and BJ Novak appeared together publicly for the first time since word got out earlier this month, to much internet buzz, that they'll be collaborating on a book about their relationship.
The exes, both 35-year-old New York Times best-selling authors, sat on couches before a sold-out morning crowd at the Javits Center to discuss—teases that they are—a different book: Kaling's second solo memoir, Why Not Me?, which will be released on September 29 by Crown Archetype.
Greeted by a standing ovation following Novak's introduction, Kaling joked, "This is what it feels like to be the head of Scientology."
While Kaling's first book, Is Everyone Hanging Out Without Me? (And Other Concerns), focused on the beginning of her life and career, she explained that its follow-up will concentrate largely on the past five years. "It feels to me that more has happened in the past five years of my life than in the proceeding 30," she said.
Namely: Creating the Mindy Project, which has hopscotched from NBC to Fox to Hulu. But fans shouldn't worry about the show's future—Kaling said the Mindy Project's writers will reconvene Monday to begin the first batch of Hulu scripts.
But also: "I'm at an age now where a lot of my friends are getting married or having kids and I have a sense of a little bit feeling left out," she said of the new book's content. "Another side of it is the ambitious side of me that for my entire life has been like, 'Why can't I have that life and that career?'"
So how would the Twitter master define the book in hashtags? "#Blessed, #WhitePeopleProblems, #BlackPeopleProblems, #GlammyBookStarLife, #Family, #Heartache, #GrowingUp, #SecondComingOfAge."
Here's just some of what the book will offer, as told in chapter titles:
"For the Ladies: How to Look Spectacular, a Starlet's Confessions"
"Take This Job and Love It"
"Coming this Fall" (a list of TV tropes like "hot serial killer who is also a little bit literary")
"Player" ("It's actually about a female friend that I had in my mid-20s…who kind of seduced me as a friend, and then dumped me")
"Some Thoughts on Weddings"
"I Love Sex Scenes!"
Craig Daniels—who adapted The Office for American TV—penned a chapter about how to be a mentor.
And Novak said his favorite essay comes when Kaling reminisces about her days as a Dartmouth sorority girl
Now that Kaling helms her own series, she told Novak that she misses the camaraderie that the cast and crew builds from ragging on the boss. Although "you get things done the way you want to get things done," she said, "I can't really sit there and complain about the hours with them because they'll be like, 'You set the hours.'"
What Novak wanted Kaling to dish about more than anything was her former crushes. "My very first crush that I can remember—the kind of crush that keeps you up at night—was when I was 11 years old was on Dana Carvey," Kaling confessed. "He seemed very sweet, and nice, and I pictured like living next to my family with him." But with age came her attraction to "bad boys, like you," she told Novak, who bristled at this characterization. "You know what you are? You're the bad boy in a group of good boys. You're like the baddest of the good boys," she decided.
During this bad-boy phase, "I remember wanting so badly for Christian Slater to take my virginity," she said, though she also had a soft spot for Pierce Brosnan in Mrs. Doubtfire. "He just had chest hair and he was kind of pale and he looked like a normal, hot dad," she said. "It's so telling to me that you had a crush on Pierce Brosnan as a [figurative] dad from Mrs. Doubtfire rather than James Bond," countered Novack.
Though she and Novak have an actual romantic history, Kaling said that has learned a lot by "fake-dating so many different guys" on The Mindy Project. "As an actor, when you're dating someone onscreen, it's like a little bit of their actual courtship rituals come to life." She also insisted that her love life is far less active than her TV alter ego's. "Mindy Lahiri has dated more guys than I have met in my life."
When an audience member asked about their forthcoming book collaboration—for which the two will reportedly split $7.5 million—Novak tried to temper expectations. "It's very early in the creative process and we just met yesterday to discuss all the different directions it could go in," he said. Ever the hype man, Kaling chimed in: "The ideas that we've had so far have been super exciting."
She may be delving into her on-again, off-again relationship for her third book, but Kaling said that what she'd like to find more than anything in life right now is a great female friend. "It's hard when you get to be an adult woman because for the most part, people are more focused on finding their romantic mate," she said. "It's much harder to find someone that you like and want to talk to." Um, we're available?