A Look at Every Rumor Surrounding Ben and Jen's Divorce
Our heads are spinning.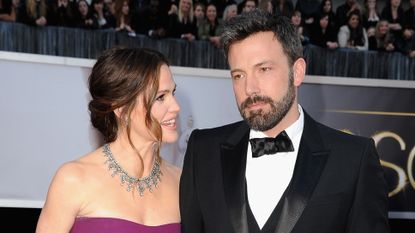 (Image credit: Getty Images)
We're calling it: Summer 2015 is/soon-to-be was the worst summer for celebrity couples. First, Ben Affleck and Jennifer Garner (opens in new tab) announced their pretty amicable separation, then Kourtney Kardashian and Scott Disick (opens in new tab) called it quits, and then Blake Shelton and Miranda Lambert (opens in new tab) decided they were done. We're hurting.
As we mourn the loss of the latter two relationships, it seems the rumor mill has fixated on Affleck and Garner, and churns out a new "reason" for their split every week. That's the sad fact of the matter: When you're a high-profile A-list couple in the middle of a very high-profile divorce, the rumor mill will inevitably go into overdrive.
Here, a look at every piece of (contradictory) gossip that's hit the internet since the news broke.
1. Affleck had a thing with Blake Lively
Remember when Affleck and Lively costarred in The Town? They did, and a few paparazzi shots of them "looking cozy (opens in new tab)" off set AKA taking what seems to be a work break sparked drama that they were secretly hooking up. It's called having a platonic work wife/husband, y'all.
2. Gambling caused major strife in the relationship
And then outlets starting reporting that Garner was "fed up (opens in new tab)" with Affleck's years of gambling. Okay, yes, he told Details that he knew how to count cards while playing blackjack—that just means he's skilled in acting and card games. Plus, who knows what the couples' finances entailed. We're not their accountant.
3. He was a huge party animal
Soon we heard more tales of Affleck's constant partying and wild drinking habits. In one instance, the Daily Mail (opens in new tab) said Garner had to drag him home from an Oscars party heavily intoxicated. Isn't that what we all call a Saturday night?
4. He had an affair with the nanny
Now we come to the latest "development." Us Weekly (opens in new tab)'s newest issue states that Affleck is dating the couple's former nanny, 28-year-old Christine Ouzounian. The two were spotted together (as one would expect when you're talking about a father and his nanny...but a rep for Affleck shot down this "complete garbage (opens in new tab)" story. Well, that died quickly.
When I'm not stalking future-but-never-going-to-happen husbands on Facebook, you can catch me eating at one of NYC's B-rated or below dining establishments—A-rated restaurants are for basics. Fun fact: Bloody Marys got me into eating celery on the regular. And for your safety, please do not disturb before 10 a.m. or coffee, whichever comes first.