Important: This Is What Lady Gaga's Meat Dress Looks Like Five Years Later
Mmm...chewy.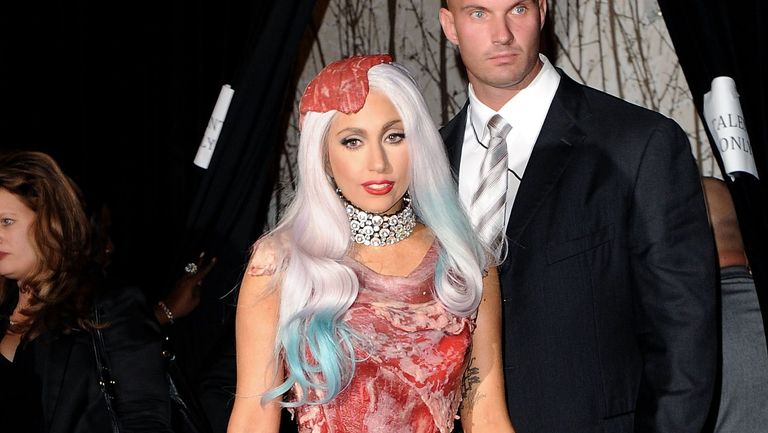 (Image credit: Getty)
Lady Gaga's ultra-glam American Horror Story character might have a taste for human blood, but even she would turn up her nose at a 5-year-old desiccated meat dress treated with bleach and formaldehyde.
Now on show at the Rock and Roll Hall of Fame in Cleveland, the cowl-neck Franc Fernandez design has been "preserved like beef jerky" and transported in a special climate-controlled truck to keep the flank steak from decomposing further, director of collections Jun Francisco told MTV News.
"Nobody has tried anything like this before and so a lot of conservators have never experienced this," he said. "There was another meat dress in the past [editor's note: Wikipedia Jana Sterbak's Vanitas: Flesh Dress for an Albino Anorectic], but they actually let it rot. It wasn't preserved at all. But this one is different since it's now beef jerky—we're assuming the lifespan of this dress is the lifespan of beef jerky! We're looking forward to seeing what that's like. [Editor's note: I wish I could get that excited about shriveled-up beef.]
Below—only if you haven't eaten recently, mind you—take in the scraggly meat fringe, the shrunken meat moon boots, and the deep, viscera-red dye they applied to give it the same appearance as when it was first worn.