'Pride and Prejudice and Zombies' Stars Lily James, Bella Heathcote, and Suki Waterhouse Are the Coolest Women
Which is why we gave them three Marie Claire covers.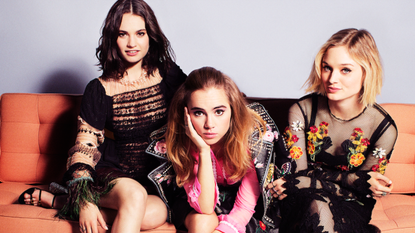 (Image credit: Simon Emmett)
In the new film Pride and Prejudice and Zombies, Jane Austen's romance-minded Bennet sisters are skilled in martial arts and swordplay. In other words, they kick ass. Actresses Lily James, Suki Waterhouse, and Bella Heathcote—the stars of our January "Next Big Thing" issue—more than fit the bill. Here, a sneak peek of their Marie Claire covers.
Lily James on her initial reaction to the movie: "When I saw the e-mail from my agent, I was like, This sounds terrible! Then within 20 pages of the script, I thought, This is so cool! Somehow these two worlds join together, and it's a riot."
On her first big role as Audrey in Little Shop of Horrors: "I remember putting socks in my bra to make my boobs look bigger. I'd love to do Little Shop of Horrors again. Now that I'm slightly more mature, I wouldn't need socks in my bra."
On dating her costar Matt Smith: "He just made me laugh all the time. I actually loved being able to talk about work. It was great that he had to propose to me."
Bella Heathcote on girl power and her role in Pride and Prejudice and Zombies: "It's really empowering to beat the shit out of people. It's also pretty rare for me to be in a film where we get to kick ass."
On the parallels to her love life (Heathcote has been dating director Andrew Dominik since 2010) and PPZ:"There's been a fair amount of lust at first sight. The closest I've come to a Pride and Prejudice relationship is Liz and Darcy—trying to fight it until you just couldn't."
On being on set: "It's pretty rare for me to maintain friendships with the people I work with, but that wasn't the case with this. We kind of became sisters, and we took on our roles as well: Ellie and Suki were little troublemakers, Millie was off in her own world and just hilarious, Lily was quite serious but also had a sense of humor, and I was like the eldest trying to wrangle everyone."
Suki Waterhouse on dyeing her hair for the film: "You watch America's Next Top Model, and you're like, 'Why are these girls crying about their hair?' But then it happens to you! It sounds so pathetic, but I definitely cried."
On being a brown belt in karate and going through martial arts training for PPZ: "I grew up doing karate, and my dad taught at our local center. I stopped doing it when I started getting boobs, because I'd get punched in the boob, and it would be so painful."
On her most recent concert: "Oh God! I actually took my little sisters to see One Direction."
Read the full interview and see all the photos in the January issue of Marie Claire, on newsstands December 15. And for a little behind-the-scenes action to hold you over, see our stars let loose at their cover shoot here:
Follow Marie Claire on Instagram for the latest celeb news, pretty pics, funny stuff, and an insider POV.
Celebrity news, beauty, fashion advice, and fascinating features, delivered straight to your inbox!