Justin Bieber Got Baptized in an NBA Star's Bathtub, Sobbed the Entire Time
🙏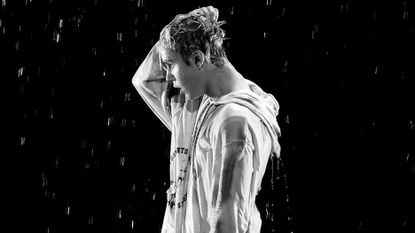 (Image credit: Getty Images)
The short story is that Justin Bieber got baptized in the New York City bathtub of a former Knicks player named Tyson Chandler.
The long story, according to a new GQ feature, is that last year, when Justin Bieber had reached peak Justin Bieber (you know, egging people's houses, committing other human-rights violations, etc.), he and his family moved in with Pastor Carl, the lead pastor of celeb-fave mega-church Hillsong NYC. As GQ eloquently puts it: "It is helpful to think of Justin Bieber here, at this point in his life, as a biblical character at the very bottom of a Jobian well of his own making."
So anyways, Biebs hits a breaking point and decides he needs to get baptized—and STAT. Like, right now. Today. Thankfully Pastor Carl knew just the place: Tyson Chandler's fancy apartment on the Upper West Side, which had a pool.
But—because no great Biblical story is wanting for twists and turns—the pool had already been closed. (Cue dark and stormy weather outside for effect.) BUT! Chandler's bathtub was custom-built (reminder: He is a 7-foot-tall basketball player) and so a very emotional Biebs hopped in and came out reborn. At least, until his DUI arrest later that month.
Follow Marie Claire on Instagram for the latest celeb news, pretty pics, funny stuff, and an insider POV.
As Cosmopolitan's deputy editor, Rosa Heyman oversees a team of whip-smart editors and hilarious writers who bring you some of the best investigations on the internet, from dissecting the latest Kardashian drama to uncovering the link between white supremacy and misogyny. She currently manages the news and social teams and develops the strategy for how the brand best distributes content. You can usually find Rosa glued to her phone workshopping a cheeky caption for Cosmo's Instagram account.