From Porn to Working Out, Khloé Kardashian Thinks You Should Be "Doing Things That Make You Happy"
We'll call it now: 2016 is the Year of Khlo.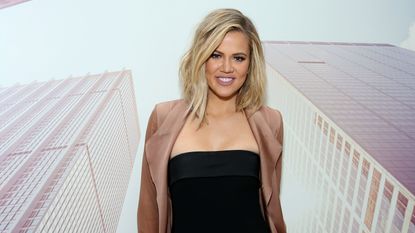 (Image credit: Getty Images)
Marie Claire Newsletter
Celebrity news, beauty, fashion advice, and fascinating features, delivered straight to your inbox!
Thank you for signing up to Marie Claire. You will receive a verification email shortly.
There was a problem. Please refresh the page and try again.
It's Khloé Kardashian's time. Longtime fans of the star (*hello, it's me*) have always identified her as one of the most real of the Jenner-Kardashian family—the one who never seems to run out of things to say in the best way. But now, after a tumultuous year, the 31-year-old mogul seems to have hit her (very swift) stride and is on *everyone's* radar. She's released a book (and has become a New York Times best-selling author, NBD), she's transformed her body, and she's even gone the Oprah route by hosting her own show–Kocktails with Khloé. And at an event with Allergan to kick off the KYBELLA® Live Chin Up campaign, which encourages people not to let the things that bother them get in their way, the host and reality star seemed to glow—literally—from the inside out, tackling (controversial) topics the good ol' Khloé way. What's up for discussion? Porn, haters, and the non-stop rumors. And Khloé takes it all on with poise, thoughtful responses, and—of course—humor. Would you really expect anything less?
Marie Claire: You're having quite the year—from your book to the show to photo shoots left and right—how do you unwind and relax?
Khloé Kardashian: See, I know this is going to sound crazy, but I really love working out. I know that sounds sick to some people, but I didn't love it at first. It's become a healthy addiction for me. And like, now, if I'm watching TV on the couch I'm like, "Ugh, I could be on a cardio machine watching the same thing." That's just now how my mind thinks. Because I can't work out and *not* be watching or listening to music or something. I also journal a lot. I think writing is super therapeutic. And then, hanging with my nieces and nephews. Just like baking or doing silly stuff like jumping on a trampoline, doing fun things with them, pretending I'm five with them, that makes my day.
MC: On your show Kocktails with Khloé, you get very candid about a lot of different topics—and you just started doing a new segment called Konfront the Rumor. What's the craziest rumor you've heard about yourself recently?
KK: Oh goodness, I feel like every day there is something new. I can't keep up! I think a frustrating one or something that I've noticed is that when you're going through a separation as a woman, if you date, you're some jezebel or some whore. But for a man, it's different. Like, separation can take years—it can take years to make divorce final. What am I supposed to do during those years? I think that's, you know it's not the *craziest* thing, but it's where a lot of rumors come from. It's frustrating. You know, I'm allowed to f--king date, I haven't seen this guy in three years. We're in the middle of a divorce. For a woman, she has to wait. For a man, who cares? That's what it's painted as.
MC: Speaking of relationships and what's seen as "acceptable" for women, on your most recent show you also talk a bit about porn—saying that you're a fan. Do you think that the idea of what women enjoy and women and sex is changing?
KK: I hope so! You know, I think—and even with the Live Chin Up movement—it's about women doing things for themselves. Being empowered. Doing things that make you happy. I believe in that philosophy. I wanted to lose weight when it was my time to lose weight, not because someone's calling me out for it. I've been called the Fat Kardashian Sister for the past ten years. But I could have gone and gotten gastric [bypass surgery] or done liposuction or whatever and I did not feel the need to do that, and I didn't think—I sincerely didn't think anything was "wrong with me." I was just like, "Okay, yeah I'm a little bigger," but I was still so happy with myself—big or small. And I appreciate that. So with porn, with the way you look, with cosmetic surgery or injectables, I think all of that should be very personal and done for yourself. And if I like porn, cool, I'm not telling *you* to watch porn. And if I want to inject my face or I want to get lipo or choose to work out, that's my decision. It should be personal, those decisions should be a little more self-serving than me trying to make someone else happy.
MC: You post a ton of your workouts and pictures of yourself on social media—and like everything in social media land, you're obviously going to be dealing with some negative comments. How do you deal with that negativity?
KK: You know, it's funny, no matter what I do—I mean, you're always going to have negatives and positives. I try to focus more on the positive, but it's half the time I'm getting, "Oh you're only in the gym to take a picture," and it's like, "So what the f--k, I'm in here every day, I drove an hour just to take a picture?" I just find it funny what people will comment on, I try to not pay that much attention to it, but the crazy part is that if I'm doing a squat and I have an action photo, they're like, "Oh your form is off!" And I'm like, are you kidding? I'm still at the gym and you're not! Like, I never said I was a weightlifter. I never said I was trained. I'm not a personal trainer. I just enjoy working out. So sometimes I feel like, do I have to write a disclaimer? Like, disclaimer: "I'm not a trainer."
I just find it crazy what people will critique you on, and you have to take it with a grain of salt. I could be curing cancer, and I would be shunned for it. I mean, that's just the truth. People are crazy, but I like to say for every hater I have 100 people that love me and they think it's motivational, so I try to focus on that. But it's sometimes hard, you know? You can have 100 people tell you how beautiful you look, and one person will say, "God, did you sleep last night?" Not even "You're ugly," but "Did you sleep?" and you're all of a sudden like, "What?!" And the whole day that's what you'll remember. And I hate that our brains are wired that way. You don't remember the people that raved about us or just said something nice—I don't know why that's not in us to focus on *that*. But I think it takes a conscious effort to train our minds to change that.
MC: Very true. You said you like to work out and watch TV or listen to music—what's currently on your workout playlist?
KK: I love Kanye's album. I just love it right now, especially that Rihanna song with him called "Famous." But me and Kourtney will listen to that—she's the biggest Kanye fan, it's wild. We listen to like the whole thing from start to finish when we work out together.
Follow Marie Claire on Instagram for the latest celeb news, pretty pics, funny stuff, and an insider POV.
Celebrity news, beauty, fashion advice, and fascinating features, delivered straight to your inbox!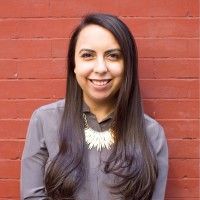 Samantha Leal is the Deputy Editor at Well+Good, where she spends most of her day thinking of new ideas across platforms, bringing on new writers, overseeing the day-to-day of the website, and working with the awesome team to produce the best stories and packages. Before W+G, she was the Senior Web Editor for Marie Claire and the Deputy Editor for Latina.com, with bylines all over the internet. Graduating from the Medill School of Journalism at Northwestern University with a minor in African history, she's written everything from travel guides to political op-eds to wine explainers (currently enrolled in the WSET program) to celebrity profiles. Find her online pretty much everywhere @samanthajoleal.