Beyoncé, Sarah Jessica Parker, Nick Jonas and More Celebrated Obama's 55th Birthday at the White House
It was a star-studded evening, to say the least.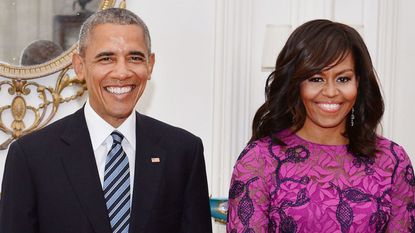 (Image credit: Getty Images)
On Friday night, Michelle Obama hosted the party to end all parties in celebration of her husband Barack Obama's 55th birthday, which was on August 4. Given that the occasion was not only a milestone birthday, but the last birthday her family would celebrate in the White House, it's no wonder she went all out.
"The First Lady is hosting a 55th birthday celebration for the President at the White House," said a White House rep in a statement to People. "The guest list includes a large number of family members and friends to mark the occasion. The private event will be paid for with the family's personal funds."
The President partied it up with his family and just a few of his famous celebrity friends. And by a few we mean A LOT. According to Page Six, the lucky invitees included Beyoncé and Jay Z (obviously), Kendrick Lamar (one of POTUS' favorite rappers), Jason Wu (one of FLOTUS' favorite designers), Sarah Jessica Parker, Jennifer Hudson, John Legend, Ellen Degeneres and Portia de Rossi, Usher, Stevie Wonder, and Magic Johnson among others. The political figures expected to attend included Vice President and Obama BFF Joe Biden, Hillary Clinton, and Nancy Pelosi, to name a few.
Guests were asked not to tweet or post during the event, reports the New York Times, which of course many ignored. Not that we're complaining—that means we get a little more access to the goings-on at the exclusive soirée...
Here, we've got Ellen DeGeneres snapping a quick selfie.
Nick Jonas gushing about the event.
Al Roker arriving at the White House.
Magic Johnson and his wife Cookie getting ready for the big night...
Partying with Samuel L. Jackson once they're there...
And then reminding us it was awesome and we weren't there.
Even George Lucas was there to party down with the Prez.
Along with Reverend Al Sharpton and his wife.
Plus, Good Morning America anchor Robin Roberts.
And former NBA player Grant Hill and his wife Tamia.
See some of the A-list attendees as they made their arrival in this footage captured by TMZ:
Is that a present in Sarah Jessica Parker's arms?? We cannot even fathom the stress in trying to find the perfect birthday present for a man like Barack Obama. Whatever she got him could not possibly trump this though:
Happy 55th, President Obama!
Celebrity news, beauty, fashion advice, and fascinating features, delivered straight to your inbox!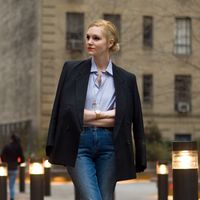 I am an experienced editor, writer, and creative strategist, specializing in fashion, beauty, and lifestyle content for digital media outlets, as well as video and social platforms. While I currently operate as a freelance contributor/consultant, with such clients as The Zoe Report, my 10+-year background in the industry was cultivated at the dot-coms of elite publications, including Harper's BAZAAR, ELLE, and Marie Claire.