Khloe Kardashian on How Her New Denim Line Was Basically a Direct Response to Years of Body Shaming
"Literally everything about buying jeans stresses me out."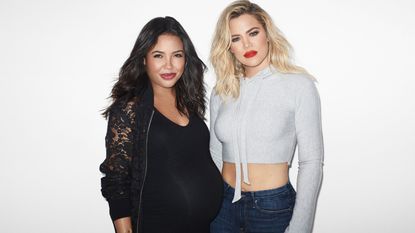 (Image credit: Good American)
Khloe Kardashian wants you to have the perfect pair of jeans. That's why she teamed up with ITB CEO Emma Grede to launch Good American, a denim-focused fashion brand with a mission to make women of all shapes and sizes feel sexy and comfortable in their own skin. The line, which is available online and at Nordstrom, runs from size 0 to 24 and is all standard size—i.e. no segregation into the "plus-sized" realm for larger sizes. In fact, Kardashian and Grede hope that other brands will follow their lead and do away with plus-size segregation for good.
And to double down on their commitment to serving women of all sizes, each piece in the collection is modeled on three different body shapes so that online shoppers who aren't size 2s can see what the jeans look like on someone with their body type. 🙌🏼
We sat down with Khloe and Emma in Los Angeles to talk about the line, body shaming, and what it's like to undergo a body transformation in the public eye.
On why they decided to start a line of body-positive jeans:
Khloe: "I used to be body shamed—and still get body shamed—but I used to get body shamed by denim companies almost without them even knowing it because I would buy premium denim at high-end boutiques, but they would only go to a size 8 or 10 and I was a size 12. And, you know, that doesn't feel good when you go into a store with your girlfriends or your sisters and you can't buy the same things your friends are buying. So that was something that really struck a chord with me and something I really wanted to fight for."
Emma: "As with all good products, really I wanted to do this to create something for myself and I kind of figured that if I'm always making alterations to jeans, there must be other women that are doing that, too."
On the problem with segregating sizes:
Emma: "It was really important to us that the whole line be standard sizes because we think it's really un-modern for women to have to go into different departments dependent on their dress size."
On what stresses them out about buying jeans:
Khloe: "Literally everything about buying jeans stresses me out, but that's why Emma and I were really big on buying online. With ordering online, it's so easy to return things and to get packages to your door. I like doing things in the privacy of my own home. You get to try them on with your own personal belongings and your own normal lighting and mirrors. No salesperson. Like, "Shut up. Give me a minute." You, like, literally barricade yourself in a dressing room stressing out because people are giving you their two cents and it's like, 'You're paid to be here.'"
On Khloe's body transformation:
Khloe: "Well, for me, I've always been overweight or struggled with it. I was always up and down, but then being in the public eye, you get scrutinized and you have to hear it from every angle. But I've always been proud of myself for not doing anything unhealthy or succumbing to any quick fixes. One day, I realized I just want to get healthy for myself. I never wanted to lose X amount of pounds. I was just like, you know what, I needed a stress reliever and I started really becoming obsessed with fitness in a healthy way. And I've never really cared to weigh myself. I do love muscle. I am a curvier girl. I like to be curvier than skinnier, so I don't really care what the scale says."
On body image:
Khloe: "I don't care if you are a size 18—if you're healthy and you work out and eat decently, then that's beautiful and that's the body you have. I think if you're, you know, laying on the couch and eating Cheetos and a Slurpee all day and you're like, 'Oh but I'm a size 24'... it's like, you still have to try to be healthy."
On bonding with Kendall over body shaming:
Khloe: "You know, Kendall is really tall and skinny—or thin, thinner—and for her, body shaming was people would call her skinny. For me, I couldn't understand that because I've only been like fat shamed and she's been skinny shamed. And I thought that was so interesting, but it's true. Body shaming in general, whether you're 'too skinny' or 'too short' or 'too big,' it's like, oh my god. Kendall works out. She works out to be healthy and to be fit, not to lose any weight, just to be an active, normal human being and she was getting shamed for that. Why are we shaming people for being healthy and loving themselves? So it is interesting that you could be shamed on any spectrum and it's sad, but that's why we stand for a brand that's all about positivity and uplifting one another for all our diversities."
On being disappointed by the response to their new line:
Khloe: "I think people were really surprised that we created premium denim and have been trying to knock down the barriers of having a wide range of sizes. I've been noticing the excitement with that, but sadly I think no one was expecting it. That made me kind of sad, like oh, did they think that someone known by name or face would never venture out to larger sizes?"
On the real reason you should try Good American jeans:
Emma: "The product speaks for itself. The most important thing is: Do the jeans make your backside look good? And yes they do."
Follow Marie Claire on Facebook for the latest celeb news, beauty tips, fascinating reads, livestream video, and more.
Celebrity news, beauty, fashion advice, and fascinating features, delivered straight to your inbox!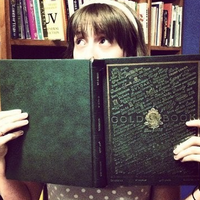 Kayleigh Roberts is a freelance writer and editor with more than 10 years of professional experience. Her byline has appeared in Marie Claire, Cosmopolitan, ELLE, Harper's Bazaar, The Atlantic, Allure, Entertainment Weekly, MTV, Bustle, Refinery29, Girls' Life Magazine, Just Jared, and Tiger Beat, among other publications. She's a graduate of the Medill School of Journalism at Northwestern University.