The Paris Hilton of Russia: Katia Verber
Gold Bentleys, Balenciaga bags, VIP clubs with secret passwords. Welcome to the surreal life of heiress Katia Verber, one woman who's not feeling the economic woes.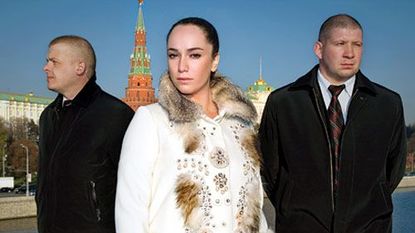 (Image credit: Anna Skladmann)
Marie Claire Newsletter
Celebrity news, beauty, fashion advice, and fascinating features, delivered straight to your inbox!
Thank you for signing up to Marie Claire. You will receive a verification email shortly.
There was a problem. Please refresh the page and try again.
Katia Verber is running late. That's not unusual for an It girl in Moscow, where the Soviet-built streets are choked with traffic. Not helping matters is that the 24-year-old socialite's It car — her mother's chauffeured gold Bentley — has just broken down. "I'm so stressed!" sighs the feathery voice on the other end of the line when I call to check in. "I'll be there in 20!"
Two-and-a-half hours later, Katia flies into the Starbucks on the storied Old Arbat Street. I can't help but ask: If you shell out $250,000 for a car, it should work, right? "Oh, no. No, no, no," she says in crisp English, with the patience of a kindergarten teacher. "Bentleys break down all the time."
Before I can respond, her $7000 luxury titanium Vertu cell phone is beep-beep-beeping. Loudly. "Ugh, I hate this ring," she says, raking through the contents of her studded Balenciaga bag with both hands. "It lets everyone know you have a Vertu. It's so embarrassing!" The phone keeps on beeping. Finally she finds it and answers with a perky "Ah-loh?"
Katia, a dark-haired heiress with piercing eyes and perfect teeth, is like one of the Hilton sisters here. She's the daughter of Alla Verber, who helps run Russia's biggest luxury retailer, Mercury, which brought Dolce, Gucci, and Prada to Russia in the mid-1990s. Katia works as a buyer at Mercury, but she spends much of her time posing for Russian glossies and deciding which party invitations to accept.
This is not the Moscow of yesteryear, when the waiting list for a clunky Volga sedan was often five years. Soaring oil prices transformed this onetime capital of communism with dizzying speed. Even today, Moscow still boasts 73 billionaires (compared with New York's 70), and the number of Russian millionaires shot up last year to 136,000. But the gap between the rich and poor is growing, too: The average wage is still a measly 16,253 rubles, or $686 a month, and 18.9 million Russians subsist below the poverty line on monthly wages averaging less than $170.
There are two Russias, as Katia says: One hobbles along, while the other races forward, spending its oil cash with the sort of careless abandon that you could find only in a country where toilet paper was once considered a luxury good.
I've come to see how Katia's half lives.


SEE PHOTOS OF KATIA AND HER FRIENDS


It's Friday afternoon in the sprawling capital, and we're zipping past construction cranes and shiny new megamalls ahead of the weekend traffic.
One of Katia's acquaintances, Dasha Zhukova, recently made headlines here when her billionaire boyfriend, Roman Abramovich, reportedly threw down $120 million on two paintings for Dasha's art gallery. Abramovich, who made his dollars in oil and owns Britain's Chelsea Football Club, is perhaps the best-known billionaire in Russia, but the richest is Oleg Deripaska, who made his fortune in aluminum. Then there's the country's sixth-richest man, Mikhail Prokhorov, dubbed "Russia's most eligible bachelor" by the tabloid press, until he was arrested for allegedly running a high-end prostitution ring.
Katia and I cruise by a chichi strip mall called Luxury Village, which her mother helped build in a bucolic wood an hour outside Moscow. Gucci, Yves Saint Laurent, Tiffany, and a Lamborghini dealership sparkle among a forest of birch trees. "It's [near] where all the really rich people live," Katia says as we crawl along a two-lane country road cluttered with billboards advertising posh real estate and the opulent furniture that goes with it. As if on cue, several Audis with black-tinted windows speed by.
But the paved pedestrian thoroughfare of Luxury Village is a ghost town. "When people shop here, they buy a lot," Katia explains when I ask how this spotless Stepford village stays afloat. "They don't worry about the price." Then she announces that she needs a cigarette and some sushi. So we head to A.V.E.N.U.E., a totally empty restaurant with an imported French chef and piped-in, nondescript techno music. We take a red-leather booth, and Katia orders a pack of long, superslim smokes called Vogues and a $26 California roll to fortify her for shopping.
A few hours and several thousand dollars' worth of Balenciaga dresses later, we are running late again, this time for a drinks thing with Katia's fashionista friends at Denis Simachëv, the Moscow restaurant of the moment.
At the eatery, disco balls dangle from the ceiling, a gold-plated Kalashnikov assault rifle rests on one wall, and a painting of George W. Bush hangs above the bar, depicting the president boogying with world leaders in what appears to be the inside of a prison.
I used to think people didn't really dress like Carrie Bradshaw in real life; then I met Katia's friends. It's still daylight, but Raquel is channeling Samantha in a black cutaway Balenciaga dress, a black leather corset by Azzedine Alaïa, and black Chanel fingerless gloves. Mira (Charlotte!) is carrying a croc Hermès Kelly bag and wearing a leopard-print Louis Vuitton scarf. Vika, a fashion designer, sports an angular haircut that I can only describe as Miranda Deconstructed.
Soon enough, the talk turns to guys, so, yes, I find myself smack-dab in the middle of an episode of Sex and the Russian City.
"The dating scene here is tough," Raquel complains. "The men are spoiled because the women are so beautiful and there are, like, 10 women to every one guy."
"But we want quality, not quantity," Katia counters.
"Yes, but so many men still want women to stay at home," says Raquel. "When a woman is successful, the men are afraid."
I ask about the successful men — what do they do? The ubiquitous answer is "beez-nees." What sort of business? "Just beez-nees," Raquel says coyly. The new generation — the jet-set children of the oligarchs and "minigarchs" and politicians — has learned never to discuss money.
When the check comes, Katia digs through her wallet, which is stuffed with $100 bills and 5000-ruble notes. Vika is surfing the Web on her MacBook in search of a New York hotel for Fashion Week. Mira, who just turned 23, calls her bodyguard to see where the car is. She has to run — her husband of three years is waiting for her at home. "That's the disadvantage of marriage," she frowns, and teeters off into the night.
But Katia is still single and not done yet. Next stop: the Soho Rooms, a nightclub that practices a strict "face control" policy, which means the only people allowed down the red carpet and past the velvet rope and KGB-looking bouncers are rich men and freakishly gorgeous women. Katia has special VIP access to one of the tables, which start at $3000 a night, but she would rather perch upstairs, in the restaurant portion of the club, and order more sushi. Much like the rest of Moscow, Katia loves sushi. Ever wonder why tuna is becoming extinct? Come to Russia.
After sushi — washed down with Moët — it's time to dance. We descend the sweeping marble staircase into a laser-lit vortex of champagne flutes, go-go dancers, and men in rumpled shirts who look like they've just finished a long day of doing "beez-nees." Katia leads us past a Berlin Wall of bodyguards — all of them wearing black suits and earpieces — through another velvet rope and into the VVIP section, where everyone is watching everyone else.
"That's a famous singer," Katia says, pointing to a blonde mannequin with inflated lips who is posing for a paparazzo. At 3 a.m., two glamazons above the dance pit stage a boxing match for the revelers below. The music pulsates: I wanna rock your body ... The girl boxers are topless. The scene culminates in a torrential downpour of red, white, and blue confetti that finds its way into my purse, my dress, and my drink.
This is the place to be, I think. But I am wrong. Because soon we are standing in front of an even hotter nightclub called Krysha, which has an even stricter entry policy. (Katia tells me — without irony — that you can enter only if you know the secret password.) I follow her through the rabbit hole and up staircase after staircase until we reach the roof, which right now feels like the top of the world. Katia says dreamily, "This place has the best view of Moscow at 6 a.m."
In the distance, the golden cupolas of the Kremlin and the steel towers of Moscow's newly built business district glisten under a thin mist of pink and periwinkle light. The city looks sleepy in the dawn hours, but the bar is teeming with socialites, and they insist that the party go on, until at least noon, and maybe even later. "Right now I'm living in the moment," I recall Katia saying earlier in the day. And in this brief, borrowed moment, there seems no other way to live.
Ilana Ozernoy has written for U.S. News & World Report and The Atlantic. She is working on a book about life in contemporary Russia, to be published by Henry Holt next year.
Celebrity news, beauty, fashion advice, and fascinating features, delivered straight to your inbox!