TV's New Squad of Feminist Heroes Will Remind You That You're Gonna Make It After All
Yes, that was a Mary Tyler Moore reference.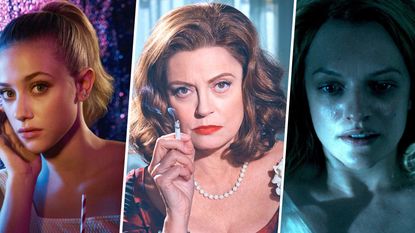 (Image credit: Archives)
Remember when Elizabeth Warren was silenced while trying to read a letter from civil rights leader Coretta Scott King? She was warned. She was given an explanation. But—to quote Senate Majority Leader Mitch McConnell—"nevertheless, she persisted."
It's this image of a woman forging ahead despite opposition from men that is the essential definition of feminism. One that has—despite all the sexism in Hollywood—been played out on screen for decades. Take The Mary Tyler Moore Show. When the beloved sitcom debuted in 1970, being a single, 30-something professional woman was revolutionary. Amazingly, this show went on to address equal pay, birth control, pre-marital sex (gasp!), and many more then-taboo topics that cemented Moore as a feminist (and television) icon.
The fact that similar issues are still topical today? Well, it's certainly worrisome, but we're ready to keep up the good fight. In honor of Warren, Moore, and all the amazing other women leading the charge, this is TV's new squad of feminists.
Offred, 'The Handmaid's Tale'
Moore might have started a sartorial revolution simply by wearing pants, but Elisabeth Moss' character in The Handmaid's Tale is part of a literal revolution. The Handmaid's Tale is set in present-day USA, only the country's been taken over by a religious extremist military dictatorship which has stripped women of their rights. Offred is captured, separated from her daughter, and forced into sex slavery—but she never stops fighting against the terrifying new regime (and never gives up the hope that she'll reunite with her child). If the new administration has inspired activism in you for the first time, Offred's fight will keep that rage fire burning.
Premieres Wednesday, April 26 on Hulu.
Joan Crawford, 'Feud: Bette and Joan'
What happens to an actress after she reaches a certain age? If you believe Hollywood, women over fifty simply disappear into, like, a cave (or something) and five years later emerge with a chic new haircut and glamorous new wardrobe, ready to play grandmothers. Their male counterparts? Why, they continue to seduce twenty-something starlets, naturally. As appalling as this reality is, it used to be even worse—as we'll see in Ryan Murphy's new anthology seriesFeud. The show chronicles the relationship of notorious rivals Joan Crawford and Bette Davis' as they made What Ever Happened to Baby Jane?—a project the fifty-something Crawford put into motion after realizing she wasn't going to get any more substantial roles unless she created them for herself. Inspired? Same.
Premieres Sunday, March 5 at 10 p.m. on FX.
Roma Guy, 'When We Rise'
Oscar winner Dustin Lance Black's miniseries about the gay rights movement follows the lives of three prominent LGBT activists through nearly five decades, including women's rights warrior Roma Guy. Played by Emily Skeggs and Mary-Louise Parker, Guy has dedicated her life to fighting for social justice and improving the lives of women through policy on homelessness, public health, poverty, immigrant rights, and more. We should all take a leaf (or several leaves) from her book.
Premieres Monday, Feb. 27, at 9 p.m. on ABC.
Betty and Veronica, 'Riverdale'
The blonde and brunette rivals for Archie's affection should be natural enemies, but this CW adaptation of the classic comic thinks girl-on-girl hate is kind of boring. In fact, the two super-smart teenagers realize they work best as a team, because pitting women against other women is so tired. Instead of wasting their energy competing as frenemies, they spend an early episode taking down a ring of slut-shaming jocks.
Airs Thursdays at 9 p.m. on The CW.
Lydia, Penelope, and Elena Alvarez, 'One Day At a Time'
Three generations of women lead this 2017 reboot of Norman Lear's classic feminist sitcom, which tackles race, gender, sexuality and other very serious issues in a truly delightful way. This time, the newly separated single mother is a Cuban-American war vet struggling with depression, and the show's first season touches on everything from the struggle for veterans to obtain quality healthcare, to the gender pay gap—along with a beautiful coming-out story. Every lady on this show is a hero for you to girl-crush on. Or feminist crush, as the case may be.
Available now on Netflix.
Follow Marie Claire on Facebook for the latest celeb news, beauty tips, fascinating reads, livestream video, and more.
Celebrity news, beauty, fashion advice, and fascinating features, delivered straight to your inbox!
Jean Bentley is an entertainment reporter who has written about television for Marie Claire, E! News, Mashable, Nerdist, MTV, Entertainment Weekly, and many more. She loves Law & Order: SVU so much that her cat is named Olivia Benson (before Taylor Swift, thankyouverymuch).