Celebrities React to Trump's Syrian Missile Attack
And they're almost unilaterally upset.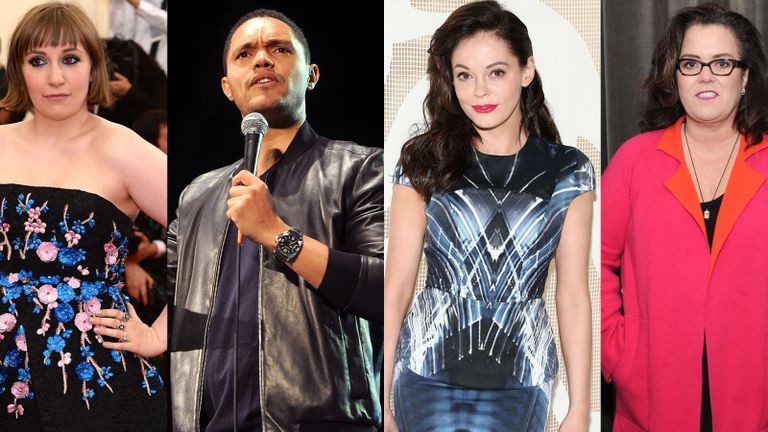 (Image credit: Getty Images)
On the evening of April 6, Donald Trump launched a missile attack on Syria in retaliation for their chemical attack on civilians earlier this week. The missiles struck Syria's Al Shayrat airfield, where the chemical weapons were believed to have been launched.
"On Tuesday, Syrian dictator Bashar al-Assad launched a horrible chemical weapons attack on innocent civilians," Trump said in a speech at Mar-a-Lago. "Using a deadly nerve agent, Assad choked out the life of innocent men, women, and children. It was a slow and brutal death for so many, even beautiful babies were cruelly murdered in this very barbaric attack. No child of God should ever suffer such horror."
Regardless of whether or not Trump made the right call to launch missiles (Note that he didn't clear it with Congress), the hypocrisy of this move is hard to ignore. Not only did Trump attempt to ban immigrants earlier this year, he told Obama not to attack Syria in a series of tweets back in 2013. As a result, the internet—and celebrities—are speaking out. See below.
It's sad that politicians can't find money for education, clean water or healthcare but they can spend millions to "send a message to Syria"April 7, 2017
See more
Moved enough by innocent casualties to excuse bombing them, but not enough to accept refugees. War is a game of hypocrisy & greed #SyriaApril 7, 2017
See more
Trump on Syria: "No child of God should suffer such horror." BUT NO WAY, NOPE. THEY CAN'T COME HERE.April 7, 2017
See more
These two damaged creeps are committing mass murder and they shouldn't even be allowed to own fish as pets. pic.twitter.com/BZFGCNxXNhApril 7, 2017
See more
I just wish I could trust that this President is competentApril 7, 2017
See more
This tweet has not aged well. The foreshadowing is now chilling ... https://t.co/RpKvXYCQDvApril 7, 2017
See more
Hadnt seen the news. The only thing to tweet right now is a prayer for peace and safety.April 7, 2017
See more
🚽Bombing Syria Will,🙏🏻 Stop Assad Gassing His Ppl,BUT🚽Has NO Strategy,Or,Diplomacy‼️ TURKEY & RUSSIA WINNERS‼️🚽IN HORNETS NEST,OVER HIS👨April 7, 2017
See more
BAN THEM FIRST after 600 thou die 70 people gassedbomb an airport 82 million dollars spent no harm 2 assad or his stockpile #Syria https://t.co/nB7lx8b82UApril 7, 2017
See more
This better not dovetail into war with Iran.April 7, 2017
See more
Sent to my fighter pilot brother's wife- "lCarrie. Hi. Can you please ask Bobby if we are in WWIII? Will let y'all know what I find out.April 7, 2017
See more
My God. Just my God. Hypocrisy is a tremendous thing. https://t.co/dJMoiEsY1jApril 7, 2017
See more
Follow Marie Claire on Facebook for the latest celeb news, beauty tips, fascinating reads, livestream video, and more.
Mehera Bonner is a news writer who focuses on celebrities and royals.