I Tried Meghan Markle's Favorite Beauty Products—Here's What's Worth Your Money
Royal-approved, but what about a skeptic's seal of approval?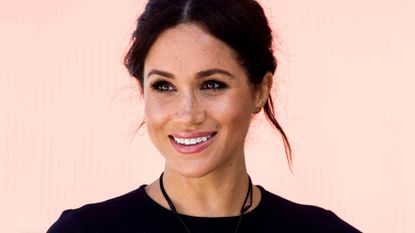 (Image credit: Getty Images)
Marie Claire Newsletter
Celebrity news, beauty, fashion advice, and fascinating features, delivered straight to your inbox!
Thank you for signing up to Marie Claire. You will receive a verification email shortly.
There was a problem. Please refresh the page and try again.
When the Duchess of Sussex, who happens to be absolutely beautiful, says she swears by a beauty product, you better believe it's good. Or...is it? This royal has a thing for products that bring on the glow and make her look "alive" after long days. Same, same. And despite being a successful (former) actress and now a member of the British Royal Family with an estimated net worth of $88 billion, Markle isn't married to triple-digit beauty products. Yes, us commoners can afford her favorites, because price tags don't seem to mean a thing to Markle. Refreshingly enough, she's name-dropped several drugstore products as staples in her regimen. Not to sound too fan-girly, but this makes the Duchess feel so relatable, right?
Being the curious beauty junkie journalist that I am, I challenged myself to test some of Markle's most beloved products to see if they really are all that. If a royal loves it, will I? Some, I've tried in the past and others were completely new for me. From a $16 body lotion to a $75 serum, keep reading for my honest reviews of 13 products Meghan Markle swears by.
Tatcha The Rice Polish Foaming Enzyme Powder
In an interview with Allure, The Duchess praised this exfoliator saying that it: "just sort of foams on your face and gives you a really subtle exfoliation." It's a gentle formulation that employs the help of Japanese rice bran to slough away dead skin cells and rough patches for a smoother, softer surface.
My Rating: 8/10
Baby-smooth skin is a goal I'll never stop chasing—therefore, exfoliating is a step in my skincare routine I refuse to skip. After thoroughly cleansing, I poured a half teaspoon of this powder into my wet hands, which instantly activated it into a gentle foam that felt really soothing on my skin. Afterwards, my skin felt squeaky clean and not stripped of its natural oils. The only thing is, the powder can get a tad messy and end up all over your bathroom sink, if you're also clumsy.
Oribe Dry Texturizing Spray
Listen, everyone has flyaways no matter what your social status is. During an interview with Birchbox, Markle credited this cult favorite spray for keeping her flyaways and frizz in check. "For my flyaways, I spray hairspray on a small boar bristle toothbrush (a regular toothbrush also works great!) to lightly brush them down or smooth the hairline—this is especially good for a sleek bun when I'm off-camera," she notes.
My Rating: 9/10
This texturizing spray has been staple in my haircare drawer for years. It's praised by the professional haircare community of celebrity hairstylists everywhere—so, it's no surprise that it's also royal-approved. It's one of those products that remain in a league of its own, despite the saturated market of hairsprays. The lightweight formula lifts my hair at the root, offering volume and effortless texture that doesn't weigh my hair down with a sticky residue. The only reason why it's not 10 stars across the board, is because it's way too easy to get carried away with one too many spritz of this spray and end up with unwanted build-up.
RevitaLash Advanced Eyelash Conditioner
In an interview with Allure a few years back, Markle shared her secret for long lashes when asked about her beauty routine. "I also use Revitalash on my eyelashes, and I swear they are as long as they could ever be," she boasts. The conditioner uses amino acids, peptides, and biotin to strengthen brittle lashes overtime.
My Rating: 7/10
After letting go of my lash extensions addiction a few years ago, nursing my natural lashes back to health became a priority. To rehab my stubble, flimsy lashes I applied this conditioner morning and night for one month in hopes that I'd see a glimmer of growth in weeks to come. In terms of improving the texture, they did feel incredibly soft, strong and lush after application. But sadly, I didn't see noticeable growth like the Dutchess.
Nars Orgasm Blush
The Duchess's gorgeously flushed cheeks photograph perfectly thanks to her genetics, of course, and with a little help from her favorite blush: NARS Orgasm. "A perfect rosy flush tone that brightens the face," is how she described it in one interview. "I love Nars blush in Orgasm. I use it on- and off-camera because it gives you a nice glow from within," she mentioned in another interview with Allure.
My Rating: 10/10
Do I also agree that blush is the bomb.com? YES, 100 percent—I'm drinking the Royal kool-aid. This universal shade is NARS's most iconic product for a reason. I'm admittedly obsessed with my flushed cheeks post-workout, and always looking to replicate the same effect with makeup; this hue does the trick. Although I have a deeper complexion than Markle, this leaves behind a barely-there-but-there pop of pink on my cheeks. Plus, the texture of the powder is so finely-milled that I can tap it on with my fingers, which makes blending a breeze.
Decleor Aromessence Rose D'Orient Soothing Serum
Makeup artist Min Min Ma, who glammed Markle up when she starred on Suits, has said that this ultra-calming, rose-infused oil serum is essential for smoothing Markle's skin before applying makeup. It's made with all pure and natural ingredients, so it's safe to use on sensitive skin.
My Rating: 6/10
I'm obsessed with the sensation of how oils feel: so smooth, silky, and pillow-y. I have naturally dehydrated skin that's never not thirsty, so, this blend full of essential oils feels so comforting when I apply it. However, I have finicky, acne-prone skin, too, and my two skin angels/celebrity estheticians Shani Darden and Renée Rouleau, told me that oils will always be the source of my breakouts. Sadly, I woke up with small pimples after using this. I chalk that up to my insanely sensitive skin not being able to handle the intensity of essential oils.
Yves Saint Laurent Touche Éclat Radiant Touch Concealer
Meghan Markle told Allure that this light-infused concealer pen, which brightens your overall complexion and hides imperfection with buildable coverage, completes her five-minute face. She raved about it again in an interview with The Lady Loves Couture saying: "It blends, it's compact, and if you've worked a 17-hour day and have nothing else on, you will still look relatively alive."
My Rating: 10/10
I'm a concealer-and-go kind of girl. My makeup strategy is to focus coverage directly on top of problem areas. Plus, I rarely wear foundation anymore—especially in the spring when temperatures start to heat up. I consider this gorgeous gold pen a magic marker that covers my hyperpigmentation, and cloaks my skin with an incredible veil of coverage. I also enjoy the glow its hyaluronic acid-filled formula delivers.
Nivea Skin Firming Hydration Body Lotion
"I use this religiously; it's honestly my favorite lotion on the market," Markle told Beauty Banter about Nivea's body-tightening formula. "It's so affordable, and makes my skin look and feel amazing. I would buy a case of this at a time if I could find it." According to the brand, this lotion is proven to tighten and firm the skin in just two weeks.
My Rating: 9/10
Growing up with severe eczema, body lotion has been a part of my daily beauty regimen since as long as I can remember. I'm partial to Vaseline Intensive Care Lotion, but this gives it a run for its money. I love how the lightweight formula absorbs so quickly without a sticky or greasy after-effect. It's also fragrance-free, which I prefer. I can blame it on my youth and no signs of sagging skin yet, but this did not firm or tighten my skin at all, which is the reason it lost a point.
Maybelline Lash Sensational Mascara
ICYMI, this royal has got a thing for a $6 drugstore mascara. Lydia Sellers, the Duchess' former makeup artist, says Markle introduced her to this mascara. "I keep it stocked in my kit now at all times, thanks to her," Sellers told HELLO!, adding that what she loves the most about his mascara is it helps to amplify your lashes and polish the entire look. "It's great for full volume and lengthening, the formula is super hydrating," Sellers explained. "I love how it builds, and that the price point is accessible for all budgets."
My Rating: 7/10
I'm not ashamed to admit that I have a thing for extra extra lashes. I like them voluminous, fluttery, and curled. This mascara definitely gave me red carpet–ready lashes in a few strokes. But it does not deliver subtle or natural-looking lashes if that's what you're looking for. Although I have to say, the flakey fall-out by the end of the day was not cute. I work long, grueling days, so I depend on long-lasting formulas that give my lashes a flexible hold without raccoon eyes by EOD.
Kate Sommerville Quench Hydrating Face Serum
Kate Somerville Quench is what Markle has named many times as her number-one moisturizer. "I've been going to Kate's clinic in L.A. for facials for years, and now that I live in Toronto for work, I still use the products to maintain that glow," she told BeautyBanter in an interview. This serum is supposed to support your skin's suppleness and youthful radiance using its powerful blend of retinol and lipids.
My Rating: 8/10
Unfortunately, my skin doesn't like to meet new ingredients. I wish it were more friendly. Retinol is a concentrated derivative of vitamin A, and is recommended by dermatologists and aestheticians as great for acne-prone skin and preventing signs of anti-aging. I developed acne as soon as I turned 23 and moved to New York. So, retinol sounds ideal for me. I patted this on my skin morning and night and was obsessed with the lingering glow it left behind. My pores drank this stuff up instantly, and it woke my face up with a noticeably brighter luminosity. But, after a week, little breakouts started to appear. If your skin is super-sensitive, it might respond the same way to these active ingredients.
Charlotte Tilbury Matte Revolution Lipstick in Very Victoria
When it comes to lipstick, Markle keeps things in the nude-slash-rose color family, and this gorgeous shade fits the bill. In several interviews, she's admitted that this is her all-time favorite color. And the "Meghan Effect," has boosted the demand of this specific lipstick tremendously, according to HELLO!, which reported that sales for this nude shade has risen 65 percent since Markle wore it.
My Rating: 10/10
Matte textures make my life so much easier—especially when they're creamy, go on silky-smooth, and never feather like this gem. Charlotte Tilbury, a legend in the beauty business, knows a thing or two about making top-of-the-line lipsticks. This hydrating formula hugs my lips with a long-lasting finish, and this nude actually looks good on my dark skin tone. Finding the right nude lipsticks for women of color is no easy feat, and this shade is a winner.
Make Up For Ever Ultra HD Microfinishing Loose Powder
When Allure asked Markle what her must-have beauty products are, she name-dropped this loose pressed powder: "I love the Make Up For Ever HD Powder. It lets your skin look shiny and fresh, but not greasy-shiny," Markle explained. According to the brand, this light-catching powder will set your entire face of makeup without that annoying dried-out feeling most powders give you.
My Rating: 8/10
I'm a glow-chaser, and haven't used loose powder in more than a year. A dewy, sun-kissed, sweaty glow is my jam—so, I wasn't convinced I'd find much use in this product. But what I did appreciate is that this powder doesn't leave an unattractive white, ashy caste on my dark skin tone—it's truly translucent. I don't agree with Markle on the "shiny" finish, it's more of a naturally matte finish, which isn't my vibe at the moment.
RMS Beauty Living Luminizer
Markle isn't a blinding highlighter kind of lady—something a bit more sleek and subtle is her style. "This highlighter is a favorite when working with Meghan because of its subtlety," Sellers told Byrdie in an inteview. "It doesn't go on looking like a disco ball, but it has just enough pop to make her skin glow in a natural, dewy way."
My Rating: 10/10
I knew going into this challenge this baby would automatically earn 10 stars. I've loved this creamy, dewy highlighter since forever. It's one of those glow-all-over if you want, versatile highlighters that works literally everywhere. I've applied this on my face and body, and it has a sleek touch of shimmer I'm obsessed with. It's essentially a pot of magic.
Fresh Sugar Advanced Therapy Lip Treatment
In the past, Markle has made it very clear that she really loves this lip balm—like, a lot. "I have searched high and low and tried every kind of lip balm, but this is the very best," Markle said about this soothing formula in an interview with The Lady Loves Couture. "Soft, kissable, buttery lips. I swear by it."
My Rating: 10/10
Markle and I are clearly on the same wavelength when it comes to making our rounds with lip balms. My lips were inherently dry until I met this game-changer a few years ago. Like RMS Beauty Living Luminizer, I am definitely not new to this product. I'm, in fact, true to this product because it actually works. It deeply hydrates your lips and keeps dryness at bay.
Meghan Markle's Most Iconic Fashion Moments