In an Exclusive Essay, 'Pretty Little Liars' Showrunner I. Marlene King Talks Being Bullied by Fans
The 'PLL' boss dealt with "thousands of insults" while helming one of TV's most popular shows—here's how she came out the other side.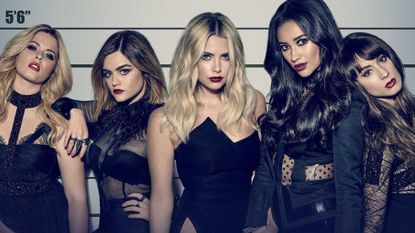 (Image credit: Archives)
The passion of the Pretty Little Liars fan group—also known as the #PLLArmy and the #PLLFandom—is the reason the show remained on the air for seven seasons and 160 episodes. Before it aired, I witnessed their power in action when #PrettyLittleLiars trended for the entire premiere day. And then, as the pilot was broadcast, I engaged with the fans as they reacted to the episode. Their response was overwhelmingly positive, and just like them, I was hooked. Not just on the show, but to my social media relationship with our followers.
You have to remember that when Pretty Little Liars first aired, Twitter was in its infancy. There was no Instagram or Snapchat. The shows' cast introduced me to Twitter while we were filming the pilot in Vancouver. Turns out fans of the book were aware of the show and had opinions about how I should execute the adaptation. Our dialogue started on shaky ground—there was a built-in distrust because they didn't know me, and they didn't want me to screw up this opportunity to bring their favorite world and characters to life. I didn't want to disappoint them, so I paid attention to the overall trends of their ideas.
I made the fans a promise that I would always honor their overwhelming requests/demands for me to keep the lead characters true to their personalities in the books—and long after we ran out of "book story" to tell, I continued to maintain the intentions and integrity of the characters. Through all of the PLL's twists, turns, ups and downs, I kept my promise. I believe that's why, even if the story took a turn fans might not have wanted to see, they still remained loyal to the show. They came back for the next episode.
But a dialogue on social media—even between a showrunner and the fans—is a two-way street. You have to take the good with the bad. For me, I didn't experience a Twitter storm until episode 209, "Picture This" (also known by fans as the #Jaria Episode). I was on set with Lucy Hale the night the episode aired, and the storm hit in real time. I knew fans who shipped Ezria (Ezra and Aria) would not be happy with Aria kissing Jason, but I was not prepared for the holy hell that rained down on me that night. Lucy received some of the fallout, but most of it was solely aimed at me. I was the brunt of thousands of insults—some about my storytelling, but mostly personal attacks. I was more surprised than upset, but when the insults turned to threats I hit the pause button. I didn't respond to the haters, and needed to rethink my position on social media. Was it worth it? Did my personal relationship with fans give them permission to personally attack me?
I stayed off of social for several days until it was brought to my attention "WeLoveMarlene" was trending on Twitter. With time to process the Jaria kiss, social conversations between fans brought them together with a mission to lure me back. They wanted their questions answered, and they wanted me to know they were sorry. They were still mad about that kiss, but they were also still excited to watch the show. That's the moment when the #PLLArmy became my #PLLFamily. I knew there would be more storms. Some would be easy to weather and others would require me to take more breaks from the dialogue I loved to share with our fans. During those Twitter timeouts, as hard as it was to be the target of harsh criticism, I would remind myself I was lucky our fans cared enough to get mad about characters that were not real people.
Then came the show's final episode. I made a promise to myself that I would stay off of social media for several days after the finale aired because I didn't want the fans' reactions to change the way I felt about the episode and the hard work everyone contributed to it. I watched with the cast and writers—and when Toby knew the real Spencer from Alex Drake we all swooned. For us, it was a deeply profound and romantic moment, and I thought Spoby fans would feel the same way. I didn't know until the next day, when doing press, that fans were giving me holy hell on social because Spoby didn't share a final kiss. In hindsight, could I have written a kiss into that scene? Sure, but would it have been good storytelling considering their circumstances? I don't think so—but it's okay if Spoby fans disagree with me. I'm still grateful for their passion and we can agree to disagree. After all, we are #PLLFamily. And just like the unconditional love the liars have for each other, I will always feel the same way about our fans. #PLLFamily4eva.
Follow Marie Claire on Facebook for the latest celeb news, beauty tips, fascinating reads, livestream video, and more.
Marie Claire email subscribers get intel on fashion and beauty trends, hot-off-the-press celebrity news, and more. Sign up here.