No One's Talking About Women Reclaiming Crime Shows, So Let's Start, Shall We?
Here are five shows where women get to solve the murder for a change.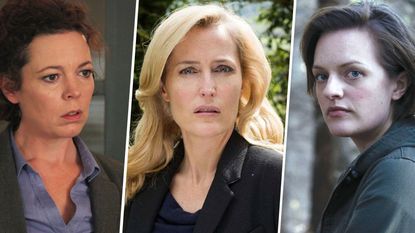 (Image credit: BBC America)
Marie Claire Newsletter
Celebrity news, beauty, fashion advice, and fascinating features, delivered straight to your inbox!
Thank you for signing up to Marie Claire. You will receive a verification email shortly.
There was a problem. Please refresh the page and try again.
For years, we've been spoon-fed a disturbing albeit all-too-familiar crime show formula: a woman or girl is found murdered, and despite her body going on to tell a story, her voice remains silent.
It's an indicator not just of creative unoriginality, but of the world we currently exist in. A recent study revealed that in 2014 more than 1,600 women were murdered at the hands of men (which didn't include murder against trans women). So if you think about it—it's not that shows like The Killing, Criminal Minds, True Detective, and Twin Peaks are wrong to invest in stories revolving around the death of a female. It's that they've perpetuated the notion that only male investigators save the day and solve the mystery. Think of it as the deeply tired male hero trope in a not very good disguise.
That said, over the last couple of years there's been a small but steady shift in the representation of women in crime. We've seen the groundwork laid by teen shows like Veronica Mars and iZombie—then carried on by Happy Valley, Broadchurch, and Fargo. TV is finally allowing women to solve murders—and by doing so, they're giving us all a means of reclamation. Also please note: while the below shows are great, here's to hoping the next wave of prestige female-driven crime dramas actually includes women of color.
'Broadchurch'
In Broadchurch's first episode, we meet Olivia Coleman's Detective Srgt. Ellie Miller—who's assigned to work with Detective Inspector Alec Hardy after the body of an 11-year-old boy is found. Trying to uncover the killer is the show's top priority, but it's the dynamic between both investigators that paints such a sharp picture of the stress and complexities that comes with solving such a morose case.
And while Broadchurch is suspenseful, chilling, and profoundly sad, it's unique in the way it uses Ellie Miller's vulnerability as something admirable—not as a flaw. Instead, Miller's personality tempers Hardy's erraticism and anchors him the wake of his own trauma, all while her lightning-fast brilliance helps uncover the heartbreaking truth.
RELATED STORY
'The Fall'
Listen to me: The Fall was great in the beginning, I swear. The series—about a serial killer (played by Jamie Dornan) and the detective assigned to catch him (played by Gillian Anderson)—ended late last year after coming under fire for morphing from a cat-and-mouse thriller into a glorified melodrama. But before that, watching Anderson's Detective Stella Gibson relentlessly try to pin down a predator was nothing short of mesmerizing.
Drawing us in with the same sharpness that defined Dana Scully, Anderson tapped into her character's demons just as skillfully as she tapped into her gifts. As a result, she epitomized the same traits that are attributed to the male detectives we've met on HBO or AMC, finally proving that complexity and messiness are not reserved solely for hard-drinking, sad dudes—nor should they ever be.
'Happy Valley'
There's almost no way to unpack the plot of Happy Valley without ruining both seasons, but I can certainly try. To start, police sergeant Catherine Cawood (Sarah Lancashire) has lived through hell. We learn in the pilot that she's lost her daughter to suicide, and we also discover that the father of said daughter's child was also her rapist. From there, a kidnapping plot takes a fast turn, and Cawood believes the only way to truly avenge her daughter's death is to find the victim alive and to bring the kidnappers to justice. So yeah—it's a lot.
But Cawood's obsession with the case, her hunger for an ending, and her recklessness makes her the only one able to incite justice. In Season Two, she makes it clear that her trauma has allowed her to build an emotional fortress, where she's able to navigate even the most terrifying situations with an unswayable confidence rooted in the selflessness one develops from having already lost so much. In fact, she is the single thread holding her community together—the reason there's a "Happy Valley" to begin with.
RELATED STORY
'Fargo' (Specifically Season Three)
Without giving anything away—specifically with Carrie Coon's recent Emmy nomination in mind—know that the third season of Fargo would not have been possible without the tenacity of police chief Gloria Burgle, a woman trying to solve the murder of her stepfather. Just watch it.
'Top of the Lake'
Set to premiere on Hulu in September, the second season of Top of the Lake (AKA Top of the Lake: China Girl) will return us to the world of detective Robin Griffin (Elisabeth Moss)—who's looking into Sydney's sex industry after the body of a young woman washes up on shore.
Of course, we were introduced to Griffin's professional, mental, and emotional depth in Season One, when she returned to her small hometown in New Zealand and investigated the pregnancy and disappearance of a 12-year-old girl. But while professionally capable, it's the way the young detective taps into her own trauma and relates to her victims that allows her to so brilliantly piece together their painful histories. Ultimately, it's Griffin's mix of cleverness and empathy that leads to her uncovering the full scope of the situation, re-affirming that age and on-duty experience (typical male TV detective qualities) can only get you so far if they aren't partnered with determination and inner strength.
RELATED STORY
Follow Marie Claire on Facebook for the latest celeb news, beauty tips, fascinating reads, livestream video, and more.
Celebrity news, beauty, fashion advice, and fascinating features, delivered straight to your inbox!
Anne T Donahue is a writer and person originally from Cambridge, Ontario, and is the author of the essay collection, Nobody Cares.