It's Official: These Were the 15 Best Movies of 2017
Cash me in a movie theater, how 'bout that.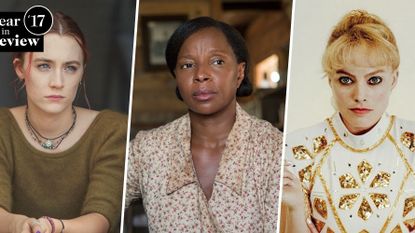 (Image credit: A24/Netflix/Neon)
2017 is over, and even though this entire year was basically an [insert whatever dramatic noun you want here], there were several really genuinely great movies that distracted us from everything else going on in the world. To be clear, the vast majority of films produced by Hollywood this year were pretty meh (unsurprising, considering who's been running this industry), but here are the gems that weaseled their way into our jaded-by-2017 hearts.
Release date: September 8
It isn't just a fun, scary movie. It's a really well-written film about friendship that made us burst with nostalgia, just as much as it made us scream in terror. And as someone who can barely make it through I Know What You Did Last Summer without flailing, I am here to tell you that It is a movie worth seeing whether or not horror is your favorite genre. Come for the murderous child-eating clown vibes, stay for the sweet Stand by Me vibes.
Release date: October 6
Depending on how snobby you are about the original Blade Runner, this movie is one of the most fun of the year. No, it's not going to be nominated for Oscars (other than maybe visual effects and Best Jacket EVER), but Ryan Gosling and Harrison Ford are just the coolest.
RELATED STORY
Release date: December 1
This is a movie about a woman who falls in love and has sex with a fish/man, but before you write it off as "lol pass," keep in mind that you probably loved Beauty and the Beast which is about a woman who falls in love with a dog/buffalo. Anyway, The Shape of Water is pretty beautiful, and a lovely love story. Highlights include Richard Jenkins and Octavia Spencer.
Release date: December 22
Meryl Streep is in this movie, so obviously it's one of the best of the year. But also, it tells the highly important and even more highly relevant story of Katharine Graham, the first woman published of The Washington Post. Expect Oscar nominations like whoa.
Release date: February 24
One of the most intriguing and viral movies of the year, Get Out is a must-see. The film is about an African-American man who goes to meet his white girlfriend's parents for the first time at their seemingly idyllic home in the suburbs—and though they seem welcoming, things soon take a turn for the creepy. A horror movie about race relations in modern-day America, the Jordan Peele-directed film will stay with you for a long time after watching it.
RELATED STORY
Release date: July 28
Charlize Theron as an ass-kicking super spy during the Cold War? James McAvoy as her untrustworthy kinda-sorta-partner? Literally, yes. Theron completely killed it in this vibrant thriller—which is full of twists and contains what might be the best fight scene of all time (don't @ me, this scene alone makes the movie worth seeing).
Release date: June 2
Hi, Wonder Woman is the most iconic feminist movie of 2017, bye! [Side note: that's all you really need to know, but if you want a little more information: 1) Patty Jenkins has forever changed the depiction of female superhero characters thanks to this movie. 2) It slayed the box office. And 3) No, women don't need to be saved by men.]
RELATED STORY
Release date: November 2
Yo, Thor is so fun! Marvel just keeps delivering on a franchise that could have so easily become tired and boring, and it's all thanks to great performances (god bless Tom Hiddleston) and the understanding that a good movie needs well-written parts for women. While Wonder Woman still holds the spot of "Best Superhero Film of the Year/of All Time," we're 100 percent here for Thor.
Release date: November 17
Netflix's Mudbound deserves all the praise it's been getting and more—the movie has a brilliant ensemble cast, and tells a story everyone needs to hear: that of WWII veterans struggling with PTSD who return from war to the racism in their home state of Mississippi.
Release date: June 23
Look, The Beguiled isn't without its issues: the film wrote its only black character right out of the script, and tells the story of a fleet of white women during the Civil War. It's deeply problematic. It's also very beautifully produced, designed, and directed—there's a reason Sofia Coppola took home an award at Cannes for this one.
RELATED STORY
Release date: November 24
Based on the novel of the same name, Call Me by Your Name is about a boy in his late teens who falls in love with a grad student that comes to stay with his family in Italy. It encapsulates what it feels like to be in love/obsessed, and is simply gorgeous. Plus, it's given rise to the Armie Hammer dancing meme, AKA the only meme that matters.
Release date: June 23
Hello, and welcome to the most refreshing romantic comedy of the year. The Big Sick stars Kumail Nanjiani as a Pakistani comedian who falls for a white woman after she heckles him at his show. It's an extremely poignant movie for anyone who's in a mixed relationship and dealing with cultural differences—as well as a great film all around.
Release date: December 8
We caught a screening of I, Tonya at Venice Film Festival and, as campy as it looks, it's actually pretty good. Like, this movie literally does the absolute most, and seems to embrace how utterly extra it is, so what's not to love?
Release date: December 25
Otherwise known as Daniel Day Lewis' last movie, Phantom Thread is a beautiful and layered portrait of the relationship between a designer and his muse that asks audiences to challenge their expectations of power dynamics. It's a slow burn, but keeps you on your toes. DDL definitely went out with a bang on this one.
Release Date: November 3
Lady Bird is everyone's favorite film for a reason. It has everything: a true-to-life mother-daughter relationship, a coming of age story that's insanely relatable, and nostalgia. It's honestly just so special, and might be the best movie of the year.
RELATED STORY
Mehera Bonner is a celebrity and entertainment news writer who enjoys Bravo and Antiques Roadshow with equal enthusiasm. She was previously entertainment editor at Marie Claire and has covered pop culture for over a decade.