Editors handpick every product that we feature. We may earn commission from the links on this page.
30 Mainstream Movies With as Much Nudity as Actual Porn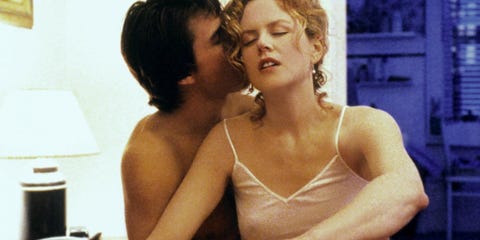 Looking for a movie that's almost porn, but technically not? Unlike actual porn, mainstream movies are saddled with things like "plot" and "coherent storylines," but that doesn't mean that those plots and coherent storylines can't be served by lots (and lots and lots) of nudity. And, over the years, many mainstream movies have taken advantage of their ability to tell beautiful stories full of beautiful bodies in various states of undress. Some of these movies are truly almost porn (we're looking at you, Room in Rome and The Dreamers) and some are so mainstream they were nominated for Academy Awards (like The Wolf of Wall Street and Boogie Nights). Across the board, many of these feature A-list, top tier talent (like Angelina Jolie, Uma Thurman, Antonio Banderas, and James Spader, just to name a few). The lesson to be learned: You may need to rethink your preconceived notions of what excessive nudity in a movie says about that movie.
Ready to dive in and explore the world of mainstream movies with nearly porn-levels of nudity? Here are 30 movies that will get you turned on with their almost nonstop nudity. And yet, they're still totally mainstream with great plots and talented actors. Consider it sex with a side of sophistication.
This content is created and maintained by a third party, and imported onto this page to help users provide their email addresses. You may be able to find more information about this and similar content at piano.io