Bella Hadid Talks Olympic Dreams and Trying Her Hand at Acting
Plus 14 other things you didn't know about the model and Tag Heuer brand ambassador.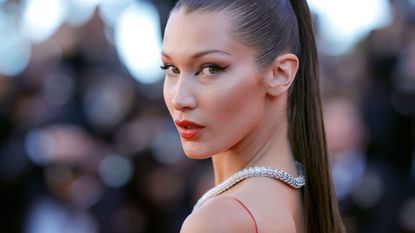 (Image credit: Getty Images)
1. If I weren't a model I'd be: A photographer or a professional equestrian. Down the road, I might try my hand at acting, but I want to be able to fully commit.
2. Best career advice I've gotten: My mom always told me to be humble, work hard, and treat everyone with kindness and respect. I think that always being nice is something that makes you stand out.
3. Change I'd like to see in my industry: I think the industry overall is shifting toward inclusivity, of different backgrounds and body types, which is a really positive change.
4. Who I admire and why: Growing up, my spirit always resonated with Kate Moss, so I guess she inspired me to be myself even if that wasn't always perfect.
5. Book that left a lasting impression on me: I read it as a kid, but I still remember The Giver [by Lois Lowry] having an impact on me. It reminds you to be an individual, which is such an important message.
6. My perfect day would begin: It depends. If I was going to work, I would probably do a mask, get some extra skincare time in. Actually, I would probably give myself five more minutes of sleep and, I don't know, make breakfast? The mornings are hard for me; I'm definitely a rusher in the mornings.
7. My perfect day would end: Eating pizza in bed and watching a movie with a friend.
8. Something nice I did for myself recently: Took a trip to Jamaica with some girlfriends. I had just wrapped fashion month, which was one of the craziest seasons I've had, and took a few days off to relax in the sun.
9. If I could compete in an Olympic sport, I'd like it to be: Equestrian, of course! I have been riding since I could walk, so it would be a dream come true to compete in the Olympics.
10. The beauty essential you'd have to pry out of my cold, dead hands: Diorshow mascara! [Hadid is a face of Dior Makeup.] It really makes your eyes pop.
11. What every woman should try once in her lifetime: Living alone. When I moved to NYC, it was the first time I had ever lived by myself, and it's such a freeing experience. It's definitely lonely sometimes, but you get to know yourself really well.
12. On my bucket list: That's a hard one because I just feel so lucky that I'm able to do all of this. Maybe learn an instrument?
13. The three qualities that got me where I am today: Kindness, dedication, and perseverance. I just like to focus on myself and my career—plus, it takes way too much energy to be mean!
14. Most agonizing career decision I've ever made: Having to retire from professional riding just before the 2016 Olympics because of my chronic Lyme disease. I began riding when I was 3 and instantly fell in love with it, and selling my horse was the hardest decision I've ever had to make.
15. How I made my first dollar: Working at a juice shop in Malibu [California]. I did everything—made juices, cashiered, and cleaned dishes. I loved the independence that came with making my own money.
16. How I clear my mind after a crappy day: Call my mom, take a bubble bath, and go to sleep early. Nothing relaxes me like a good night's sleep!
This article appears in the September issue of Marie Claire, on newsstands August 15.
Celebrity news, beauty, fashion advice, and fascinating features, delivered straight to your inbox!