Vera Wang App Makes Wedding Planning Fun … for Everyone!
The designer's brand-new iPad and iPhone app is free for a limited time.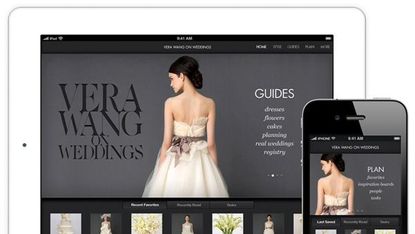 (Image credit: Archives)
I'd normally start out by saying that if you aren't a bride-to-be, you need not read further. But, let's face it, it seems that everyone is planning their eventual weddings: There's a new breed of single would-be brides (opens in new tab) who are designing wedding invitations, looking at rings, and shopping for dresses before they've even met the groom — and if you have a Pinterest (opens in new tab) account, you know that clicking on a few (dozen) inspiring photos of reception decorations and floral color schemes is just smart pinning. So, with that in mind, no matter your relationship status, I recommend you download the new Vera Wang on Weddings (opens in new tab) app now. Right now.
The reason for such urgency is that it's free for iPad and iPhone for a limited time only. In just three short days, on March 1, you'll have to pay $9.99 to get Vera's exclusive wedding planner. (And, seeing how out of control wedding budgets have gotten these days, I suggest you save every dollar you can.)
So why should you get Vera Wang on Weddings?
As someone who's planning her actual wedding, it's waaaaay better than those giant wedding planning binders they sell for $50 that you can't actually take out of your apartment without being one of those infuriating "bride" targets. Literally right at your fingertips, this app has a calendar, scheduler, guest list manager, and a vendor organizer. And like Pinterest, you can pull and play with more than 1,000 images on interactive inspiration boards.
But let's skip to the fun stuff: the dresses. Oh, the dresses.
In the app's dresses section, you can get an up-close look at gowns from her past collections. Loved "Henriette (opens in new tab)," the high-neck cap-sleeve ballgown with over-the-top tulle headpiece, from her Spring 2012 runway show? Well, it's right there for you to zoom and spin and watch as it moves. Don't even get me started on how good "Holly (opens in new tab)" looks on the screen of an iPad.
So, if that doesn't sell you on it, I'm sure the free price tag will. Happy wedding planning!