Gwyneth Paltrow's 6 Favorite iPhone Apps
Gwyneth Paltrow gives us the scoop on her favorite iPhone apps.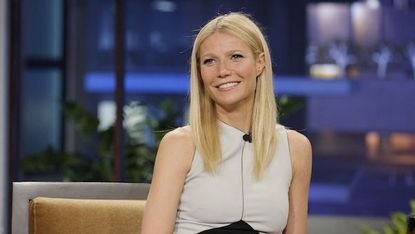 (Image credit: Marie Claire)
If you're anything like us, you follow Gwyneth Paltrow's every move, from her GOOP newsletters to her diet and workout regimens to every single one of her red carpet looks. You also probably wonder how, after so many years in the public eye, she manages to keep it all together — all the while looking so flawless that she was recently named The Most Beautiful Woman in the World by People.
The actress and mogul just released her second cookbook, It's All Good, and her newest film Iron Man 3 opened this past weekend with impressive sales at the box-office. But, in true Gwynnie style, she's already on to the next project. Tomorrow, she's dropping by the Apple Store in SoHo to talk about her new GOOP City Guides app, which features her favorite spots in New York, London, and Los Angeles. You may already know that Gwyneth hangs around town with the likes of Jay-Z and Beyoncé, so if there's even a slim chance that popping into one of her picks will lead to an Uncle Jay spotting, we'd say it's well worth the price of a download. Plus, she has impeccable taste, so we trust that all of her recommendations are pretty solid.
We were able to find out which other iPhone apps the star swears by during her busy days at home and on set. Check them out below — you might have much more in common with Gwyneth than you thought!
Pinterest (opens in new tab): I like the app even better than the website version (and love looking through the goop Pinterest page on my iPhone)
Basecamp (opens in new tab): I use this web-based project manager for a lot of work related things and the app allows me to keep up when I'm on the go.
Snapseed (opens in new tab): Excellent photo tweaking app shown to me by photographer, Brian Bowen Smith.
iTranslate (opens in new tab): I constantly use it to broaden my vocab and translate words I don't recognize.
goop City Guides (opens in new tab): These guides are loaded with all of my favorite places – city curation!
Flight Tracker (opens in new tab): I fly all the time so it's great to get real time updates and track loved ones up in the air.
You can see Gwyneth Paltrow at the Prince Street Apple Store on Tuesday, May 7 from 6 p.m. to 7:30 p.m.