100 Times Celebrities Wore the World's Most Uncomfortable-Looking Outfits
😳🙊😱🙈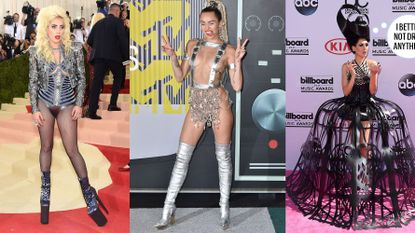 (Image credit: Getty)
Beauty is pain...right? Well we're guessing confident it was for these stars, who have rocked what look to be the most uncomfortable outfits *ever* in the name of fashion. From gravity-defying bedazzled ensembles that weigh a literal ton to sequins that must itch like hell when you move even just an inch in any direction, here's a look at the lengths they'll go. Mad respect, ladies!
1/100
Traci Bingham
Consider the Band-Aid effect when she took those off at the end of the night. 😟
2/100
Lady Gaga
Her shoe collection is *literally* out of this world. No other human can wear heels like Lady Gaga.
3/100
Rose McGowan
It took a serious dose of badass to rock this so fearlessly...but it must have hurt to sit down on those chains, no? Eep—imagine if they pinch!
4/100
Jennifer Lopez
Mastering the art of the deep V—and its obligatory suck-your-stomach-in-all-night-and-constantly-look-down-to-make-sure-the-girls-are-still-tucked-in vigilance—before the deep V was invented.
5/100
6/100
Christina Aguilera
How does one sit down in a skirt that short, or move one's upper body with a top so carefully bandaged in place? This outfit is definition IDGAF.
7/100
Cher
This head piece is amazing no matter how unwieldy it must feel on top of her head.
8/100
Miley Cyrus
But what if one of the balloon letters pop?!
9/100
Daphne Guiness
A little hard to breathe, just like the 90's choker (which is back, ladies!).
10/100
Miley Cyrus
"This is the most naked I've ever been in public...wait, is it?" —Miley's current thought
11/100
Lady Gaga
No shoe is a better recipe for disaster in the ankle-breaking department.
12/100
Amber Rose
The ultimate body chain. But again, painful to sit on, no?
13/100
Miley Cyrus
Bondage: kinky in the red room, uncomfortable on the red carpet.
14/100
Toni Braxton
Avoid any side-to-side swaying movements.
15/100
Lady Gaga
The ability she has to walk in these shoes blows the world's mind once again. 😳
16/100
Z LaLa
All doors must be removed before entry.
17/100
Miley Cyrus
No caption needed.
18/100
Britney Spears
Imagine the skin indentations once she took those suckers off.
19/100
Gigi Hadid
Don't let her positive demeanor fool you—she's likely very, very focused on not slipping or falling in those lucite shoes.
20/100
Joy Villa
What if this were worn in the daylight. On a sunny day. For a long time. Without sunscreen... 😮
21/100
Rihanna
That stole = necessary to keep warm.
22/100
Anja Rubik
Can this even qualify as a slit?
23/100
Lady Gaga
Damn Gaga, back at it again with the *unbelievable* footwear.
24/100
25/100
Z LaLa
Running to the bar for pre-show cocktails will not be possible. Swimming, however... 🐙
26/100
Rihanna
No only is Rihanna rocking a corset here, but a corset complete with sharp spiky weapons. 😱😱😱
27/100
Lady Gaga
Gaga's take on the no-makeup look.
28/100
Nicki Minaj
These heels are meant for very short walks or maybe no walks at all.
29/100
Irina Shayk
Gorgeous ✔️. Soft on skin 🚫.
30/100
Sarah Jessica Parker
This 🔥 crown may be *epic* but it definitely brought SJP some post-night-out neck pain.
31/100
Lady Gaga
Look Ma, no hands.
32/100
Kristen Stewart
Waist-training while red carpeting = impressive multitasking.
33/100
Rihanna
Those sleeve embellishments could poke an eye out.
34/100
Beyoncé
When you're as hot as Beyoncé, who cares if the only thing covering your lady parts is an array of incredible jewels.
35/100
Lady Gaga
You can't even appreciate the uncomfortableness of this dress clearly made of *razor sharp* glass shards because your eyes (again) are glued to her shoes.
36/100
Katy Perry
Disclaimer: Arms cannot be used to eat with a fork and knife while wearing this dress.
37/100
Gigi Hadid
*Uses hair as backup breast coverage*
38/100
Lady Gaga
But seriously, HOW?! 😳👠
39/100
Rihanna
This cape is so fabulous who cares how much it weighed, that people maybe definitely stepped on it all night, or what in the world she did when she needed to use the bathroom.
40/100
Kylie Jenner
Leg angles are *so* important in a dress like this.
41/100
Katy Perry
A medieval dress equipped with a Tamagotchi—you know, those keychains everyone had in the '90s, where the entire premise was keeping a tiny digital pet alive.
42/100
Selena Gomez
TFW you realize dancing in a full sequin get-up is a form of torture you did nothing to deserve.
43/100
Gigi Hadid
The human behind her is truly frightened of those studs.
44/100
Katy Perry
Business on top, party like "you don't care how your feet feel" on bottom.
45/100
Lady Gaga
Fuzzy? Yes. Easily schlepable through streets while paparrazi is blinding you? No.
46/100
47/100
Solange
No sitting. Only standing. To be admired like the piece of art that it is.
48/100
49/100
Lady Gaga
How much do you think that weighs? 👸
50/100
Beyoncé
Just...so hot. And sweaty. And squeaky.
51/100
Kylie Jenner
Same with this dress.
52/100
Nicki Minaj
Are her arms trapped inside?!
53/100
Lady Gaga
The ultimate noise elimation headphones?
54/100
Kim Kardashian
No, Kim is not trying to show off her out-of-this-universe engagement ring...there is another reason for this precise hand placement.
55/100
Kate Mara
Remember those circular plastic bead curtains that you used to hang from your door as a kid? Behold.
56/100
Blake Lively
"Don't topple over, don't topple over..." —Blake's thoughts as this photo was taken
57/100
Gigi Hadid
Truly wondering what it feels like to have your feet that far away from solid ground.
58/100
Kate Bosworth
When you look like a beautiful ancient gladiator goddess, but your boobs have to hold all the weight of your silver battle shield.
59/100
Lady Gaga
How to wash hands?
60/100
Julie Macklowe
Maybe, in the future, we won't be able to feel the uncomfortableness of an outfit at all.
61/100
Lady Gaga
Just gonna leave this right here...
62/100
Gigi Hadid
As fabulously-vintage as this grandma-inspired sweater is, it begs the question: Is it itchy?
63/100
Poppy Delevingne
Truly she couldn't look more Great Gatsby approved...but at the cost of wearing some very heavy-looking jewels.
64/100
Beyoncé
Hope we're wrong and these shoes are actually comfortable because NEED. 😍
65/100
Brie Larson
Have you ever felt the paper-cut-like slice of an errant sequin edge? Yeah.
66/100
Gigi Hadid
Bending over to pick up something up will just not be an option on this day.
67/100
Rita Ora
Fluffy feathery trains = harder to manage than regular trains.
68/100
Lady Gaga
Who needs peripheral vision when you're making a statement this major?
69/100
Gigi Hadid
Dark underwear is a must.
70/100
Emily Ratajkowski
Note: Keep your strides close and your thighs closer.
71/100
Gigi Hadid
When boots look like this, no pain will ever be enough to actually stop you from wearing them.
72/100
Lady Gaga
Worried about the face paint stinging her eyes.
73/100
Blake Lively
Off-the-shoulder makes for a very limited range of motion.
74/100
Tabitha Simmons
This is a great dress for someone who gets cold easily.
75/100
Kylie Jenner
Kylie's note to self: Sacrifice perfect back posture for length of this dress.
76/100
Anna Ewers
Does this dress feel like fur or silver pine needles? One may never know.
77/100
Jennifer Lopez
Thinking: "Someone will tell me if my nipple is showing, right?"
78/100
Kendall Jenner
Underwear for dresses like these is a very carefully calculated endeavor.
79/100
Kim Kardashain
Strolling through the park in those heels is something only Kim could do.
80/100
Gigi Hadid
"I can't remember what I was supposed to say because my feet are breaking."
81/100
Jennifer Lopez
This red jumpsuit is 🔥🔥🔥 , but skin to sequin contact must be kept to a minimum.
82/100
Madonna
These boots are just worth it. Sometimes it's as simple as that.
83/100
Taylor Swift
This outfit was definition comfortable before she added the harness/suspender thingamajigs.
84/100
Alessandra Ambrosio
Just a guess: This belt is even more uncomfortable post-dinner.
85/100
Halle Berry
Besides the furry insides, these snow-boot-heels are very much heels and very not snow boots.
86/100
Jennifer Lopez
No matter what J.Lo's wearing she can still shake it better than anyone else.
87/100
88/100
89/100
90/100
Taylor Swift
Taylor's feet are literally vertical in these shoes. 🙊
91/100
Zandaya
The tradeoff of possibly feeling itchy in this dress is looking like a modern-day Cleopatra.
92/100
Kendall Jenner
Kendall shocked the world with this incredibly daring—yet surprisingly cooperative—dress.
93/100
Kendall and Kylie Jenner
Let us take another moment to appreciate the sheer talent Kendall possesses to be making forward movements in this dress.
94/100
Jennifer Lopez
This step with this slit is not what she needs right now.
95/100
Kim Kardashian
Unless it's close to below zero outside, she must be dying of heat.
96/100
Cara Delevingne and Kendall Jenner
Cara's face says it all.
97/100
Selena Gomez
Just us or does this dress look like it weighs twice as much as her?
98/100
Kendall Jenner
Yes, these shoes are the definition of slay, but with the sacrifice of blood circulation.
99/100
Kylie Jenner
These boots were made for walking...to a seat.