12 Celebrities on Not Feeling Pretty, Because It Happens to the Best of Us
"I look like Ted Nugent in a black wig."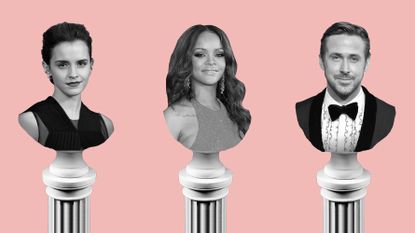 (Image credit: Getty, design by Monica Park)
Like the "But I'm just like every other girl!" move, downplaying one's beauty—when one is a gorgeous famous person—can be a device for conveying relatability. Or it can make you sad, because, man we've all been there. Ahead, 12 quotes, from the "are you sure about that" to the "right in the feels."
1/12
Salma Hayek
From our POV, we'd say the raw materials are REALLY good, but Hayek says that everything we see, she owes to clever dressing (not spaghetti). "I actually don't have a good body, but if everybody thinks so, I guess it means I'm a good actress," she said in an interview with Parade. "I have acted the part of the girl who has a very good body. If you know how to dress, there's some tricks you can pull."
2/12
3/12
Lupita Nyong'o
At the Essence Black Women in Hollywood luncheon in 2014, the Oscar winner gave a powerful speech about her self-image as a child. "I remembered a time where I too felt unbeautiful," she said. "I put on the TV and only saw white, pale skin. I was teased and taunted about my nightshaded skin and my one prayer to god was that I would wake up light-skinned."
4/12
Olivia Wilde
Remember when Olivia Wilde was like, "Yeah, I thought I wasn't pretty enough for Jason Sudeikis?" And everybody was like, "???" Well, here's the exact quote (from Marie Claire, LOL), which will make you feel some type of way: "I thought, 'He won't be interested in me; I'm not a contender. He was so cool, so funny—I was such a fan of his and had always fancied his speed and his intelligence. I thought, 'I'm not beautiful enough or his type.'"
5/12
Megan Fox
"I don't think I'm a sexy, beautiful woman," she once said to the News Of The World. "I look like Ted Nugent in a black wig." (We don't see the resemblance, but okay.)
6/12
Penelope Cruz
Now here's an interesting one that turns the focus outward: "I don't think I am beautiful. I can look good and I can look ugly," she said in an interview with Parade. "What's funny is that when I was younger I wanted everyone to look at me. Now I like to watch other people because you can learn a lot of interesting things."
7/12
Margot Robbie
In her Vanity Fair profile, Robbie said she's not even the hottest in her group of friends, an admission that made everybody recreate the confused Mr. Krabs meme. "I am definitely not the best-looking. I did not grow up feeling like I was particularly attractive. You should have seen me at 14, with ­braces and glasses, gangly and doing ballet! If I looked good in Wolf of Wall Street I cannot take full credit; it was because of hair extensions and makeup." Sure!
8/12
Rihanna
Never forget this spectacularly real statement: "I have an ugly day every month; pimples on my face, I'm fat and in a bad mood. It's more like an ugly week," she once said in Star magazine.
9/12
Scarlett Johansson
Even popcorn entrepreneurs and actresses who are paid astronomical amounts to wear bodysuits and be otherworldly have off days. "In normal life, I don't think I am any more aware of my femininity or sexuality than any other woman, I don't walk around feeling sensual," she told the Sunday Mirror's Notebook magazine. She went on: "Of course. I'm a girl. Aren't we all like that when we wake up every day and go, 'Oh god. What changed as I slept?'"
10/12
Ryan Gosling
Attention: Ryan Gosling doesn't think he's hot. ""I'm not that good-looking," he told the Daily Mail. "I think I'm a pretty weird-looking guy. Every role I got up until the Notebook was the weirdo, freak, psychopath, nerd, outsider-character guy."
11/12
Emma Watson
"I find the whole concept of being 'sexy' embarrassing and confusing," she said to the Daily Mail of turning 18 and people wanting her to change her image. Eight years later, and she's proven she's navigated adulthood pretty well.
12/12
Mila KunisMila Kunis
In Mila Kunis' mind her humor > her looks. "I appreciate the attention, but I don't think of myself as particularly attractive at all," she told the Sun. "I also don't have that naturally sexual or sensuous way of behaving that some women have."
Celebrity news, beauty, fashion advice, and fascinating features, delivered straight to your inbox!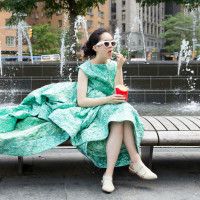 Chelsea Peng is a writer and editor who was formerly the assistant editor at MarieClaire.com. She's also worked for The Strategist and Refinery29, and is a graduate of Northwestern University. On her tombstone, she would like a GIF of herself that's better than the one that already exists on the Internet and a free fro-yo machine. Besides frozen dairy products, she's into pirates, carbs, Balzac, and snacking so hard she has to go lie down.