See Just How Alike (or Not) These Celebrities and Their Body Doubles Are
"Could be twins" or "Harry Styles rubber mask." There's no in-between.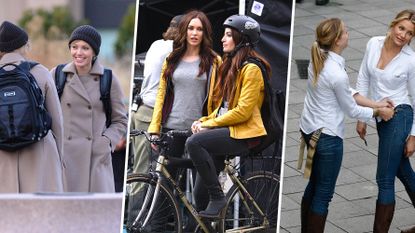 (Image credit: Archive)
While plenty of celebrities do their own stunts, the Movie People™ aren't fooling anyone when they show, say, Betty White doing a series of backflips, then cutting away to a closeup of her face. That's where the doubles come in—and when you see them standing side by side with their principles, it's, well, a *lot*, as these photos show.
1/10
Reese Witherspoon
The first of many suspect wigs in this gallery, keep a lookout.
2/10
Anna Kendrick
THIS IS SCARING ME.
3/10
Chris Evans
Probably about to burst through a wall or some such.
4/10
Jennifer Garner
Did you know there are awards for stunt people? And that these awards shows have after-parties that Jennifer Garner and her double Shanna Duggins have attended in matching outfits? So fun!
5/10
Angelina Jolie
Smiles on the set of Salt.
6/10
Cameron Diaz
Diaz's double for Knight and Day *doubling* (I hate myself too) as a wardrobe assistant. Or she's making sure she doesn't fall out of her harness, that could be it.
7/10
Abbie Cornish
Oh man, that wig.
8/10
Andrew Garfield
And here, a still from Step Up 4: Spider-Man Expands His Horizons. JK, this is Andrew Garfield and William Spencer, one of his two doubles, rehearsing for for The Amazing Spider-Man 2.
9/10
Taylor Lautner
When your stunt double looks a little too much like you.
10/10
Gal Gadot
Raise your hand if you think Caitlin Dechelle and Gal Gadot look like they could be related. Great casting, eh?