Tim Gunn's New Day Job
The Project Runway mentor talks about his new daytime talk show gig and his plans to design his own clothing line!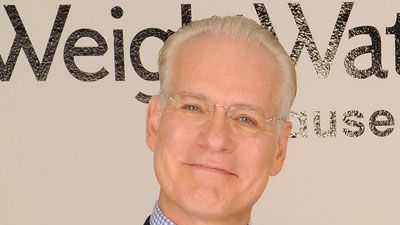 (Image credit: Courtesy of Weight Watchers)
Marie Claire Newsletter
Celebrity news, beauty, fashion advice, and fascinating features, delivered straight to your inbox!
Thank you for signing up to Marie Claire. You will receive a verification email shortly.
There was a problem. Please refresh the page and try again.
Tim Gunn has encouraged, inspired, and transformed up-and-coming designers for going on nine seasons (and seven years!) of Project Runway, so when's it our turn to get a little love from the "Make It Work" mentor?
Funny we should ask, because Mr. Gunn is taking his sweet, pseudo-therapy sessions off the runway and onto daytime TV as a co-host on the new ABC talk show, The Revolution, premiering Jan. 16.
The daily show — which also counts as hosts Ty Pennington, celeb trainer Harley Pasternak, health expert Dr. Jennifer Ashton and relationship pro Dr. Tiffanie Davis Henry — follows one woman's personal journey to transform all areas of her life over the course of five months … or five days in TV land, as Tim puts it.
We spoke to the fashion pro about his new gig, his about-turn stance on "aspirational looks," and his plans to design his own clothing line.
Tell us a little more about The Revolution.
The show is all about a woman's journey. For five days straight, that particular woman is the thread that ties the episodes together, but there are a huge amount of takeaways for the home viewer. It addresses health, nutrition, fitness, home, relationships… I'm there to help with fashion and style. Another hat I'm wearing is manners — showing these women how to navigate the world with respect for their fellow human beings. It's one-stop shopping to being a better person! And who can't stand to be a little better?
You've got a jam-packed schedule as is. Why take on another show?
I love helping people. I love helping women everywhere feel more confident and more beautiful, and that's the core of The Revolution. It's really a feel-good show. Sure, we will push the buttons in terms of a reality wake-up call, but we're not mean-spirited. You'll never see us talking behind someone's back in snarky, unsupportive way.
Why do you think fashion is such an important part of one's weight loss journey?
Playing with fashion and adapting your style to your changing body is just a fun part of the process. It can help keep you motivated along the way.
What was the biggest challenge for you?
Well, I'm talking to them about aspirational looks — looks they can't wear right now. I didn't believe in aspirational clothes before this. I was always of the belief, "Let's fit the size you are now. Let's not talk about being four sizes smaller." But there is the health issue. So now we're talking speculatively yet carefully considering where their body and shape will be. So we're asking, "What will she be in four months? In five months?" That was the biggest fashion challenge. They get a goal outfit on Monday!
You recently helped style a woman, Abby Dale, who achieved her aspiration: She lost nearly 100 pounds through Weight Watchers. What's it like reteaching someone how to dress for a brand-new body?
She was the Weight Watchers Inspiring Stories winner. Her journey was 17 months, but she'd been overweight her entire life and never known a normal, slim and sexy body. We just had a fitting, and she was like every woman I meet who's lost a lot of weight: She's maintaining that the clothes are entirely too small! No, no, no. That's how they're supposed to fit! They're supposed to touch your body! She's still recalibrating her way of thinking about herself. She still has posture issues. I just shout "P!" for posture whenever she slouches over.
What does all this mean for plus-size women out there who need something to wear now?
It's so difficult. Have you seen most of the plus-size sections out there? It's horrifying. Whoever's designing for plus-size doesn't get it. The entire garment needs to be reconceived. You can't just take a size 8 and make it larger.
How do you think the fashion industry responds to the need for better plus-size options?
In my travels, I've been an advocate for larger women. I've been talking to designers, but only a half-dozen make an effort. Most say, "I don't want a woman who's a size 10 or 11 wearing my clothes." Well, shame on you! It's not realistic. We need to address real women with real needs. At Parsons, we had fit models that ranged in size from 2 to 10. We've got to reconceive clothes for all sizes. Sometimes I say, "I'm going to do a clothing line!" I'd love nothing more to respond to those designers who refuse to address it.
You're going to start designing?!
I'm seriously considering it! Just because I want to be a part of the solution. I'm so tired of giving them so few options. I end up always saying, "I'm taking you to Lane Bryant because at least they understand you." But there's a stigma.
So, until we can all wear Tim by Tim Gunn, what trademark tips can you leave us with?
The three most important things to consider are silhouette, proportion, and fit. When those are in harmony and balance, you'll look good in anything. Also, embrace your shape! Everyone has a best feature, so find clothes and accessories to accentuate those, whether it's your shoulders or your long legs! Above all, don't be a slave to fleeting trends — invest in essentials.
Celebrity news, beauty, fashion advice, and fascinating features, delivered straight to your inbox!