Prince Harry Is "Madly in Love with Meghan," Royal Author Says
The couple's future could include working part-time for the royal family.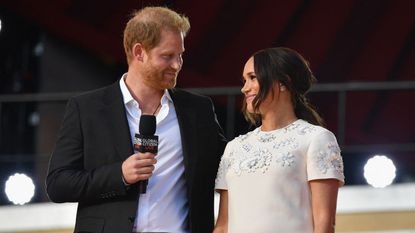 (Image credit: Getty Images)
Just last weekend, Prince Harry made hearts swoon when he told the crowd at the NAACP Image Awards that, of he and wife Meghan Markle, "our lives were brought together for a reason."
Married for four years in May and together this summer for six years, royal author Tom Quinn told the To Di For Daily podcast that, according to the Daily Express, there wasn't anything Harry wouldn't do for his wife.
"I think he's just madly in love with Meghan and wants to make her happy," Quinn says.
Quinn, author of Kensington Palace: An Intimate Memoir from Queen Mary to Meghan Markle, also suggested on the podcast that, when Prince Charles becomes king, the Duke and Duchess of Sussex hope to return to the U.K. as part-time royals–a move the Queen opposes, but Charles might feel differently about.
"When Charles is king, they may be able to come back and be the part-time royals that they really wanted to be," Quinn says. "I think Meghan and Harry are hoping that Charles, Harry's father after all, will be more of a modernizer and will say to them 'Okay, if you want to be part-time royals, that's fine.'"
The arrangement could include working six months out of the year as working royals and spending the other six months "in the States or whatever, doing their own thing," Quinn says, via the Daily Express. "I don't think Harry and Meghan really want to spend their whole time in the States and not be part of the royal family, they just don't want to do it all the time."
Celebrity news, beauty, fashion advice, and fascinating features, delivered straight to your inbox!
Marie Claire is committed to celebrating the richness and scope of women's lives. We're known for our award-winning features, thoughtful essays and op-eds, deep commitment to sustainable fashion, and buzzy interviews and reviews. Reaching millions of women every month, MarieClaire.com is an internationally-recognized destination for celebrity news, fashion trends, beauty recommendations, and renowned investigative packages.