Who Is J.R. Moehringer, Prince Harry's 'Spare' Ghostwriter?
Well, for starters, he's a Pulitzer Prize winner.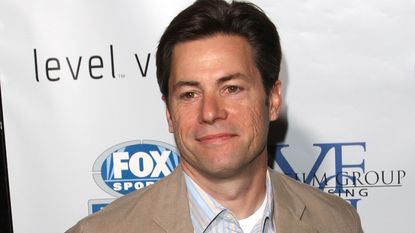 (Image credit: Getty)
Prince Harry may be getting all of the press for Spare—his hotly anticipated memoir which will finally hit shelves on Tuesday. But Harry didn't do all of the heavy lifting of writing this 416-page book himself: He had the help of a ghostwriter, J.R. Moehringer, who has largely kept himself out of the spotlight. Who is Moehringer? Well, for starters, he's a bestselling author and Pulitzer Prize winner, People reports.
Many aren't familiar with the ghostwriting process, and may forget it even happened since Spare is written in the first person. "Ghostwriters channel someone else's voice—often, someone else's very recognizable voice—and construct with it a book that has shape and texture, narrative arc, and memorable characters, all without leaving fingerprints," per The New York Times (and via People).
This isn't Moehringer's first time ghostwriting a book for a well-known figure. In addition to ghostwriting memoirs for tennis pro Andre Agassi (2009's Open) and Nike founder Phil Knight (2016's Shoe Dog), Moehringer also has the experience of having written his own memoir, The Tender Bar, which "touches on aspects of Moehringer's past childhood challenges—including his relationship with his mother, growing up without a father, and struggling with alcohol," People reports. The Tender Bar was turned into a movie directed by George Clooney and starring Ben Affleck in 2021.
Moehringer is a New York native raised by a single mother in Manhasset before moving to Scottsdale, Arizona, where he attended high school, People reports. In 1986, he received a B.A. from Yale, and began his career in journalism at The New York Times, working as a copyboy. From there, he wrote for several publications, including The Rocky Mountain News in Colorado (where he wrote The Tender Bar in 2005) before landing at The Los Angeles Times, where he worked as a national correspondent. It was while working for this publication that he became a Pulitzer Prize finalist in feature writing for his article "Resurrecting the Champ" in 1998; in 2000, Moehringer won the highest award in journalism, again in feature writing, for his article "Crossing Over."
He is also a novelist, penning Sutton in 2012—a speculative biography of the bank robber Willie Sutton—under his own name.
For his ghostwriting work, Moehringer has a specific process, according to a 2012 interview with NPR. "You try and inhabit their skin, and even though you're thinking third person, you're writing first person, so the processes are mirror images of each other, but they seem very simpatico," he said.
Spare finally hits shelves on Tuesday—where you can take a look for yourself at Moehringer's work.
Contributing Royal Editor
Rachel Burchfield is a writer whose primary interests are fashion and beauty, society and culture, and, most especially, the British Royal Family. In addition to serving as the royal editor at Marie Claire, she has worked with publications like Vogue, Vanity Fair, ELLE, Harper's Bazaar, and more. She cohosts Podcast Royal, a show that provides candid commentary on the biggest royal family headlines and offers segments on fashion, beauty, health and wellness, and lifestyle.