How to Make Your Instagram Stand Out
Get ready to watch your followers sky rocket.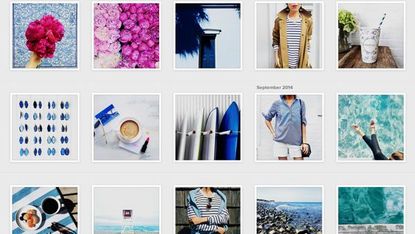 (Image credit: Archives)
@amy_stone's blue-hued feed.
In the land of Instagram, aesthetics matter (unless you're one of the Kardashians, in which case you automatically gain millions of followers). Which is why plenty of our favorite accounts seem to have a secret formula when it comes to posting pics. Not only does each snap stand out in terms of color way, art direction and composition, but when looking at a profile, a whole account looks follow-worthy. As happy-to-admit-it Instagram addicts, we checked in with some of our favorite 'grammers for some tips on improving your Instagram game. Their first piece of advice? Invest in a phone with an excellent camera. Our favorite option is the new Apple iPhone 6+.
Patrick Janelle, @aguycalledpatrick

With over 300,000 followers, Patrick makes life in NYC seem more romantic than possible through incredible shots of bars, restaurants, coffee shops and beautiful mornings in the West Village. Take it from us, this is a must-follow-now account.
His tips:
-"Sometimes I notice that my feed looks really busy, so I will purposefully post an image with a lot of negative space. For example, a large white marble counter with a little coffee cup in it. The solid color—negative space—gives the clutter of the rest of my feed a little room to breathe."
-"I come from a design background, so I think about shape and contrast. I don't want every image to have the same composition, so I give variety to each post. If one post shows a few large circles created by plates and glassware on a table, the next image should be a contrast to that, like a wide angle of a person standing at a distance or the interior of a place I'm visiting. I try not to repeat a similar shape, composition, or color directly after another."
Natalie Joos, @jxxsy

As a true fashion gal (Joos has a website, Tales of Endearment, in addition to her position as a stylist and casting agent), Joos knows the importance of a good fashion snap. Pics of her gorgeous outfits, stylish friends and fashion adventures give a fabulous glimpse into her life.
Her tips:
-"I recommend using the same filter for each image, so there is a consistent feel to your entire board. I think it's OK to play around with the image, as long as it's not super unrealistic looking in the end. Stay close to the real thing, just enhance."
-"I always try to have a certain flow to my feed. For example, I never post two outfit images in a row. I alternate landscapes with detail shots, fashion accessories and impressions of nature or my surroundings. It's all about variety! Don't focus on yourself too much, unless you want to start a cult or something... LOL"
Amy Stone, @amy_stone

With a position as global community manager at Gap you would expect Stone's account to be nothing short of inspiring, and that it most certainly is. Images of flowers, beachside landscapes, and adorable front doors all make this a must-follow.
Her tips:
-"For visual consistency, color palette, subject matter and mood all contribute to a cohesive feed. Be aware of what attracts your eye and develop your own aesthetic around that. For instance, I definitely gravitate towards cool-hued palettes versus warm tones so most of my photos are infused with various shades of blue."
-"When posting a new photo, be sure to consider the whole grid. Your imagery should balance and compliment each other. Be mindful of posting two back-to-back shots of the same subject matter. I try to cadence my photos so that I don't consecutively feature outfits or coffee or flowers in a row."
Related Links:

14 Interior Designers to Follow on Instagram


Instagram's Selfielapse: Great for Pretending You Have Facial Tics, Little Else
Marie Claire email subscribers get intel on fashion and beauty trends, hot-off-the-press celebrity news, and more. Sign up here.